It's been a fun week here in Tucson. The weather has been incredible with highs in the 60's and sunny. Our days are filled with work, school and always fitting in a ice ride somewhere. Tucson reminds us a lot of our years living in Boulder, miles of quality roads right out the front door!
Tucson is indeed a bike friendly community and I can see why riders come from all over the country and the world to train here in the winter. They literally roll out the green carpet for us!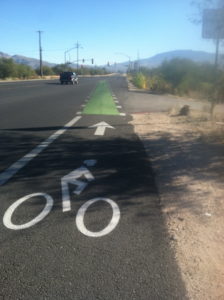 It's been great moving from the camper into a condo for the holidays. The other day we went out and got a nice Christmas tree, Kalden got to chose it. Our only requirement was it had to be under 5′ tall so it fit in the place! With us heading to Mexico after this we didn't want to buy a bunch of decorations so Kalden made some (with our help) to put on.
We did buy 2 decorations and some lights to spruce up the tree a bit more.
With the tree up and decorated we went back to our daily routine of work, school and ride. We noticed some riders out on the road this week in full Garmin kits and then saw on Twitter that they were here in Tucson for a training camp and staying just up the road at the Loews Ventana.  I took a ride up on the road bikes with Kalden on Thursday to see if anyone was hanging around and we found the mechanics and team trucks all set up.
Kalden wanted to meet some of the riders so I sent an e-mail to their press officer to see if we could stop by to say hi. She replied quickly and said we could meet with some of the riders the following morning before they headed out at 9:30AM. We woke to soggy weather and were not sure what the team was going to do so we just hung out. We saw on the news that just above us on Mt Lemmon they had a pretty good snow! Looking up on the hill side we could see the rain/snow line wasn't to far from us!
Pretty soon my phone rang and it was Marya, Garmin's press officer making sure we were still going to come by. She said she could round up a few guys for Kalden to meet so we headed that way. Dan Martin and Ryder Hesjedal were kind enough to stop by, say hi and answer a few of Kalden questions about becoming a pro bike racer. How nice of her to pick the 2012 Giro d'Italia winner (Ryder) and Dan who won the King of the Mountain (KOM) a few months ago at the Tour of Beijing.
After Kalden got in his time with the guys Ryder gave us one last family photo.
I can't thanks Team Garmin and especially Dan and Ryder enough for taking the time to spend with our Son. He was thrilled to meet them and they are helping to keep a little boys dream alive!
After that the day was essentially a wash out so we decided to make a trip up to Phoenix to take care of some things for crossing into Mexico in a few weeks. Also, we had left our mountain bikes up there and wanted to get them down here to hit a few trails next week. Driving home after a full day things started to clear up a bit and we caught this.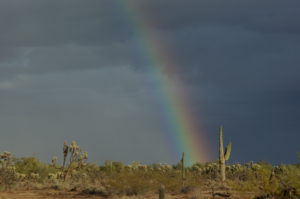 Next week Grandma arrives and is staying for a while. Randy and I are looking forward to getting some time out together without the boys 🙂