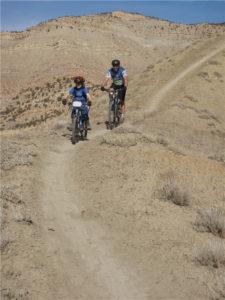 We are halfway into our 8 week Devo Jr mountain bike session. I am coaching the little ones, ages 5-9.  Thought I'd share some of the skills we have been working on since they apply to all mountain bikers regardless of age or ability. I have actually found that these skills are helping me on technical trails. Funny what you forget, or never even learn, after years of biking.
Level chin- I'm sure you've heard to always look 10-15 feet in front of you when mountain biking. While the range changes based on conditions, speed etc the basic idea is to look ahead at where you want to go.  Since the little ones don't grasp the concept of feet I tell them level chin. As long as they are keeping their chin level there is a good chance they are looking at where they need to go. Once that chin drops up or down, balance suffers and wheels start going off trail. If you have trouble looking ahead think about just keeping your chin level. It's a start.
Parallel pedals – When desceding you must have parallel pedals, meaning your pedals should be at 3 and 9 o'clock parallel to the frame. If you have one pedal down it's going to hit a rock or other obstacle and toss you. Having parallel pedals also forces you into a good attack position and moves weight to the rear of the bike.
Cornering basics – Look through the turn to where you want to go.  Simple, but a lot of times when coming across a tight switchback turn I see people looking at the apex of the switchback or their front wheel. Do not do this! Look at your exit, otherwise known as the straight part. This involves looking over your inside shoulder.  Lean into the turn and voila you made it!
Sometimes it's focusing on the very basics that cause the most improvement. Try to focus on these 3 simple things for your next ride and see if you go faster or ride more sections than before. I have seen huge improvement in my little ones in just 4 sessions. Can't wait to work on the second round of skills and share them with you.