I remember when I was a kid, going out on my bike and pretending to be a pro racer. I'd head out on my road bike and I'd be Greg LeMond racing Bernard Hinault up alpe d'huez. I'd be thinking through tactics in my head, "send my teammate to attack to soften him up then I attack to take the stage win!" Those were fun days full of boundless energy and I looked up to those guys and wanted to emulate their riding as much as possible.
I see that in my son Kalden as well, he loves to pretend. We can't even ride to the post office together without him being Mark Cavendish and me being whoever I chose. Every ride is a 'pro race' in his imagination. Well, on Saturday a dream came true for him. Our friends in town Michael and Darcy work with Ride the Rockies. They were helping out with a charity prologue ride going out on Saturday. The ride included ex-pro riders like George Hincapie, Ron Keifel and Chris Carmichael. The route went from Telluride, over Dallas Divide through Ridgway and onto the finish in Ouray. Michael and Darcy arranged to have George hang out with Kalden at the rest stop here in Ridgway. He'd hang for 15 minutes or so and take some pictures etc… We arrived in the town park to wait for the group around 9:30AM and soon learned thing were running a bit behind schedule. With a few other organized rides happening in the area that day there were tons of roadies out and to keep Kalden occupied Jen said he could ride up the road towards Dallas divide (a ride he'd never done but always asks to do). Jen and Kalden took off and got about 6 miles up to the base of the main climb, right then George and the group came blasting down the hill. Jen and Kalden quickly turned around and rode as fast as they could to get back for the meeting. As they are pedaling along Chris Carmichael came up from behind, he was doing the ride with his 11 year old son. Safe in the knowledge the group was not going to leave them behind they cruised back into Ridgway.
Once back in the Ridgway  town park Kalden got to meet George.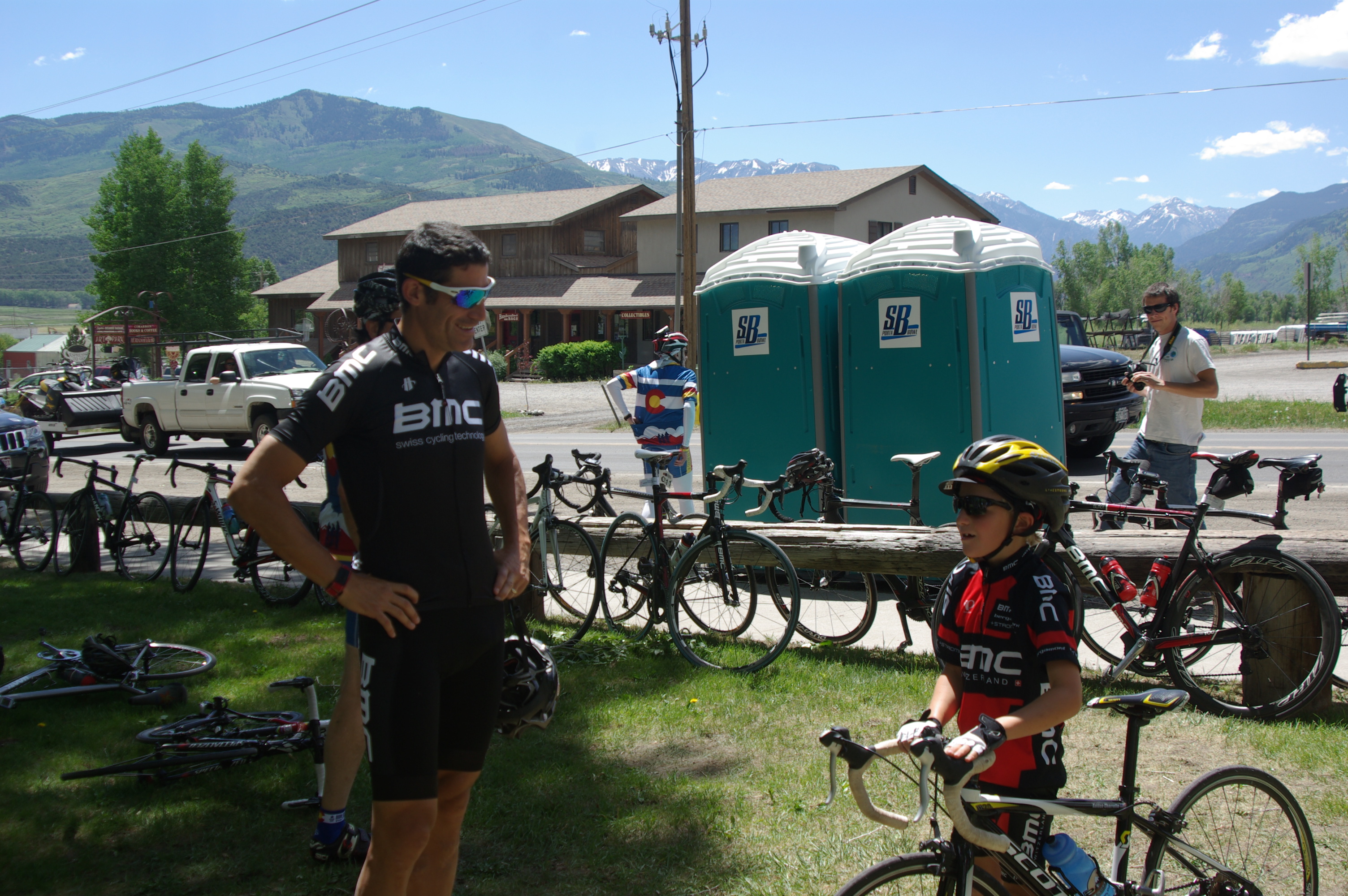 Kalden was super excited and George took him over to one of the picnic table so they could sit and talk a bit. We took a few more photos then it was time for them to head out.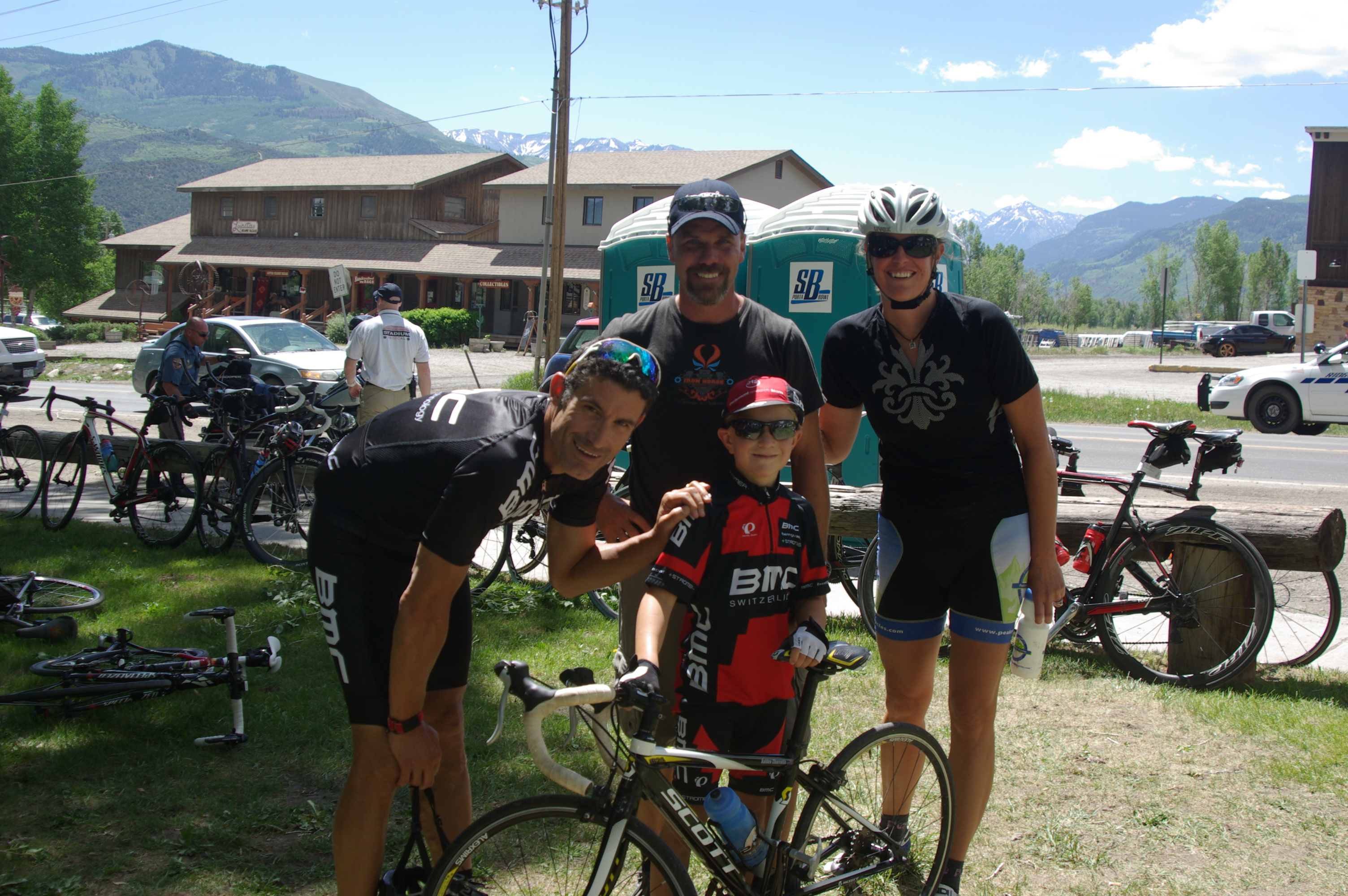 This is where things went from incredible to amazing for Kalden. George asked Kalden if he would like to join him for the final 10 miles of the ride to Ouray! Of course Kalden was beside himself and since Jen was kitted up already they both took off with the group and I jumped in the truck to follow and take pictures.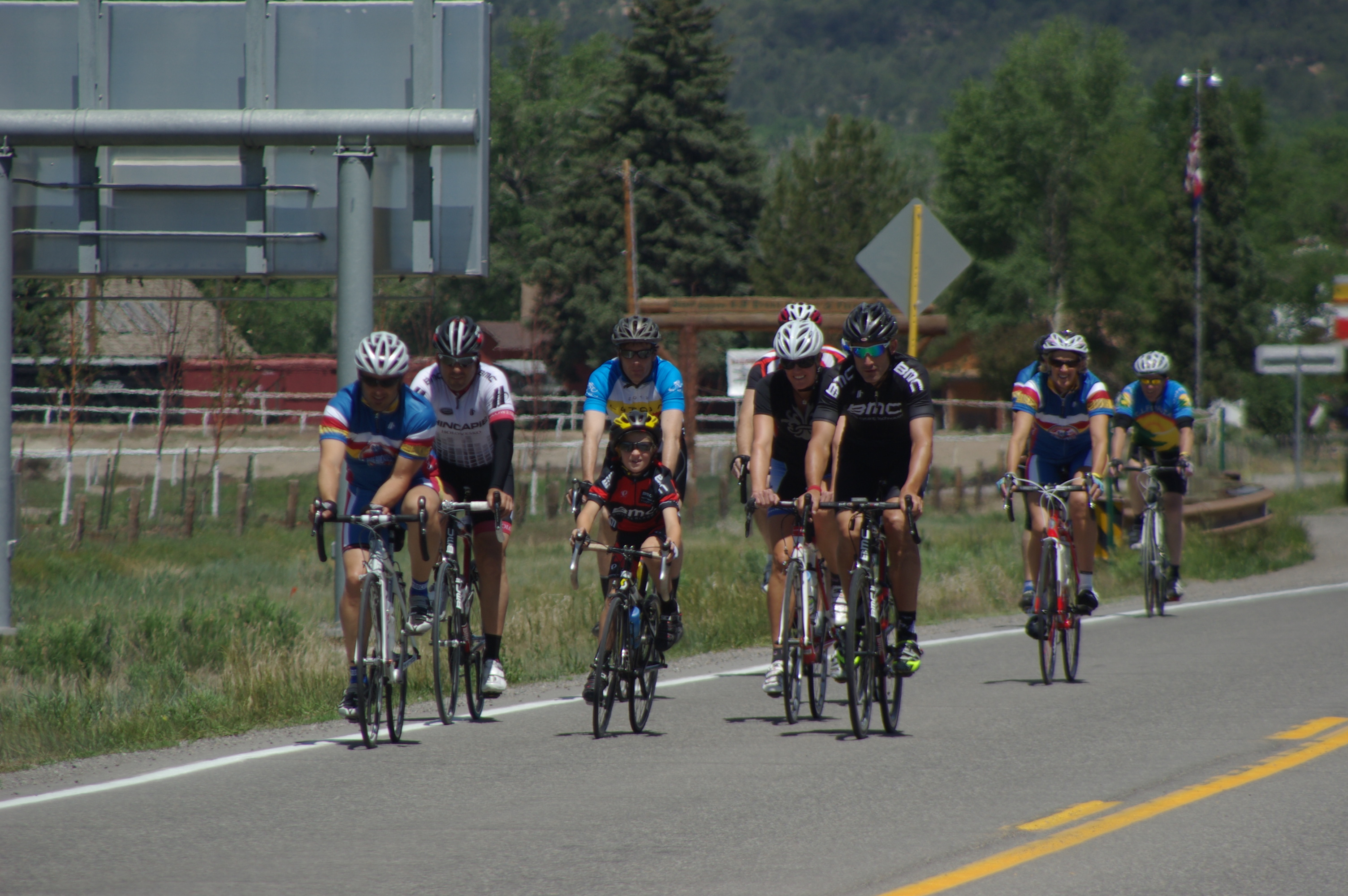 Once out on the road Kalden was in his zone. I really expected him to make it 3 or 4 miles then call it quit, especially after doing 12 miles round trip earlier. Jen would ask: "should we break off and let them go now?" Kalden would say he is good and George was encouraging him to hang in till the end. With the Mavic support car behind they were cruising along.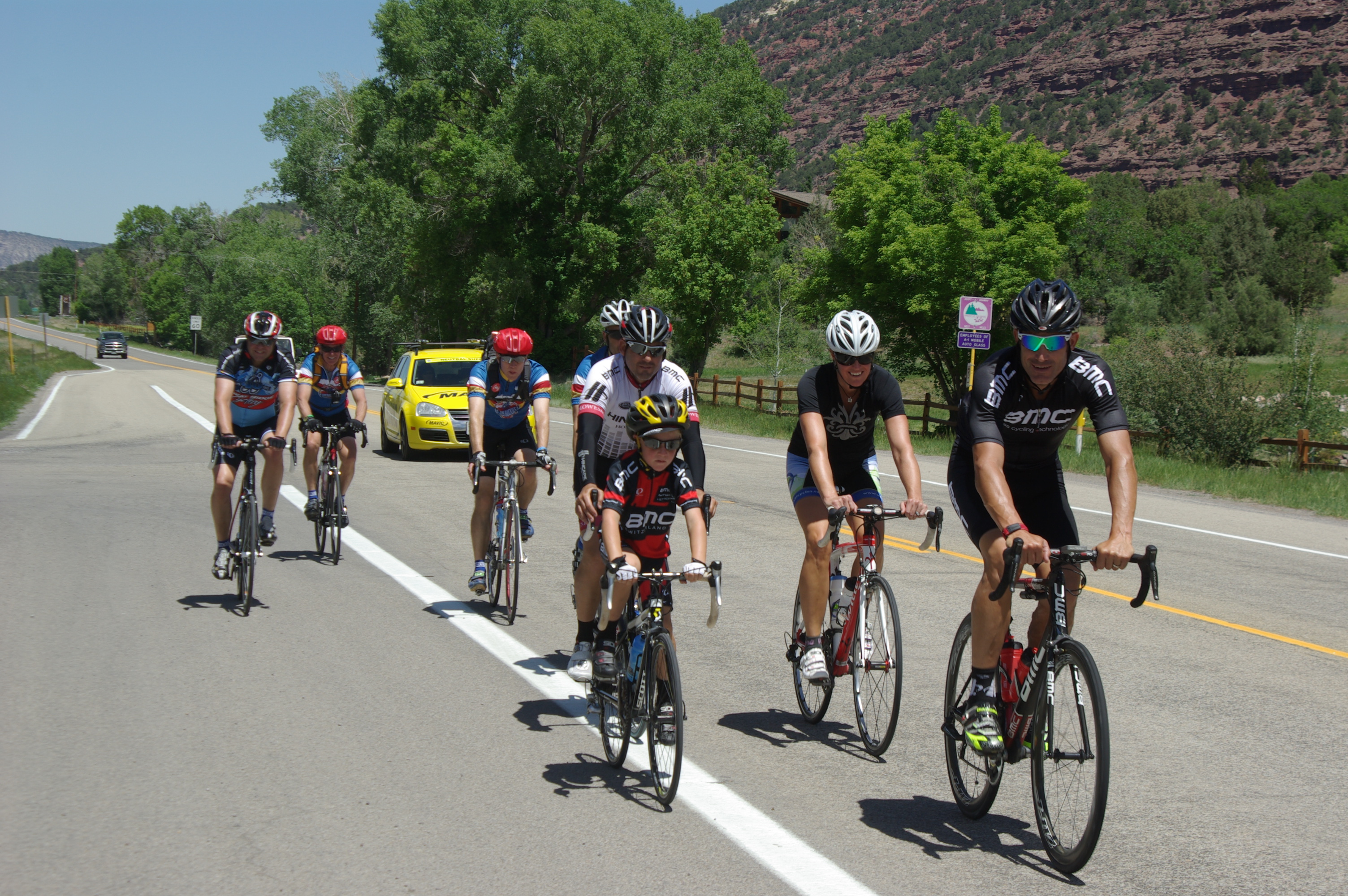 As they neared the end there was one last rise in the road. I could see Kalden going down to his drop and knew what he was thinking. I'm yelling in my head, don't do it! Don't attack Big George! Well he did it anyway as George looked in disbelief.
The 'peloton' strung out behind as George and Kalden took off on a one and a half man break!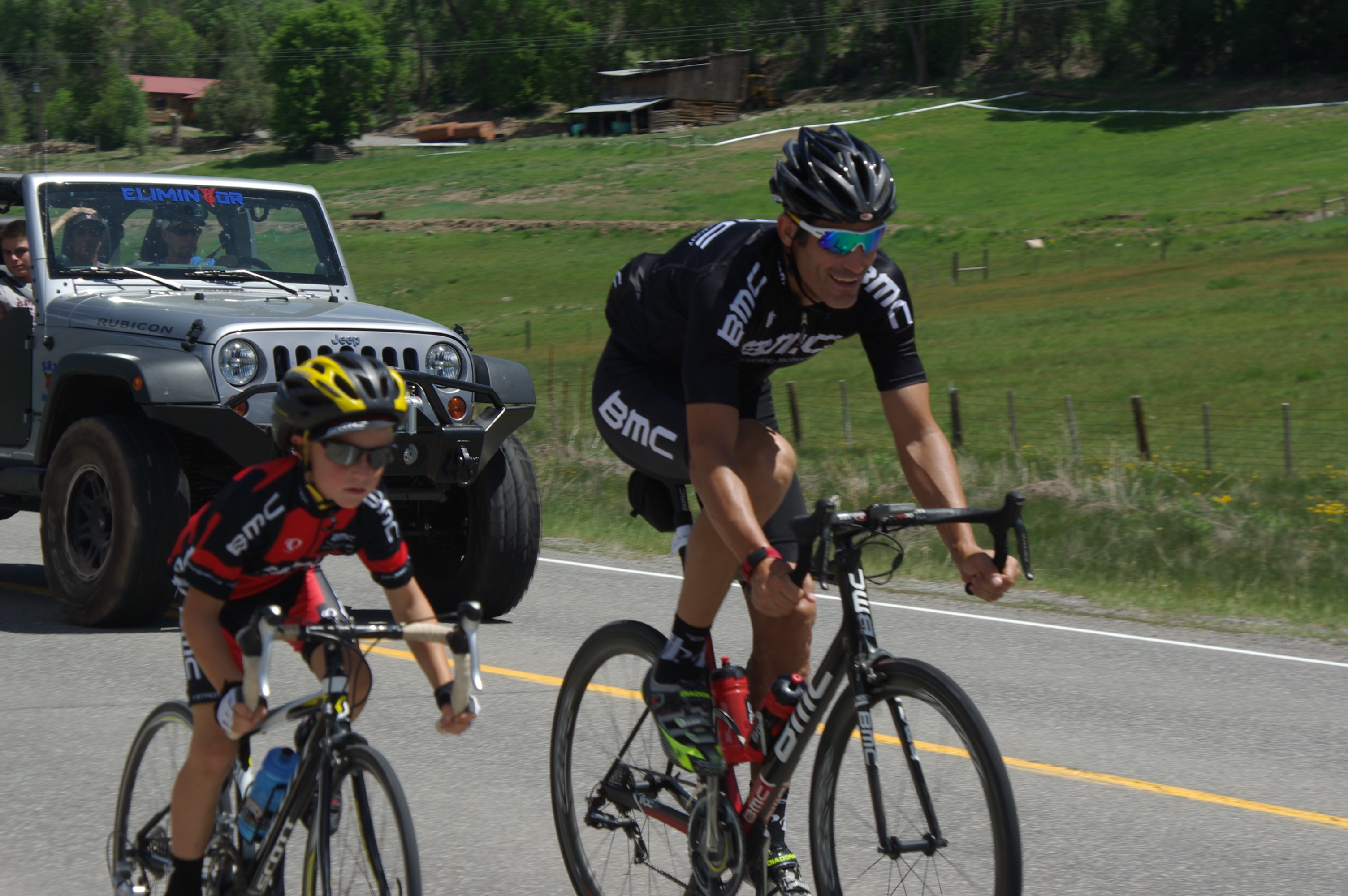 The pack worked hard and managed to reel in our 2 escapees. Kalden and George resumed their position at the head of the pack and rolled into town.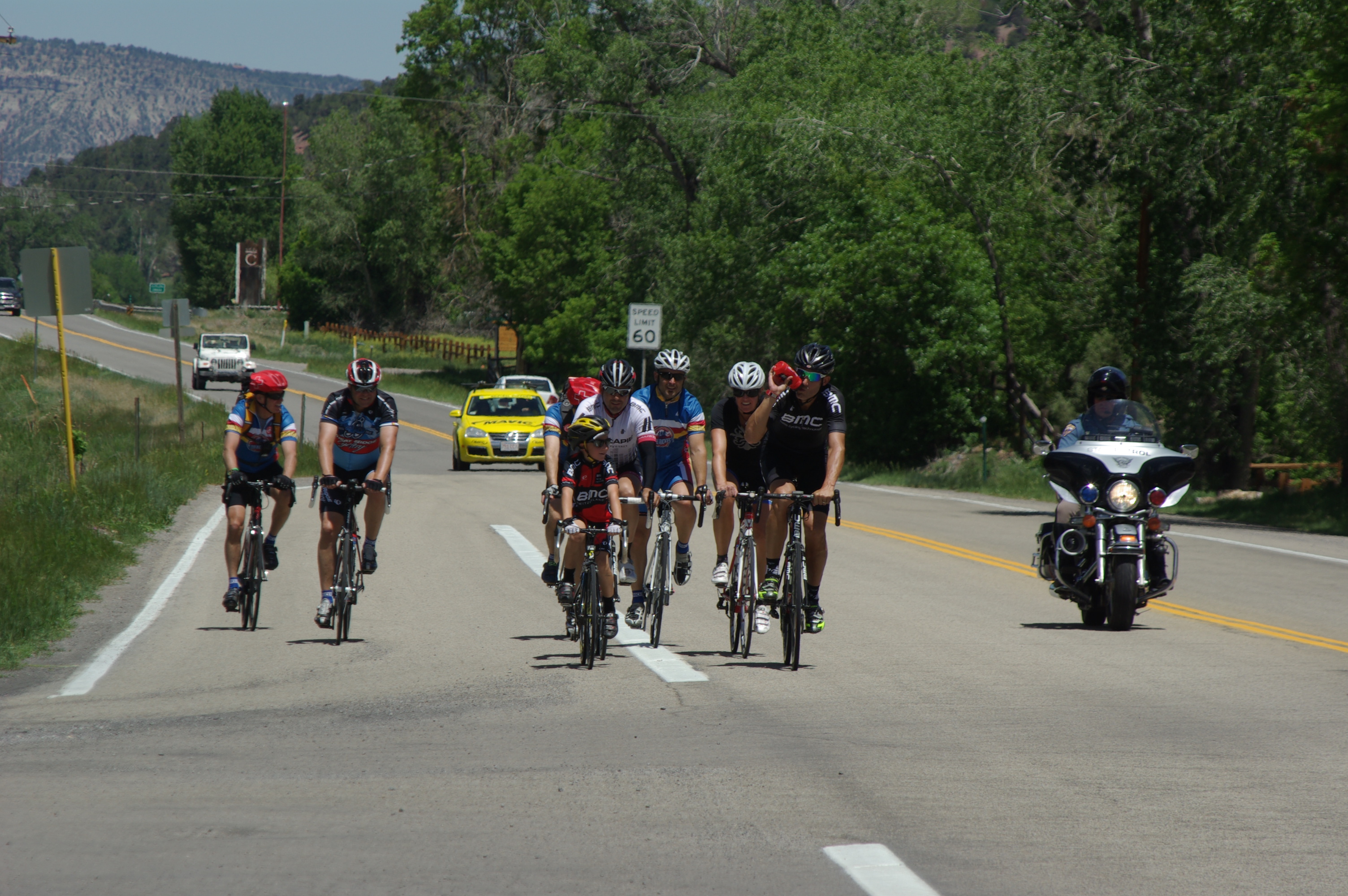 The ride finished at a nice little place in Ouray that had a catered lunch waiting for everyone. Once again we were invited to join everyone for lunch. George took Kalden to grab some food while Jen and I went to the truck, loaded bikes and got changed. When we returned to get our food they were already settled in chatting again and eating. Once we finished lunch it was time to go. George had to get back to Telluride for a tennis lesson (really!) and we needed to get back and finish setting up our Axel Project/Strider adventure zone.
Needless to say this was a pretty incredible day not only for Kalden but Jen and I as well. We have a lot of people to thank for making this happen. Darcy and Michael Thomas for reaching out to the organizers, Rich Hincapie, Ride the Rockies and of course Big George himself.
It was a pretty emotional day, Ron Keifel, Chris Carmichael and George all offered their condolences for our loss of Axel and it was really nice of them. The following day I thought to myself that no matter how hard we wish, pray, hope it doesn't matter – Axel is never coming back. All we can do is help Kalden live twice the life for him and his brother. Kalden really surprised me making that ride with the distance and climbing involved. I'd like to think his little brother Axel was feeding him some of that toddler energy along the way and that helped him make it. A proud and wonderful day for all of us.