The secret to happiness is freedom.
We don't plan out every day of the week or even stick to a plan about what we'll be doing or where we'll be in a month but we do have some general ideas. We know what we love to do, what makes us happy and, in general, where we are happy.
On The Road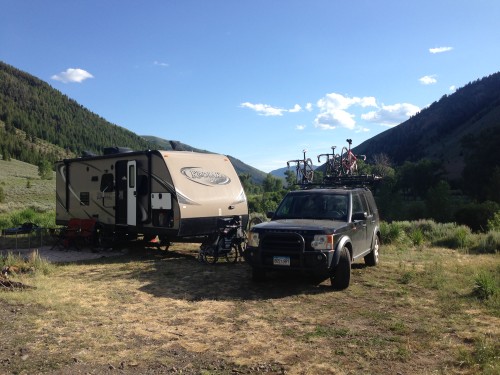 A few days after the New Year we packed up the house for the winter and headed on the road. We have some long term renters until April so we're officially homeless. After a brief stop in Denver we headed to Florida to visit my parents…and we shipped all our road bikes out.
It's the perfect place to get the extra help we don't have during the rest of year. Randy and I have been able to ride together a few times and go on a dinner/movie date. And Kalden just loves the extra attention from Grandma and Grandpa. Lots of trips to the pool, arcade, playing of board games, and general spoiling.
We'll return back to Colorado next week, run errands in Denver and Ridgway, and then head west in the camper.
Where west? We have no reservations but we're thinking Tucson first. It's up in the air because the best way to get to Tucson from SW Colorado involves a mountain pass (Lizard Head) and we don't want to tow the camper over a mountain pass if there's any ice/snow on the road. Of course there are longer ways to get there which we'll probably have to use. After some time in Tucson (1 week, 1 month?) we'll head to California. We'd like to stay in the San Diego area for at least a month for a number of reasons.
Besides Cali?
If funds allow we may take Kalden on a special 10th birthday trip in March. And summers will revolve around the mountains of Colorado and probably Sun Valley.
Cycling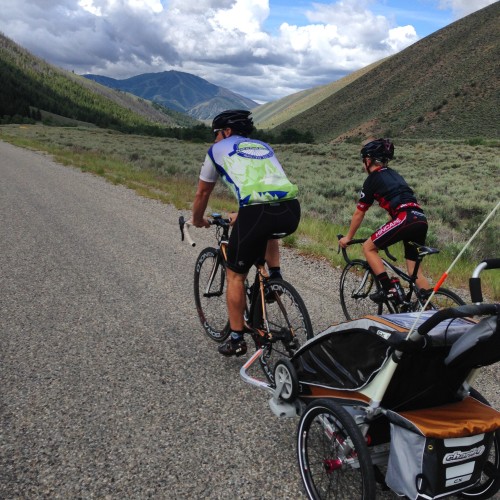 Cycling will be a huge part of our year. So far it looks likes Randy will ride the Ride The Rockies as part of our partnership with Ride the Rockies and Axel Project. He was going to do the Tour of Gila in April but the timing isn't ideal and he's a bit concerned about getting in shape enough to race his USA Cycling Category.
I'm seriously thinking about racing the Breck Epic again. It would be my third attempt! In 2010 I had to cancel it a month before because I found out I was pregnant with Axel and then in 2013 I crashed out with a brain injury on the third day. I know that with some training the course is completely within my ability and it would be a blast but it also scares the crap out of me. It will hurt, I will have to overcome the fear of crashing and I will not be able to ride with Randy this year. But it's definitely one of those fears that I should probably face because I know the minute I start pedaling the fear will subside.
And Kalden got a new 44 cm adult Specialized Amira full carbon road bike. Don't tell him it's a women's model!  He's starting to get excited about riding and racing again. Although he's been on his bike a bit over the past few months, every year around September he's not very interested in biking until the Spring. He'd rather focus on surfing (if we're near the ocean), or frankly just being a bit of a home body playing with light sabers, jumping around, video games, iPad, etc… We're fine with this as the last thing we want is for him to burn out. Although he's starting to plan his racing season and looking forward to defending his Colorado State Hill Climb title and trying to attend the Crit State Champs because that's where his real passion lies. I'm also going to convince him to do a mountain bike race with me. He's also do for a full size mountain bike which reminds me that #outsideisfree is not always the case in this family.
We also have our eyes on road races in Tucson and California this winter and Sea Otter and 12 hours of Mesa Verde in the Spring.
And of course we'll be at many cycling events, schools and our own charity bike ride with the Axel Project.
Roadschooling
While we were home for 2 months we realized how hard it is to "homeschool" at home. Especially a home without a lot of options for homeschool groups or after school activities that interest him like music and science.  So road schooling is much better for our family. On the road we can seek out wildlife or biology exhibits which he enjoys and new environments provide so many opportunities for learning.
In addition Kalden wants guitar lessons (his other Christmas gift). That's one reason we want to spend at least a month in San Diego. There is a School of Rock there and he can do 1:1 lessons. A month should at least get him comfortable.
Roadschooling isn't all or nothing. We also use some structured learning but in general find that the world offers the best teaching opportunities.
I'd love to hear what 2015 has in store for you and if you see we're in your neck of the woods we'd love to say hi.