This is our third time in Santa Cruz. I want to love Santa Cruz. What other town has surfing, mountain biking, road biking and a college vibe? My outsiders take is this – it's like the town has both too much character and none at all. Everything seems stuck in the 80s. Buildings are rundown, roads are poorly planned to get from point a to point b, people are in a hurry, and it's big and spread out. The "normal" people and active types are mostly overshadowed by homeless people and stoners/heroin addicts.  Everything just seems a bit "dirty" here unless you are actually biking or surfing. In addition, we couldn't go to any trailhead without a local warning us that our car would probably be broken into if we left it. You don't see cars parked at trailheads here, they park on the street or ride/run/walk to them. That said I would return here again for the things listed below…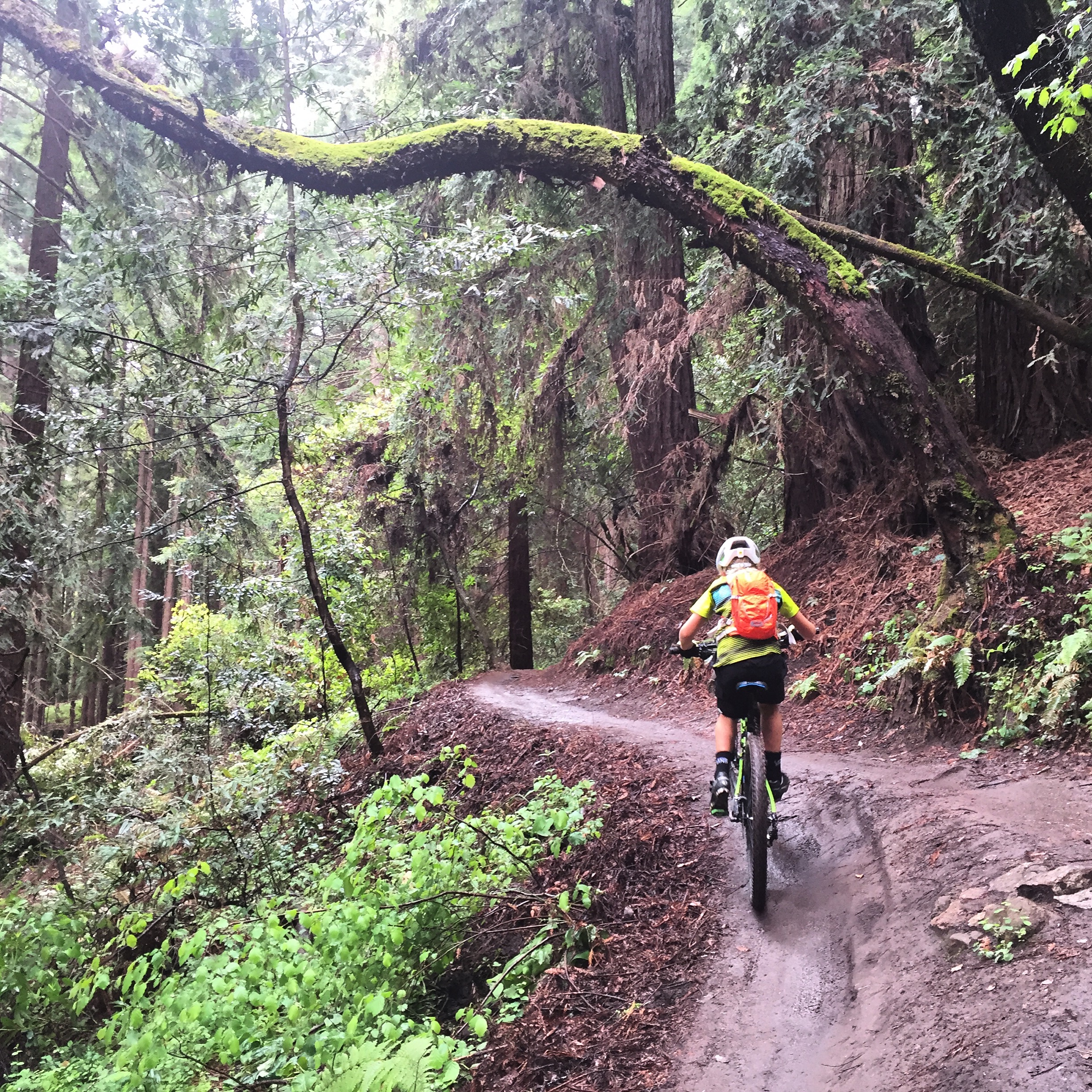 Camping in Santa Cruz
New Brighton State Beach: Great location, beautiful area, some sites have hook-ups (we didn't have one of those sites), our site (94) was large, grass was uncut and we worried about ticks etc., it sits way above the beach and not on it. It's actually in Capitola and not Santa Cruz which is why it seems much more peaceful  and clean there.  $35
Santa Cruz Harbor RV Park: Great location in the harbor, not toddler-friendly as it's literally a parking space on a road, full hook-ups. I don't think we'll be staying here again but if you are going to be gone all day it's a great location. $52
KOA North/Costanoa: Great spot 30 miles north to experience the coast between San Fran and Santa Cruz. Full on the weekends, no cell service, a bit overpriced, sites close together but standard for an RV park, beach a 15-20 min walk but beautiful. $varies
Eating Out in Santa Cruz
Aptos St. BBQ: The best BBQ we've ever had. They also have a sister restaurant called Mission St. BBQ. Both are great.
»Kid Friendly: Yes, there is outside seating, kids menu, and informal vibe inside.
Seabright Brewery: We went for Happy Hour and got 1/2 off apps and $4 beer. The wings were good and the beer was tasty. In the land of IPAs I was so happy to see a red ale on the menu. Like the rest of Santa Cruz the interior is grunge/retro 80s.
»Kid Friendly: Yes, there is outside seating, kids menu, booths inside, and free WIKI sticks
Duartes Tavern: We discovered this place pre-kids back in 2004 when we ate there 3 times in 3 days. It's not as great as I remember but definitely worth a visit for the artichoke soup, free sourdough bread, and pie.
»Kid Friendly: Maybe, they do have a kid's menu but it seems popular with couples and not really spacious (you'll be close to your neighbors).
HWY 1 Brewery: Great location, good burgers but REALLY expensive (like $20 burger expensive).
»Kid Friendly: Mostly. The waitress was really nice to our screaming (at times) toddler and they do have a kids menu.
Pizza My Heart – Great for take-out. NY style, fresh ingredients, good salads, surf inspired.
»Kid Friendly: Yes although we've only done take-out.
Mountain Biking in Santa Cruz
Santa Cruz is really stepping up its game with mountain bike trails. Legalizing more, making more, opening more land to recreation, and putting up (some) trail signs. I will say that currently the MTB Project site is not the best resource for Santa Cruz. A lot of the advice on there seems wrong, and some trails are not up to date or even listed. It's still one of those places where it's best to get out with a local. Here is a sampling of our Strava Rides:
Flow Trail: The BEST 3.5 mile downhill I've ever been on. If you ride one area make it Soquel Demo Forest.
»Kid Friendly: Yes if they have excellent bike handling skills and you shuttle up to Aptos Creek Road a bit.
Pogonip/Upper Campus: I could not get great info on this area, and then it was a pretty rainy day so we didn't get to explore much. The EMT trail was fun and will lead you up to the trails around the campus.
»Kid Friendly: Depends, EMT is pretty mellow and could be done by a kid with good bike handling and a desire to climb.
Wilder Ranch: MTB Project led us a bit astray here. Again best to ask a local which route they prefer. I would say counterclockwise would be best. As of this writing stay away from the Baldwin Trail as it's filled with Poison Oak. Do not miss the Enchanted Forest Loop and Old Cabin.
»Kid Friendly: The Coast Trail is great for all kids but the terrain to the east all involves lots of climbing.
Road Biking in Santa Cruz
Most of the riding we did here was up north towards Pescadero. I would love to go back and keep exploring those roads as they have little traffic and amazing scenery. Most roads in Santa Cruz have bike lanes but on a previous trip I found riding east on the canyon roads the most dangerous road riding I've ever done (and I don't say that lightly).
Capitola to North on HWY 1: This is a great route through Capitola, Santa Cruz, Cliff Drive and then North on the 1. HWY 1 is super busy but it does have a huge shoulder and oceanside riding.
Pescadero Area: Love, love, love the road riding from the KOA. Don't miss Stage road. Ignore the signs that say Bicycles Not Advised… they are chip seal roads but fine to ride on with skinny tires.
Kid/Dog Adventures in Santa Cruz
Tide Pooling at Bean Hollow: Up north of Pescadero is a great beach to tide pool and also search for colorful pebbles and shells.
Swanton Berry Farm: U Pick strawberries, and then be sure to check out their chocolate covered ones in the store!
Depot Bike Park: Kalden loved this park and got a kick out of the sign that said "no skateboards allowed."
Chanticleer Dog Park:  Campy enjoyed romping around this park with some furry friends.
Santa Cruz Boardwalk: We didn't go here but I'd be remiss not to mention. Lars is just too young and K is not into the amusement park stuff.