Sun Valley is the town dreams are made of, seriously. It's dreamy and you feel like you stepped back in time on one hand and are in a trendy modern town on the other. It's also one of the few towns where it seems all trails users get along even on a busy summer weekend. Kids love it because there are town splash pads, swimming holes, swimming pools, bike parks and hot springs. Also, when I write "Sun Valley" I also include Ketchum, and Hailey which are all close together. Read below for the best of Sun Valley.
Like other Adventure Town posts these recommendations are geared for adventure families that like to bike.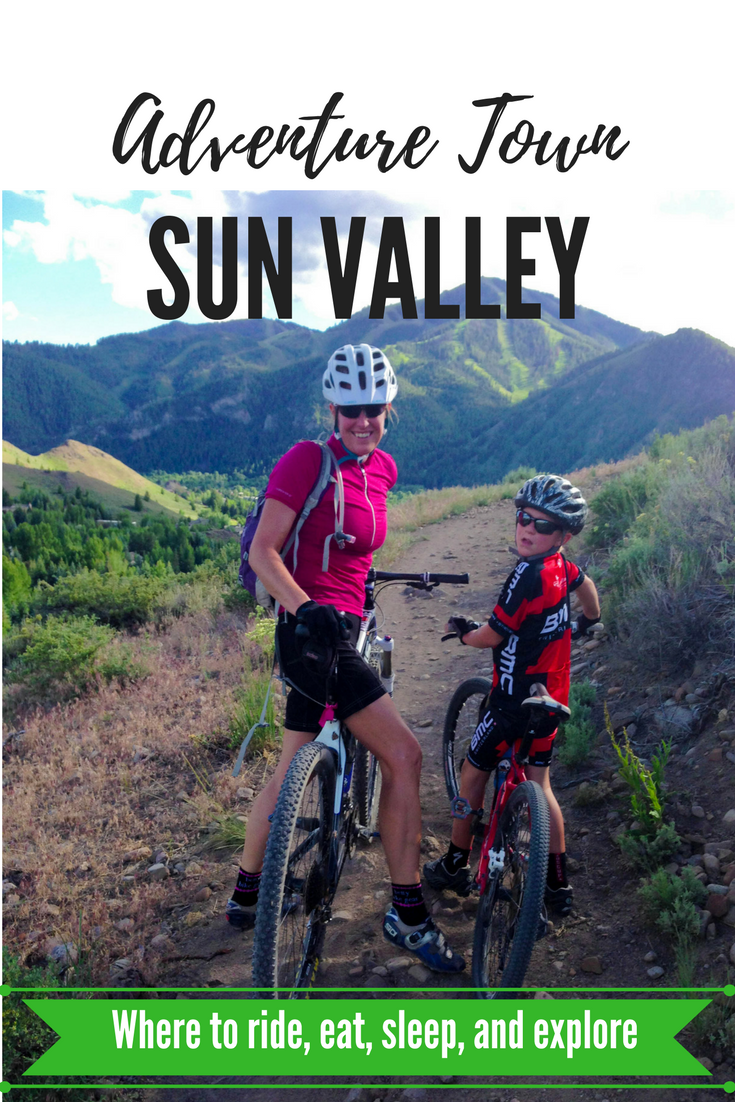 Camping in Sun Valley Idaho
Trail Creek Road: This is our go to dispersed camping because it's close to town and you can grab a cell signal (at some sites).  Heading out on Sun Valley Rd it soon changes to FSR51. There is dispersed camping all along there and it's only 10 minutes from town. This location also gives you great access to the upper part of Corral Creek trail which you can then link to the White Cloud Trail. $Free
Boundary Campground: This is the closest campground to town and you'll have access to pit toilets, garbage and water. Also a great place to start mountain/road rides or hikes. $10
Lake Creek Road: Another favorite place for dispersed camping close to Ketchum. The first half of the road is marked as having a 3-day limit while the second half has a 10-day limit. Like all spots in the area the Ranger will pay you a visit so it's hard to overstay. $Free
Dumpstations:  If you need water or to dump the black tanks it's pretty easy in the Sun Valley area. There is the Sawtooth NRA dump station and one in Hailey.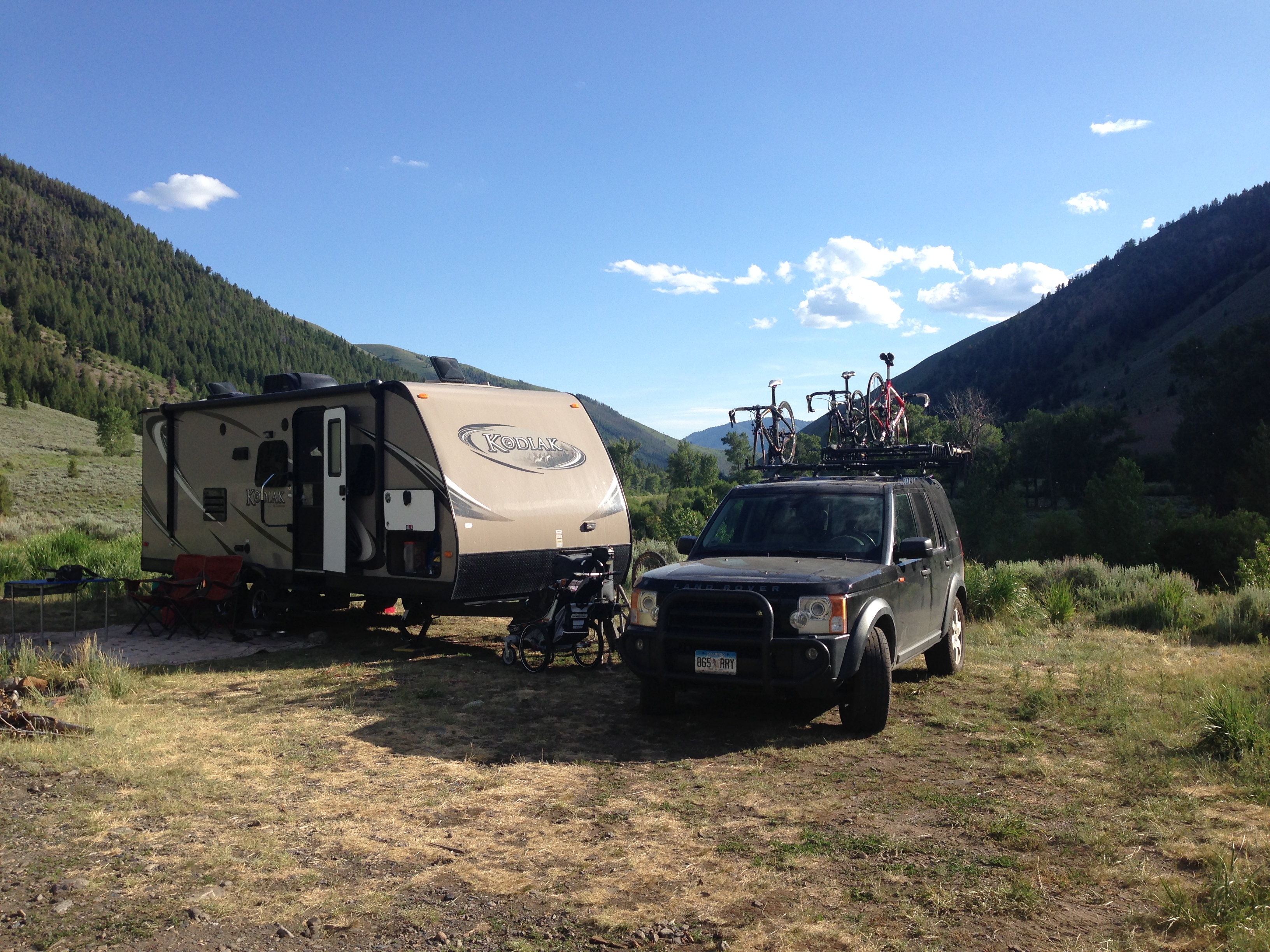 Sun Valley Idaho Lodging
Camping not your style? Here are your best bets for lodging in the Sun Valley area.
Limelight Hotel – New to Ketchum, Idaho, is the Limelight Hotel Ketchum. Like the Limelight Hotel in Aspen, this new hotel features large guest rooms, an expansive and open lounge, expanded continental breakfast and a lobby restaurant. The property includes 99 hotel rooms and suites plus 14 free market residential units. The Limelight Hotel Ketchum is known for its vibrant atmosphere, spacious guest rooms, being pet friendly and adventure programming for guests.
Tamarak Lodge –  Steps away from all the great dining, shopping, and nightlife in town, right on Sun Valley Road. Our hospitality is only matched by our luxurious and spacious guest rooms. Stroll over to one of the delicious breakfast in town before you head into the great outdoors to explore all the great things to do in the Wood River Valley.
Sun Valley Lodge – The ultimate place to stay in Sun Valley. If you can afford the rate, do it! The kids will love you for all the fun stuff to do there.
Airbnb in Sun Valley – Sun Valley, like most mountain towns, has a good amount of Airbnb homes and condos in all prices ranges. Click this link for $40 off your first stay.
Eating in Sun Valley Idaho
The Sun Valley area does not lack great places to eat. And a bonus for families is that many of them are kid-friendly. Here are a few of our favorites.
KB's: This is our go to burrito place after rides. They are unique, fresh and hit the spot.
»Kid Friendly: Yes, the Hailey location even has a kid's area.
Rickshaw: Casual place that is usually busy. They serve ethic street-type food family style from Thailand, Vietnam, China, and Indonesia.
»Kid Friendly: Yes, there is outside seating and it's a louder atmosphere inside.
Lefty's Bar and Grill: Yummy burgers and subs with a huge outdoor deck and lots of beers on tap. Order at the counter and grab a seat.
»Kid Friendly: Totally, they even have video games.
Wiseguy Pizza: Solid NY style pizza in Ketchum or Hailey.
»Kid Friendly: It's pizza, of course!
Power House Pub and Brewery – Local grass-fed burgers, handmade fries and homemade ketchup all in this bike shop turned pub. We love to ride our rides down to Hailey from Sun Valley and stop in here for lunch. Bonus: there is usually a bike video or race on the TV.
»Kid Friendly: Yes, they have large tables inside or spots outside. They also have a kids menu.
Mountain Biking in Sun Valley Idaho
Sun Valley is one of the top mountain biking destinations that doesn't get a lot of hype. It's a bike-friendly town, with tons of singletrack you can access from town. In general, the trails near Hailey dry out and open the earliest, with some mid-valley trail opportunities usually opening soon there after. The highest trails, and those with more northern aspects, may remain closed until June. In 2018 you should see more lift accessed options at Sun Valley Resort.
Things can be really hot and dry in the summer but you can ride until 9PM so take advantage of those long days.
The Blaine County Recreation District Summer Traillink website is a helpful for local trail information, trail updates, and news about what trails are open and which might be closed. trails.bcrd.org/
Forbidden Fruit: From the Adams Gulch parking lot climb Sunny Side to Eves Gulch. You'll pass the exit for Forbidden Fruit but continue up Eve's to the top of Forbidden Fruit. Descend and take Shady Side back to parking lot.
»Kid Friendly: Yes, but it takes a bit of work to get up there. So plan on lots of stops for those without the stamina.
Corral Creek: Fun downhill run. Super flow. Some people do climb this as well so watch out! Great option is you are camping up on Trail Creek Road. Also used to link into the White Cloud loop.
»Kid Friendly:Yes, especially if you shuttle to the start.
Greenhorn/Imperial Loop: Steady climbing up the Gulch rewards you with great views and some very fun downhill.
»Kid Friendly: It's a solid intermediate ride with a fair amount of steep climbing.
Fisher Creek Loop: This is one of my all time favorite loops. Although it's technically in Stanley it's worth the drive. If you're looking for a backcountry ride with the safety of not being too far out this one is it. You will also be rewarded with lots of flowing singletrack while making your way back to the car.
»Kid Friendly: The road climb makes this a mentally tough one for kids but if they can get through those first 5 miles they will be loving this ride.
Road Biking in Sun Valley Idaho
Road biking is limited here but there are options that will get you some miles.
Wood River Bike Path: While you'll have to share with walkers and others out for a casual stroll this is a great option to get in some miles or link to quieter roads. The path runs 34 miles starting at Sage Rd. and SR 75 (north of Ketchum) and ending at Gannett Rd. east of SR 75/S. Main St. (Bellevue).
Galena Summit:  Head north on 75 out of Ketchum.  This is a beautiful stretch of highway that provides views of the Boulder Mountains and Sawtooth Mountains. Galena Pass is manageable some shoulders.
Trail Creek Road: From downtown Ketchum, this road travels east out of Sun Valley and over Trail Creek Pass and eventually Mackay. It's paved for the first 6 miles. This is the course for Rebecca's Private Idaho, a gravel road race. Watch out for fast traffic.
Elkhorn Loop: A paved loop around Dollar Mountain through the village of Elkhorn, this road ride is a great way to link into the bike path or get in some beautiful scenery on perfect pavement.
Kid Adventures in Sun Valley Idaho
Ketchum Pump Track:  Fun little place to hand out for an hour. There is also a splash pad and kid's park across the street.
The Bowling Alley and Game Room in the Sun Valley Lodge is one of the Northwest's oldest bowling alleys. Full of 1950s soul, it's a favorite across generations. It's open year-round and is now bigger, better and high tech.
Wood River YMCA : Great pool area for kids, place to cool off and take a shower!
Swimming holes:  Some of our favorite places are Red Fish Lake and Alturas Lake. In town there is Big Rock (aka Church Rock) near the Big Wood church and the spot near the hospital.
Hot Springs: One of the best near town is Frenchman's Bend. Kids love it and parents can relax a bit. Find other ideas here.
Other Resources for Sun Valley Idaho
Rascal Rides blog post about riding Sun Valley with kids
Blaine Country Recreation District
Our other blog posts about Sun Valley