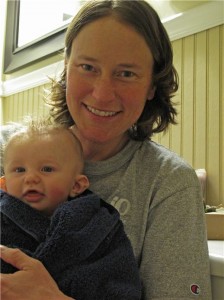 Alison Dunlap has one more accomplishment to add to her impressive resume. She is a new mom to five month old son Emmett. Alison raced at the Atlanta Olympics on the road back in 1996, and in 2000 on the mountain bike in Sydney.  She continued to race until 2005.  In 2009 she returned, racing in cyclo-cross for Luna until 2010.  Last year she announced her pregnancy and racing retirement. I caught up with Alison to ask her about motherhood, being a working mom and pregnancy.
What type of exercise did you do while pregnant? Did staying active help you with labor and recovery?
I rode my bike up until I was 6 months.  Then it got too uncomfortable so I switched to hiking.  I hiked almost every day up until the day I delivered.  I also did Pilates 3-4 days a week up until I was about 9 months pregnant.  Staying active gave me the endurance and fitness to handle my 46 hour labor.  I don't think it made the actual delivery any easier.  I recovered fairly quickly and was hiking within two weeks.  I didn't get back on the bike until 8 weeks postpartum.

Are you back on a structured training plan now?
Definitely not.  I barely have time to ride.  I just try and get out at least once a day for a hike, bike, walk etc.

Will you race this year?
Probably not.  Just can't get enough time on the bike to get into race shape.

How do you balance owning a business, training and a new baby?
Very challenging.  I barely have time to keep up with my business work.  It has definitely been hard.  As you know there just isn't any time in the day to do much else other than baby stuff.  I have become very efficient and get work done in small chunks when Emmett is sleeping.

I saw on your blog that you are breastfeeding. Does that impact your training schedule and time on the bike?
Breastfeeding doesn't impact my workout schedule or time on the bike.  The only annoying thing is having big boobs that are sore and bounce around on the bike.

Advice for new moms getting back in shape?
Be patient after giving birth.  I expected to be back on my bike within a few weeks and was surprised it took me so long.  The recovery was a lot longer and harder than anyone prepared me for.  I felt like I got hit by a truck after the delivery.  But the body does come back.  It just takes time.

Do you do any cross training?
I have been doing a lot of hiking this year.  In years past I did some trail running and back country skiing in the winter.

Will you encourage Emmett to pursue a cycling lifestyle?
Of course.  I want to be able to go mountain biking with him some day!