This weekend we once again took every advantage of  a mild, sunny and dry Colorado weekend. This time we skied Telluride on Saturday and biked Fruita on Sunday.
We seemed to do a little better loading up the circus to ski this week. We managed to remember all the gear this time (we forgot Kalden's goggles and gloves last week) and with the World Cup in town there was a lot to keep us all entertained between runs. I also got to ski with three of my girlfriends which was great for a few reasons.
First, I rediscovered the joy of  resort skiing. Until a few years ago I had sworn off ski resorts and opted for a few days here and there in the backcountry on powder days.  I swore off ski resorts because I had way too many (3 to be exact) out of control snowboarders and skiers run into me at the Summit County resorts. It just wasn't worth it or fun anymore plus I was mountain bike racing and my coach insisted that Nordic skiing would be a better use of my time.  So downhill resort skiing was put on the back burner for awhile.  Then we moved close to Telluride and last year my son started to get into skiing. Skiing at Telluride is a completely different experience than the resorts that cater to the Denver crowd. With that comes pricey lift tickets but it also brings a peace of mind that I never had skiing at those resorts. My girlfriends showed me some great runs, gave me the 411 on the lifts to take, and what runs to hit when.
Second, I got to experience being last.  Since most of my skiing has been in the backcountry in powder I'm  not fast on the blue groomed runs. They frankly scare the crap out of me. I anticipate ice patches and out of control snowboarders so I maintain a pretty slow and steady speed. Which means they were waiting for me at most lifts. I'm sure they felt a little revenge as it's flip flopped when we're out on bikes.
Third, they pushed me. I didn't want to have them waiting any longer than necessary so I definitely picked up my speed on the blues more than I would have alone or with my husband. I was fine and even enjoyed the speed. Luckily, there were no icy patches or out of control skiers to deal with. I also felt great on the black diamond runs and was able to ski from top to bottom in good form and without stopping (much).
So skiing with girlfriends is now at the top of my list to get more of this winter and winters to come.
But not so fast… with Fruita calling for high 40s and sun we couldn't pass up getting back on the bikes Sunday.  I was slightly worried when I saw snow on the ground driving into the  Grand Valley but the Loma exit trails did not disappoint. Randy and Kalden knocked out Mary's Loop. It was Kalden's first time doing the entire loop and Randy said he rode 85% of it and was amazed that he climbed most of the first big hill and rode most technical downhill sections. His joy, passion and commitment continue to amaze me. I went out after and did Steve and Mary's Loop. I was simply in awe of the perfect conditions, scenery and temperatures for December.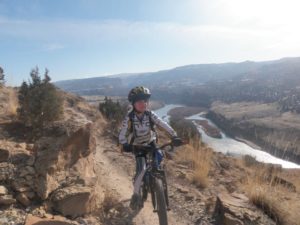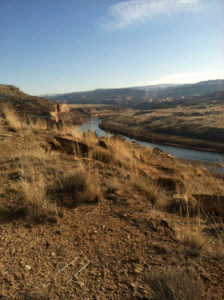 Life is good.