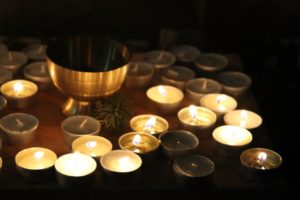 On March 12, 2013 we all came together to celebrate Axel's life. We could not have asked for a more beautiful, thoughtful and loving ceremony. My husband, truly my hero and the bravest person I know, was able to say these words about our sweet boy.
Hello Friends…thank you all for coming tonight to help us remember and celebrate Axel's life…a life that was cut way to short…but also a life that was full of happiness…and of love. Axel had such wonderful life and energy…he loved everything…and…he always had a smile. Except when we told him NO…well…he didn't like that at all!

Some of my favorite memories of Axel are of his interactions with his big brother Kalden. It was your typical big brother/little brother relationship. Axel would follow his big brother everywhere….and of course…it would drive Kalden nuts! Axel tried to do anything Kalden would do…jump his bike off a curb…climb the ladder on the play set here in town park… going down the biggest slide head first. And every time Axel fell trying to keep up…well, his big brother Kalden was right there to pick him up, dust him off and try again.
Yea, Axel was being groomed by his big brother to be one tough kid!
Axel was actually a surprise for us…and it's funny how when you have a surprise like that you instantly think about all the changes that are coming to your life…and the initial thoughts are of what you are going to miss out on.
We thought of how great Kalden was riding his bike and that we were on the edge of riding as a family…we thought about how traveling was going to cost more… all these silly little things…
Then Axel came to us on Feb 15, 2011 and all of that melted away in an instant.
We fell in love with our little guy and as he grew and started walking…his curiosity and energy fell right in line with ours…he loved life and embraced everything we introduced him to. He loved ridding his strider bike along side his brother…jumping around in the ocean…and…climbing all over our poor…old…dog…Denali.
I can't imagine anything worse in life than losing a young child in such a horrible way. There are no words to describe what we are going through.
But…with the help of all of you–our family–our friends–this wonderful community–our community in Sayulita that helped us celebrate his life with a memorial service on the beach–and, in fact the entire world that has reached out to us–we have been able to get back and move forward with laying our baby to rest…and to give our Kalden the joyful birthday he deserved during such a tragic time.
From our entire family…we thank you.
If you would like to listen to the entire celebration it was recorded and can be found at http://charrettefamilyinformation.blogspot.com/
After the ceremony our friend Chris arranged a huge bonfire on a piece of land used for nordic skiing in the winter.  Chief Ouray's great-great grandson Roland McCook , who also spoke at the memorial, came up and gave us short ceremony consisting of an eagle wing and sweet grass. The eagle is considered sacred, because it's the being that flies closest to the Creator. What comes through Eagle feathers comes from the Maker. The Sweet Grass smoke can change negative to positive. He said the eagle wing was taking the bad and now we are left with the good memories forever.
"We know that the minute his heart stopped pumping, he pulled out of his body and he took on the wings of an eagle," passing "into the next world, where it is calm, where everything is calm and everything is good, where he will wait for his parents to join him. He was a little boy who ran, who laughed, who jumped, who did the things little boys do, but he was interrupted. So this young boy has left us behind to deal with earthly matters, and he is now a part of that calm good place." -Roland McCook
As the sky turned to night we lit 50 Chinese lanterns and with the help of Axel's energy and spirit they soared towards the stars.
[nggallery id=12]
Links:
Ouray Newspaper
TV
Telluride Watch
Denver Post
Tributes:
Wilderness for Kids
Tales of a Mountain Family
Brave Ski Mom
Kid Project
Big Grey Rocks
Bring the Kids
Mile High Mama
Nature for Kids
Mommy Hiker
Outside Mom
ColoradoCalders
Cragmama
Val in Real Life
Odyssey Outdoors