Crossing back over from Canada to the USA couldn't have been any easier. We made a brief stop before the border to get rid of some fruit and eggs that were not allowed then got in line to drive over. We pulled up to the guard and after a few quick questions then some talk about bikes and trails we were off!
Our first stop was the Whitefish Bike Retreat just North of Whitefish, MT. This place opened in 2013 by Cricket Buttler. She had dreamt of a place where cyclists could come together and enjoy the best Montana has to offer and have access to the information and support they needed to get the most out of their visit here. The retreat includes a lodge with private rooms as well as shared bunks, bike workshop and wash stations, laundry and a kitchen. They also have a small campground (which we used) that can accommodate rigs up to 25′. We were able to get our 27′ in space #4. Our camp spot was directly across from the skills park located on the property.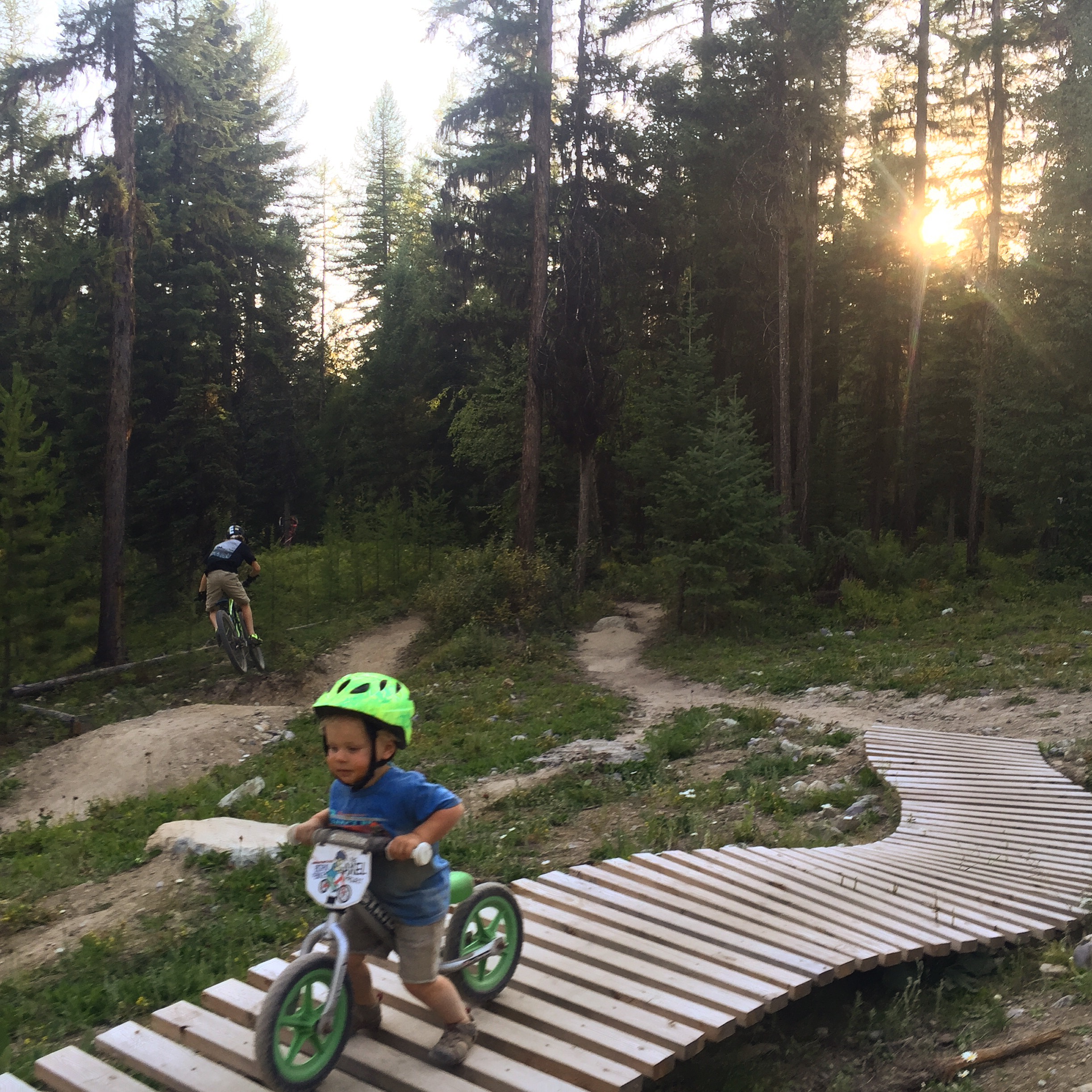 They have lines that are fun for everyone here.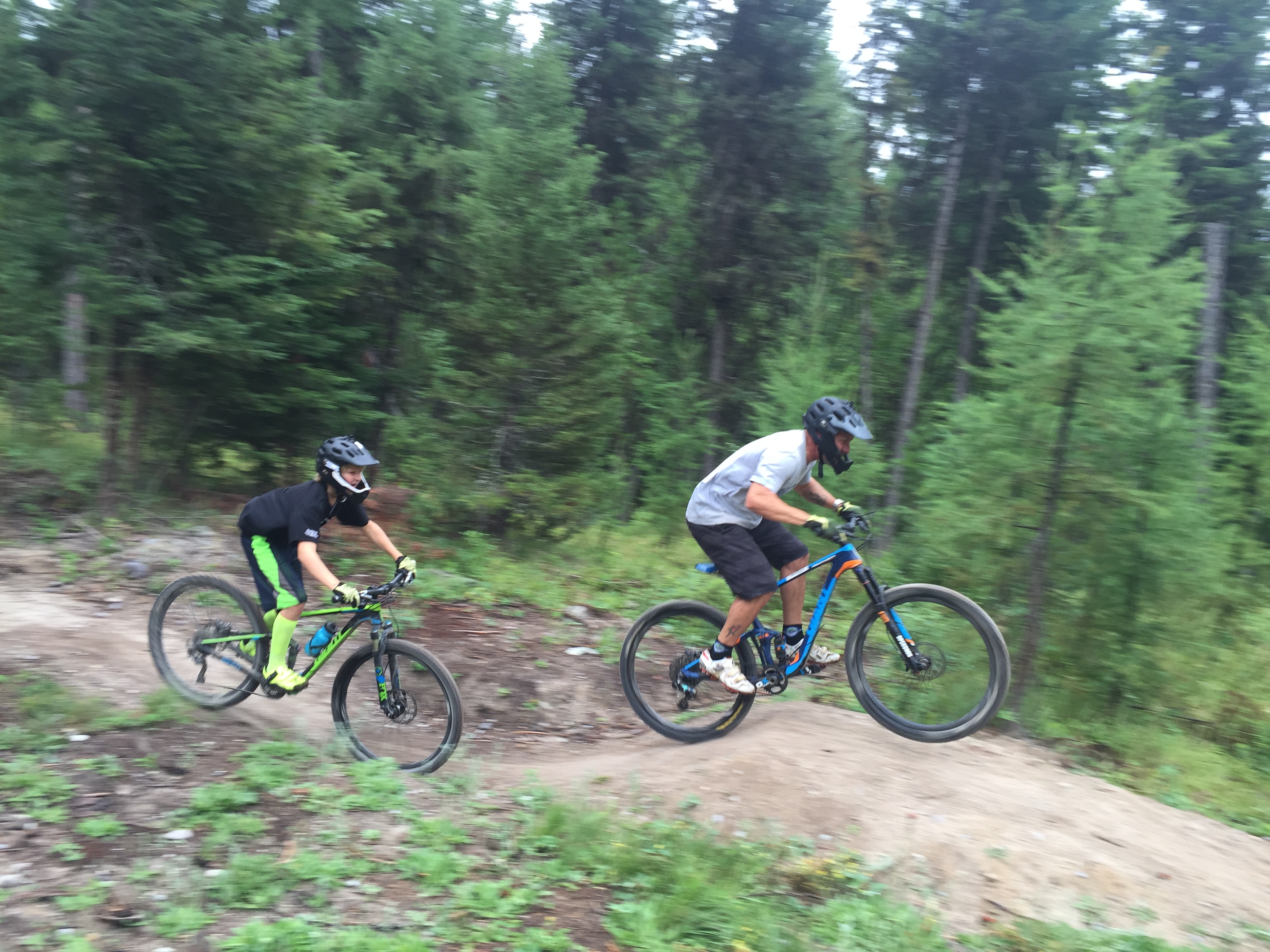 Just down the road (10 minutes) is Murray Lake. It's a beautiful lake and pretty off the "main track" so you won't see to many people out there. Just crystal clear water and quiet.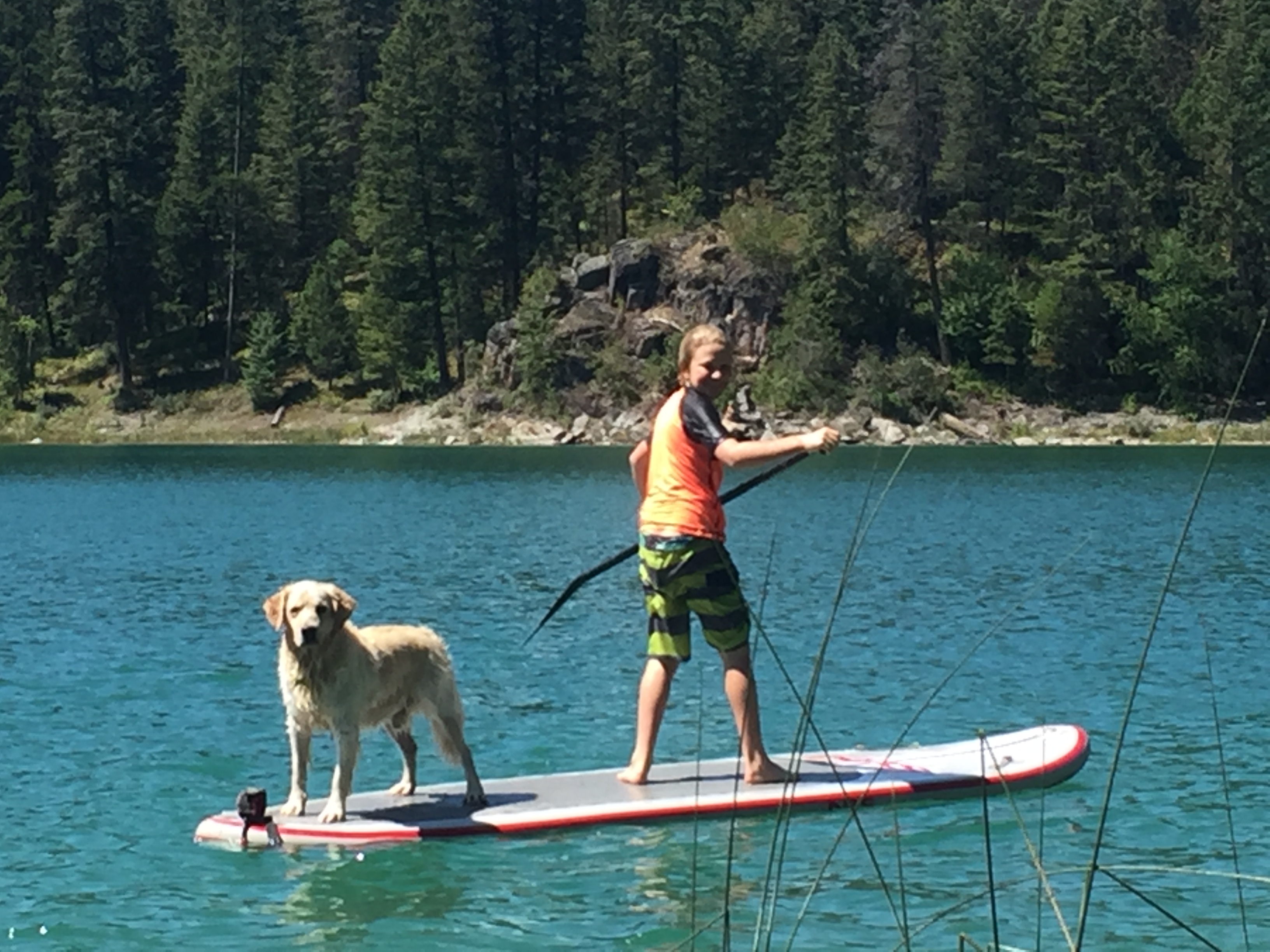 After a nice half day SUP and beach session we went back to the retreat to ride some more trails. In addition to the skills park they also have a pump track and two flow trails right there.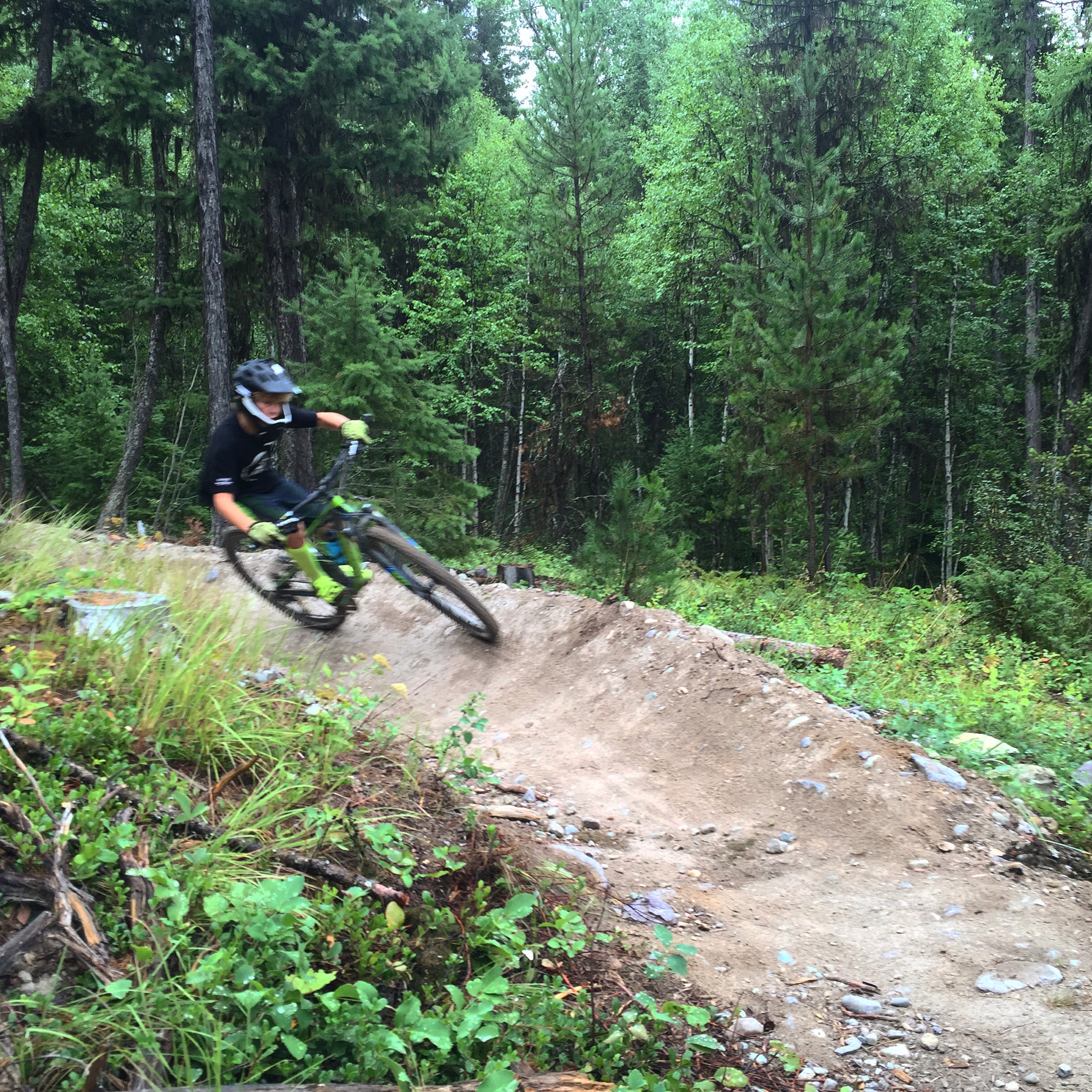 The end of our 3 night stay there came to quick but a large party had booked the whole resort for a wedding and they were arriving on Friday so we packed it up and headed down the road with plans to return again one day.
With no plans or reservations other that to head South towards Sun Valley, ID we hit the road. We drove for about 4 hours then started looking for a place to camp. We were along Flathead Lake hoping to find a nice pull off but having no luck at all. It was pretty developed along there and where it wasn't the road was right on the edge of the lake. Finally we got a break, we found a campground. It was called Blue Bay and is run by the Confederated Salish and Kootenai Indian Tribes. We pulled in skeptical that we'd find a camping spot on a Friday afternoon but with the plan of at least parking in the day use area and going for a swim and SUP. As expected the campground was full and truth be told we were not to excited by the look of it anyway so we set up in the day use area.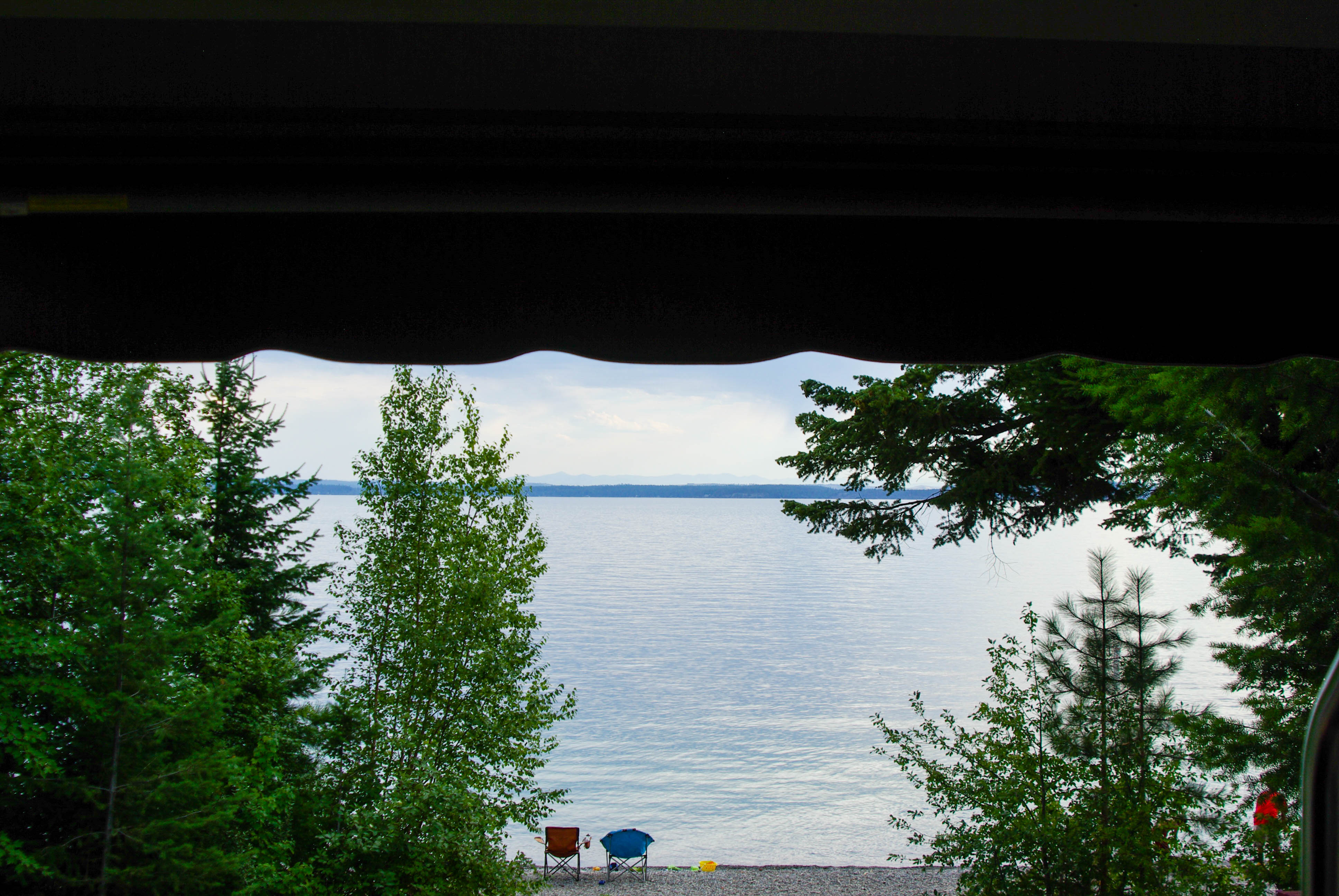 We got the swim suits on and inflated the SUP.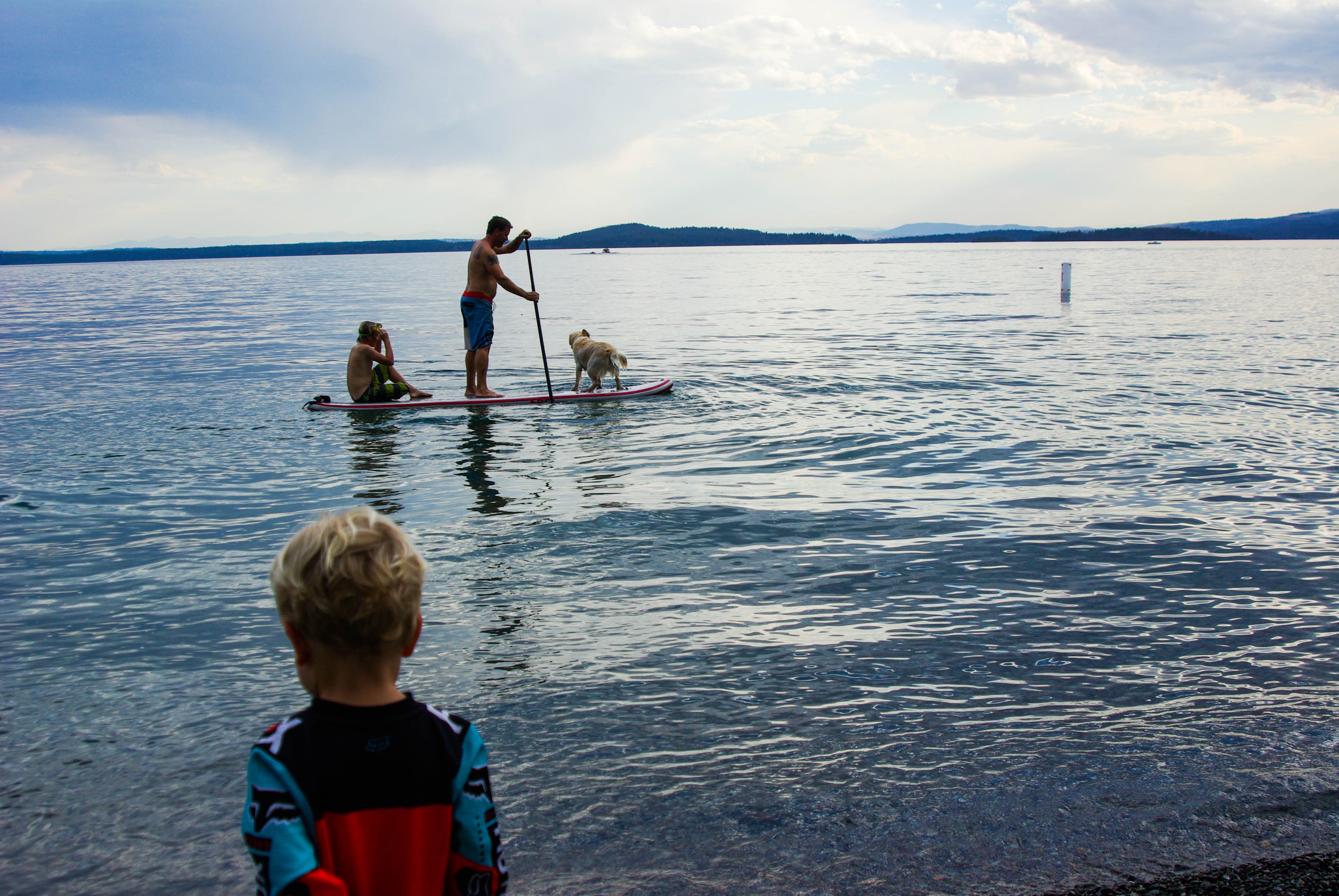 We decided we really liked the spot we were set up at in the day use area so I took a walk over to the entrance and asked the guy if we could pay the camping fee ($15) and just stay there for the night? He said sure! So while I set up the camper for the night the boy's played.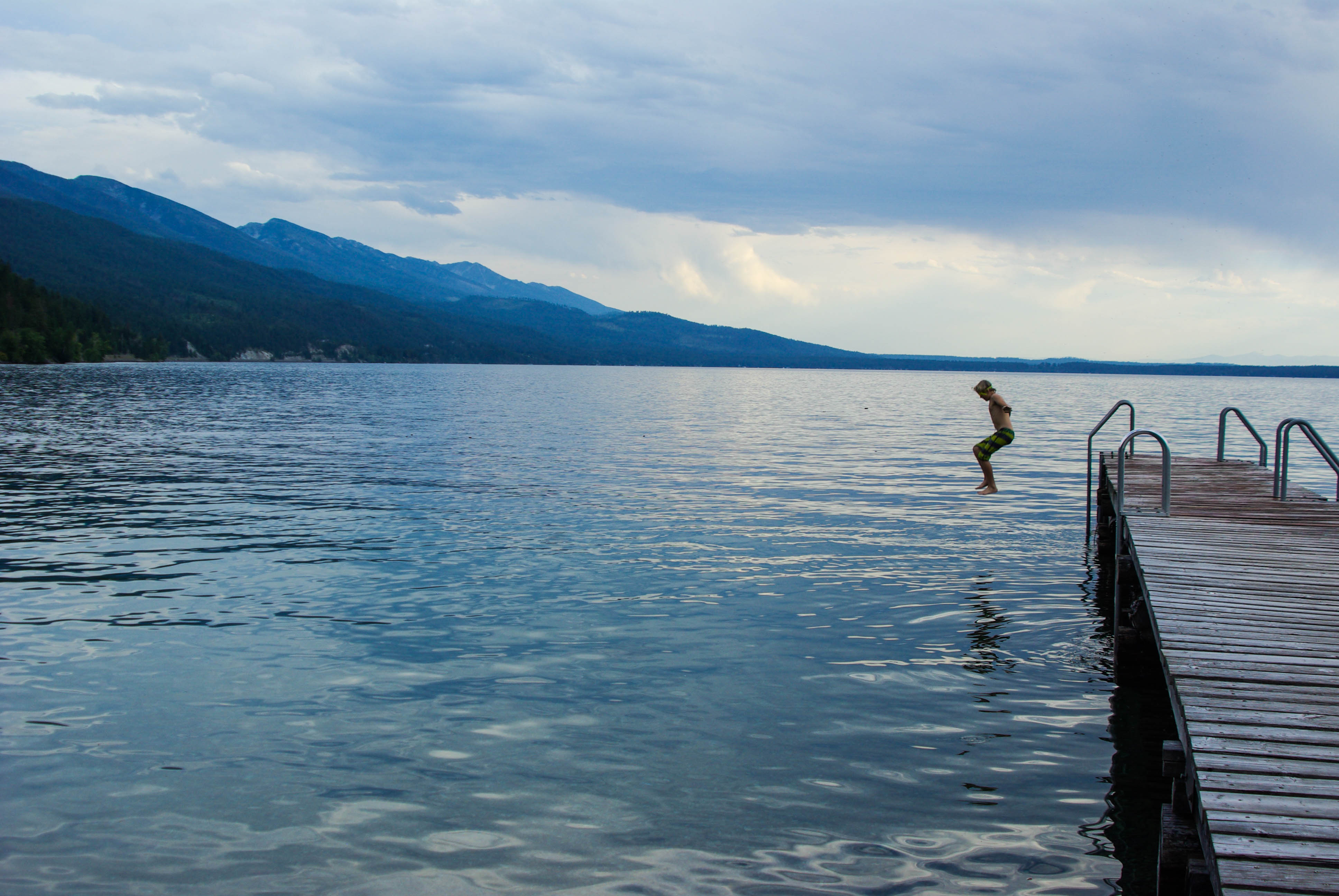 Of course Campy was loving life on the lake as well and got in plenty of water time.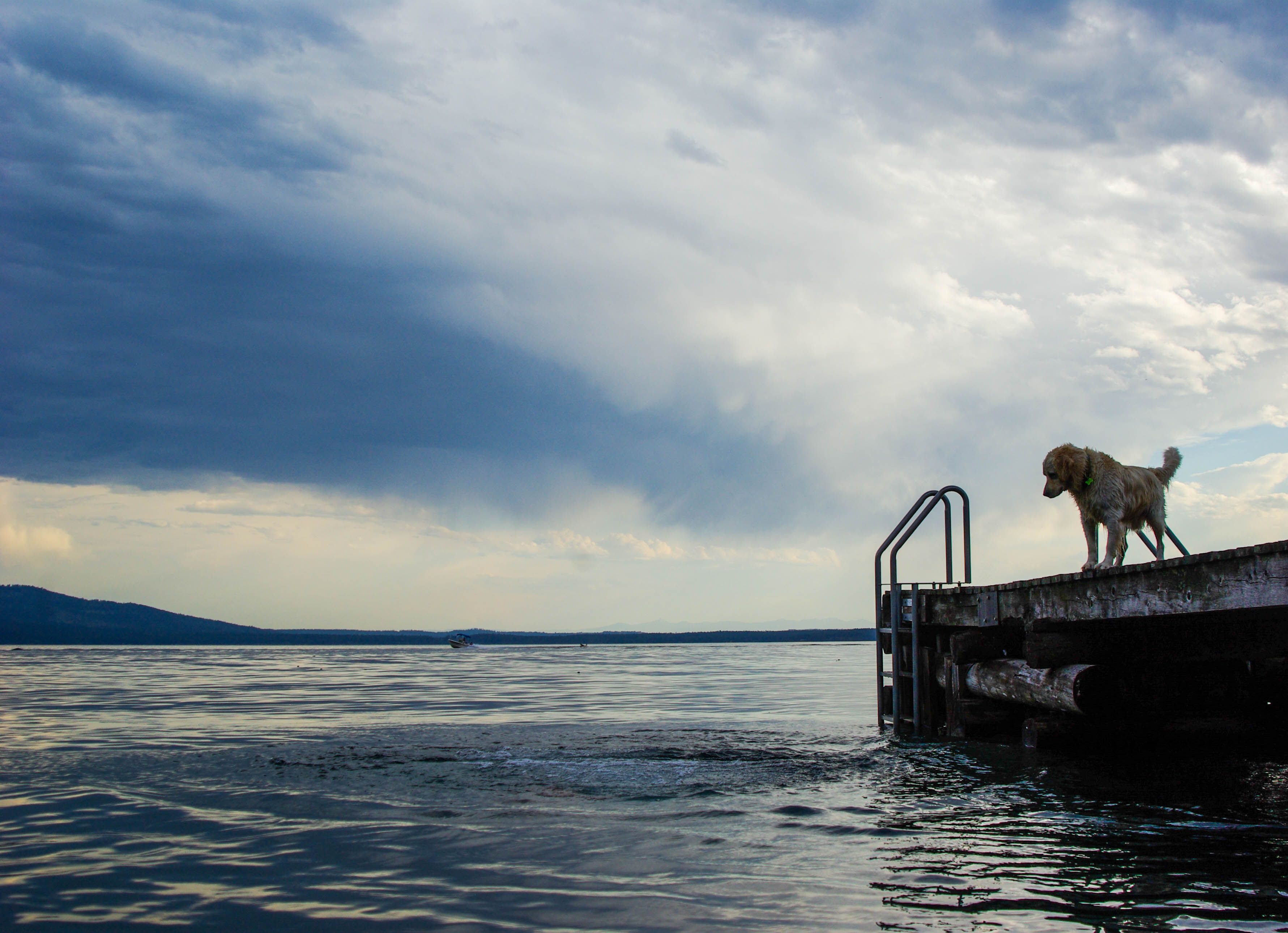 The following day we continued down the road again with no plan, just seeing where we ended up. Well, we found a neat old hot springs/campground right on the Montana – Idaho border. This place was OLD and stuck in time. It was a trip back to the 80's. They literally had an old TV with VCR and tapes for rent, $10/day! Everything about this place was a throwback in time and the 95 degree pool was a welcome sight.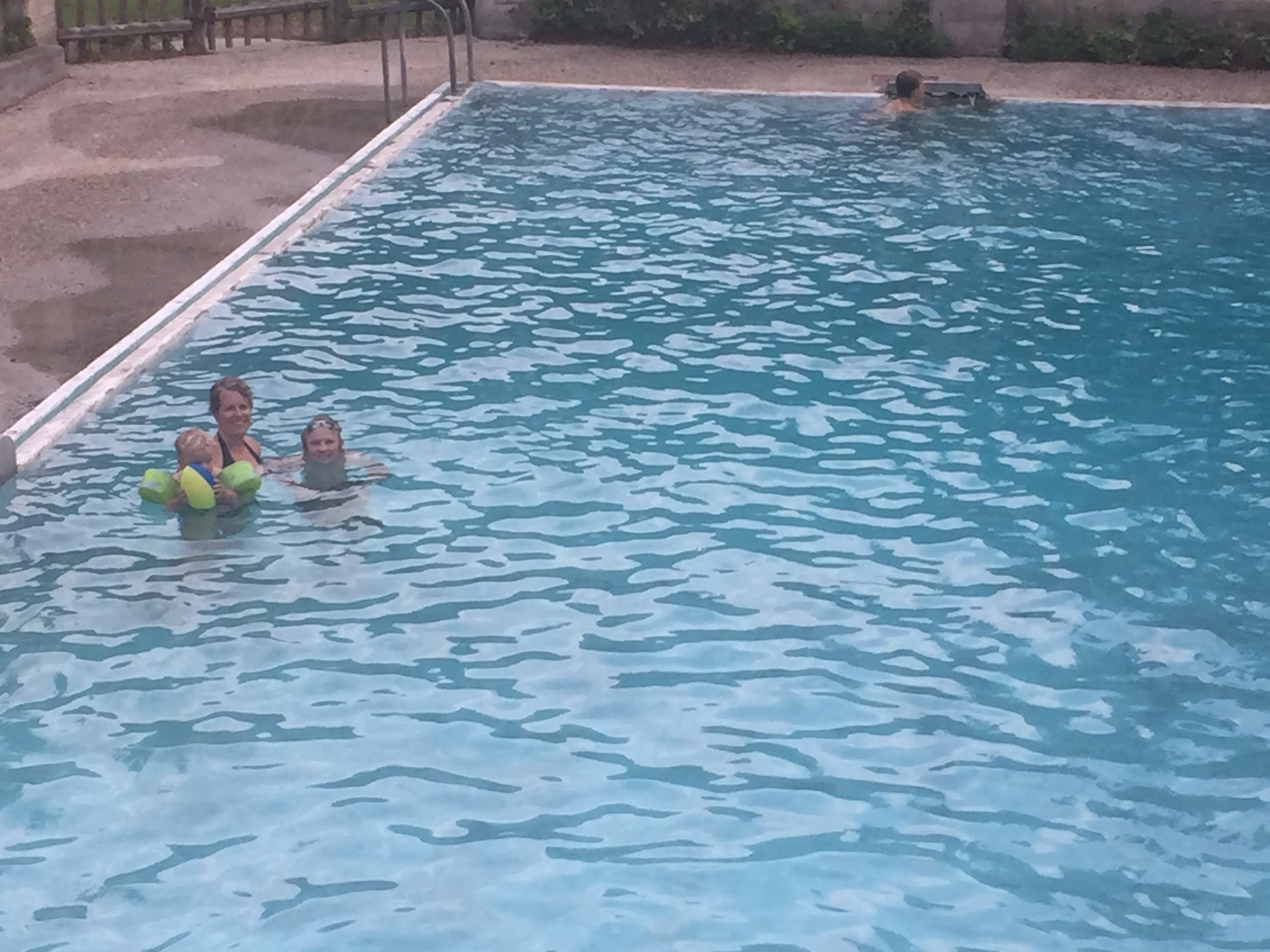 After a nice swim and some pizza we settled in for a peaceful night in the campground.
The next morning we were off to familiar territory. Stanley, ID was our destination but first we made another hot springs stop, a free roadside one called Sunbeam.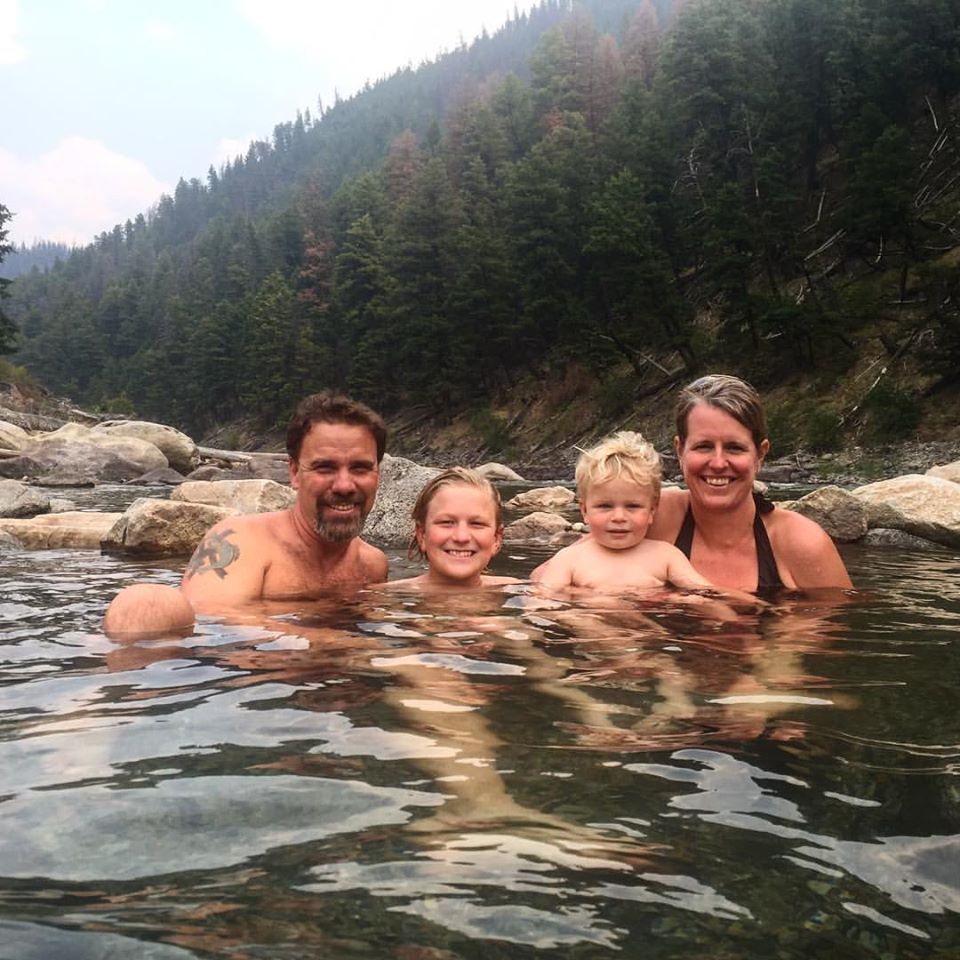 After our soak we continued down the road to Stanley and our campsite for the night. One of Jen's favorite rides in just outside of town, Fisher Creek. The parking lot for this ride is a big field so we pulled in with the camper and set up there for the night. Once set up I got out and rode the loop. It was quite a shock to be back on more traditional XC territory and at altitude! This ride makes you work but the reward is some great flowy downhills (3 of them). Once back we settled in for the night with plans for Kalden and Jen to ride it in the AM before we left for Sun Valley.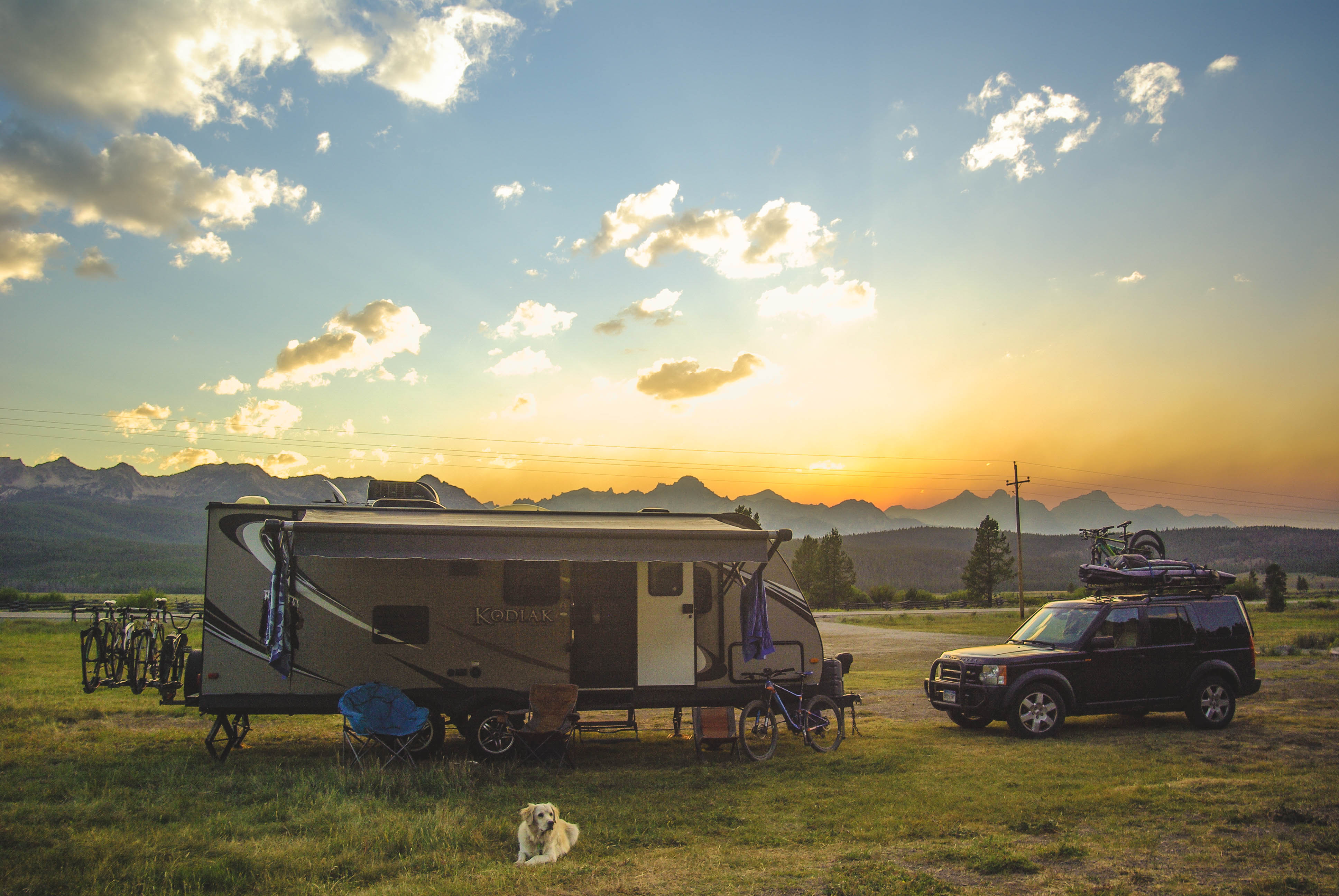 The following morning Jen and Kalden knocked out the loop as planed.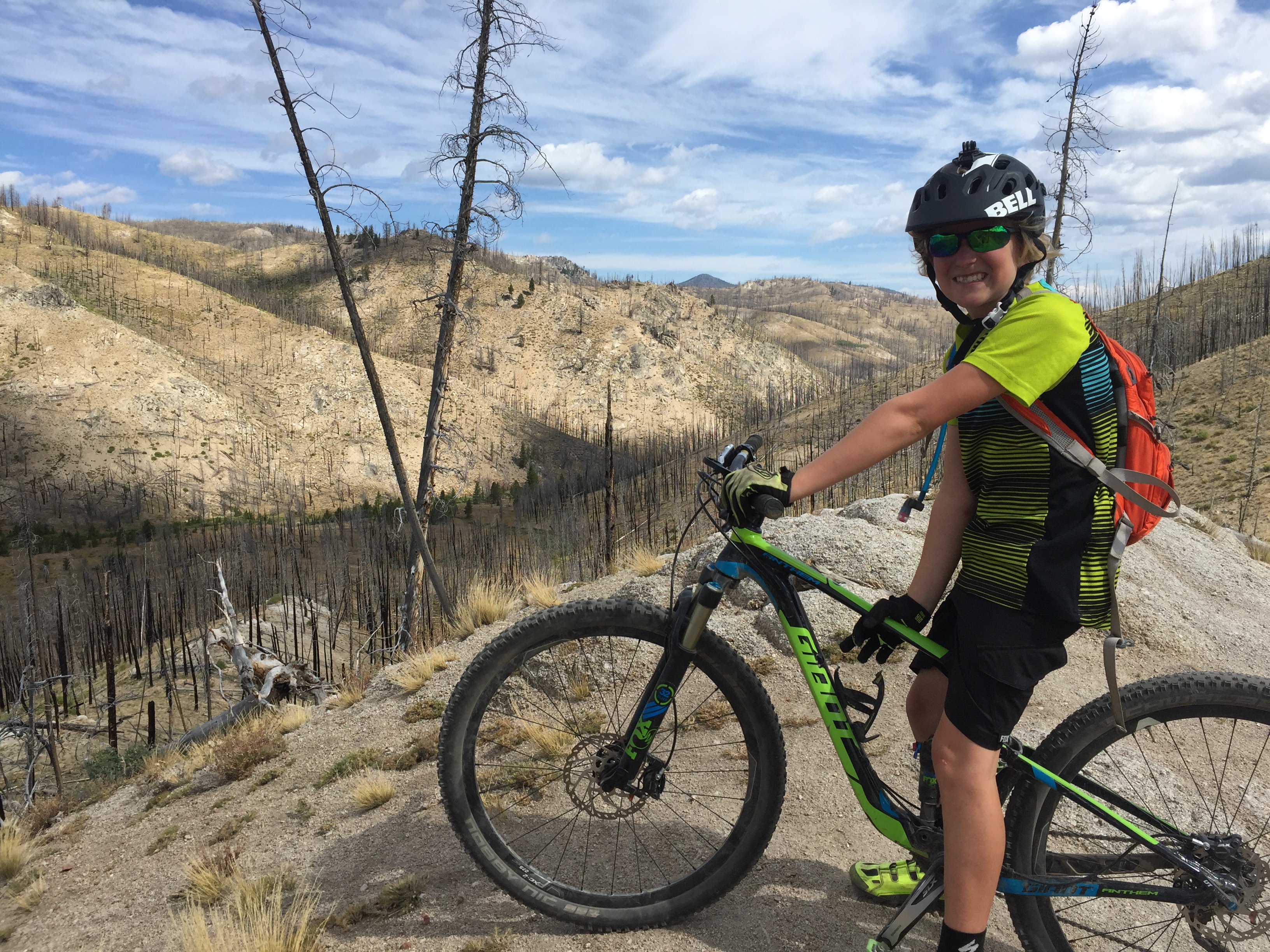 Then we loaded up and continued onto Sun Valley. To be continued.