We are finishing up our week here in Fruita and what a great week it was. First off we had a wonderful evening with Kristin and Jaime (AKA Brave Ski Mom) here in Grand Junction at their house. Jen has been working with Kirsten for over a year now on blogs and articles for Women's Adventure online and funny enough they had never actually met in person! I had met both of them on several occasions at races put on here in GJ but Jen was always elsewhere. Anyway, thanks again for a great evening and you have a great house with incredible views!
The following day I decided to take the boys to the dinosaur museum here in Fruita. Kalden has a mild interest in dinosaurs so it was a good opportunity for a "field trip" and for him to do some reading and learning. Both boys had a blast there with the interactive displays. I highly recommend this as a stop for young ones.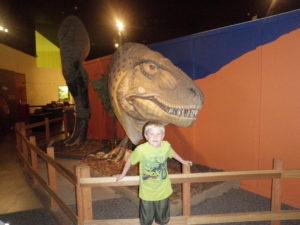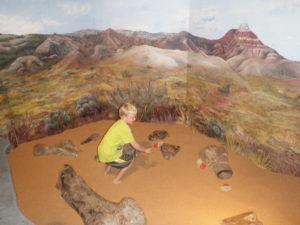 Now for the riding in Fruita again. Kalden, of course, had a blast all week running the trails here and then our friends came up for a day and brought their daughter Sophie. She was new to mountain biking so it was a great chance to get the little ones out for a run down the upper section of Kessel Run! This is where Kalden started 4 years ago so it was Deja Vu all over again 🙂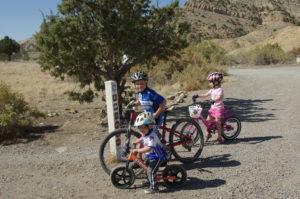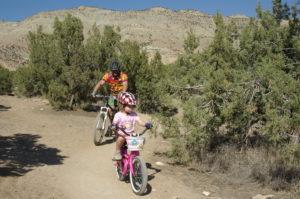 About half way through the upper part of Kessel Axel had done enough an said the all to familiar "Done"! He dropped his bike and started walking down the trail. This is how he and I finished it up 🙂
Kalden still had a great time ripping his way down the trail!
On Saturday Kalden did a race out here on 18Rd. It was put on by LTR (Live, Train, Race) and was a 3.9 mile loop for 9 and under. He showed up with one other boy a year older than him and Kalden won! He was super happy as were we and most important he had a great time!
We finished up the week with a Sunday ride in the Colorado National Monument. It was a beautiful day to head up there and with the Chariot in tow carrying Axel and Kalden on his 24″ Scott we were on our way from the Grand Junction entrance.
Our only casualty of the week while camping here was our awning. We had a couple of days with wicked winds and despite taking every precaution to tie things down the awning go ripped off. We are getting it re-sewn at a canvas shop in GJ Monday then it's off to Moab! Talk to you from there.
Velo Dad