About two years ago we lost our VW Vanagon Synchro Camper. After being with us for 12 years it decided enough was enough and left us stranded on our way home from Moab one evening. We spent many years traveling to mountain bike races and trails all over the Western US in that van. It treated us well (only leaving us stranded once before in Angel Fire, NM) but with another child on the way it was a little easier to say goodbye as it would be tight to fit four of us in there.
Since then we had struggled with what to do next.  Our dream was to get an OutsideVan or Sportsmobile. The main issue was money (upwards of $75k!). Even if we could come up with the funds we weren't sure it was the best use of our money at this time. Then there was space; even big vans are still a little tight with four people. Then there was the issue of leaving camp. Since we take turns riding and do a lot of shuttling having to pack up the van to leave camp is something we would do daily. We don't just get somewhere and stay put. We shuttle to rides, go into town for the occasional lunch or dinner, make a diaper run etc…
Which all led to thinking a pop-up camper was a good choice. It has space, we can park it in camp, it's cheaper. But we still debated for a year still stuck in the "maybe one day we'll just buy the OutsideVan." mentality. Lucky for us a local was in desperate need to sell their Fleetwood E2 pop-up this Spring. They had it for years and only used it twice. The daughter wanted a pony instead of a camper so we lucked out on a sweet 4WD pop-up at a reasonable price!
We took it on the maiden voyage this weekend to Fruita. It was amazing…heat, solar panels, kitchen, 2 big beds (and a third when needed) and a gear rack to store wheels, the Chariot and other odds and ends. It even has a pull up shower and toilet.
We are excited for new adventures.
Out with the old…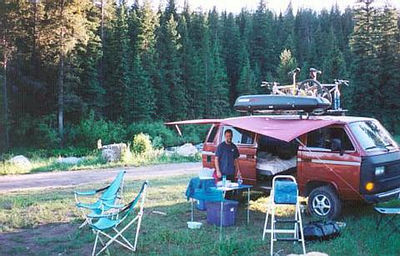 In with the new…