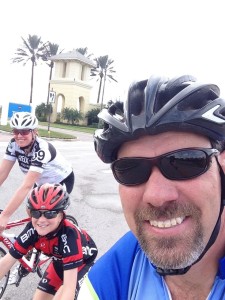 While I don't watch the show I woke up today hearing and seeing all about The Biggest Loser controversy. First she was too fat and now that she won people are criticizing her for being too skinny. Wow – women can't win in this society when it comes to their bodies.
This is why I don't have cable TV. Yuck. What a mess. It should not be about weight loss. It should be about being healthy, finding an activity you love to do, connecting your body to your mind, sweating, competing, being in nature, appreciating what your body can do, and more.
The day before I left Florida I went on a 20 mile road bike ride with Randy.  It was suppose to be 25 but I had to turn around because the humidity and heat were getting to me. As I rode back by myself a woman on a triathlon bike passed me like I was standing still. She looked strong and was obviously out there training for something and making the most of her time on the bike. I probably just looked like a slightly overweight woman going way too slow.
It didn't matter. We were both out there celebrating what our bodies could do at the moment and enjoying how the bike allowed us to be there living a healthy life.
I don't think she was concerned about losing weight. She was sweating, pushing, and doing her best to challenge her body.  I'm sure she felt great when she was done and cared less about the weight loss and more about the improvements she made in her training .
My reasons for riding that day were different but ultimately similar. I was sweating and happy to be out there doing something. I wasn't sitting around complaining that the tag on my maternity jeans that says "always skinny" is a pure lie.  And while I wasn't setting any records, there are plenty of skinny woman, who aren't pregnant, that can't ride a bike for 20 miles.
It's not about how we look, it's about how we feel and what is going on inside our body – whether it's skinny or large.