Not sure how to start this except to say that we need some help. When Axel died we had people donate money. At the time I had a full time job with IBM and we really wanted to do something to honor Axel and to help other kids and families so we partnered with Strider and started the Axel Project. The total donations were modest but with bike donations and other support from Strider we were able to kick off something great. We love doing events, giving away bikes, and making even larger plans to visit kids on a 'Ride and Read' tour once our Zoom! book comes out. And to be honest it's also healing for us and our older son Kalden. He loves being 'in charge' of helping the kids when we do events. It gives him the opportunity to be a big brother again and talk about Axel to anyone that will listen. I really see him shine when we are at these events.
I try to mostly focus on the positive here and it's not just smoke and mirrors. I really feel that how you think affects what comes into your life. But we aren't in the place we were when we started the Axel Project. I lost my job with IBM a mere 4 months after Axel died and I have not been able to replace that income. My plan was to take a few months off and then start looking for work in September. Well in September I found out I was pregnant (at 40, no job, no health insurance and with my tubes tied). And now a few weeks away from delivery I'll need at least a month or two before I can try and jump back into looking for full time work again or taking on contract work that will sustain us. I believe it will work out, and that this baby is a gift, but I also need to be realistic about the current situation.
Randy is fully focused on the Axel Project but not taking a salary. We know the Axel Project can do great work but it needs a boost and I need to not be stressed about it  – at least not for the next few months. I came to the realization this week that I just suck at social media and promotion.  As a tried and true INFP personality type my strength is not in sales and marketing. I've never found a way to monetize this blog, have any loyal sponsors that take a load off, or grow a huge following. I just like to write and discuss what inspires me.
And the same is happening with Axel Project. Two introverts with little help trying to get sponsors and create buzz around a first annual bike event…it's just not really working. I'm starting to think what the #$# are we doing? But support continues to trickle in and I can't think of a better way to honor and spread the joy of Axel than by continuing with the Axel Project. In addition our entire August is now filled doing events like the Tour of Utah and the USA Pro Challenge. While we do bring some Striders and Tees to sell, these events are hardly a fundraiser after gas, lodging, and the fact we aren't working other jobs when we are there…It's more part of the mission to spread the joy of #axelove. And like I said in my last blog post no experience is ever wasted and we are learning a lot…
But we are out of 'tricks' and any money to run FB ads. So I'll just throw out 3 ways you can help us continue:
1. If you don't have plans on Labor Day weekend and can make it down to SW Colorado please register now for our Axel Project Bicycle Classic.  We want and need this to be our major fundraiser for the year and to be honest registration is moving very slow. Lots of talk but little action. If you can't make it please share within your cycling circles. We do have a very professional team helping with ride logistics, a beautiful route from Ridgway to Telluride that will be fully supported, and lots of great food, beer, music and activities planned post-ride in the Ridgway park. The ride will happen but without more entries it will be fun but not a fundraiser.
2. If you have a business, magazine or popular cycling blog become a sponsor of the ride and/or help us get the word out via your social media channel or print magazine. Women's Adventure Magazine has been awesome to us with consistent social media support and ads in their print magazine! We paid someone (more money than we should have) to put together a sponsor packet for us only to realize it's useless without the sales and marketing connections to sell and distribute what's in there. We could also use donations for the auction and silent auction. We currently have an Orbea road bike (thanks Orbea!) but could use other items. Twitter: @axelprojectinc Facebook: Axel Project
3. Need a Strider or know someone that needs one? Please check out our shop.  There is also a donation page on the website.
Bonus: If you are a salesperson that is looking to help a non-profit we would really love to hear from you!
So many people, both close friends/family to total strangers have gone above and beyond for us (some multiple times). We are truly grateful for all the love and support and I don't think I would have continued to write and share if it were not for you all.
We just need to find a way to launch the Axel Project outside this wonderful small circle so it can grow and continue.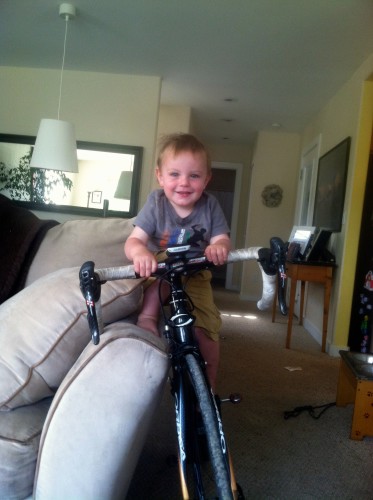 I actually wrote this post late at night and wasn't going to post but when I opened FB this morning the following was the first thing in my feed. I took it as a sign to put it out there…
"I decided I'm putting all my cards on the table. No more apologizing before I make a post. It's enough. If you see me and are wondering how I'm doing or if you ask the question, I will appear or say good or okay. Good or okay differs from your good or okay, unless you lost your child. I won't see my son grow up. That sentence in itself should say it all. You'll see me have fun, write from my heart, say and write things which some may find funny. It's all sincere. If you see me, I might seem distant and uninterested at times. Don't take it personally. You see, I won't see my son grow up. When you don't see me I may be crying at a given moment. I will run the gamut of emotions that most bereaved parents experience. Try not to feel sorry, sad or have feelings of guilt. I will live my life with both happiness and sadness. I will celebrate with my family and other families. So am I okay? No I'm not. I won't see my son grow up." – Mike Schumer