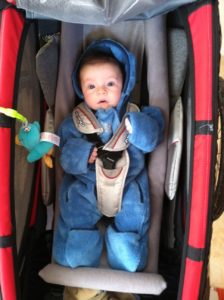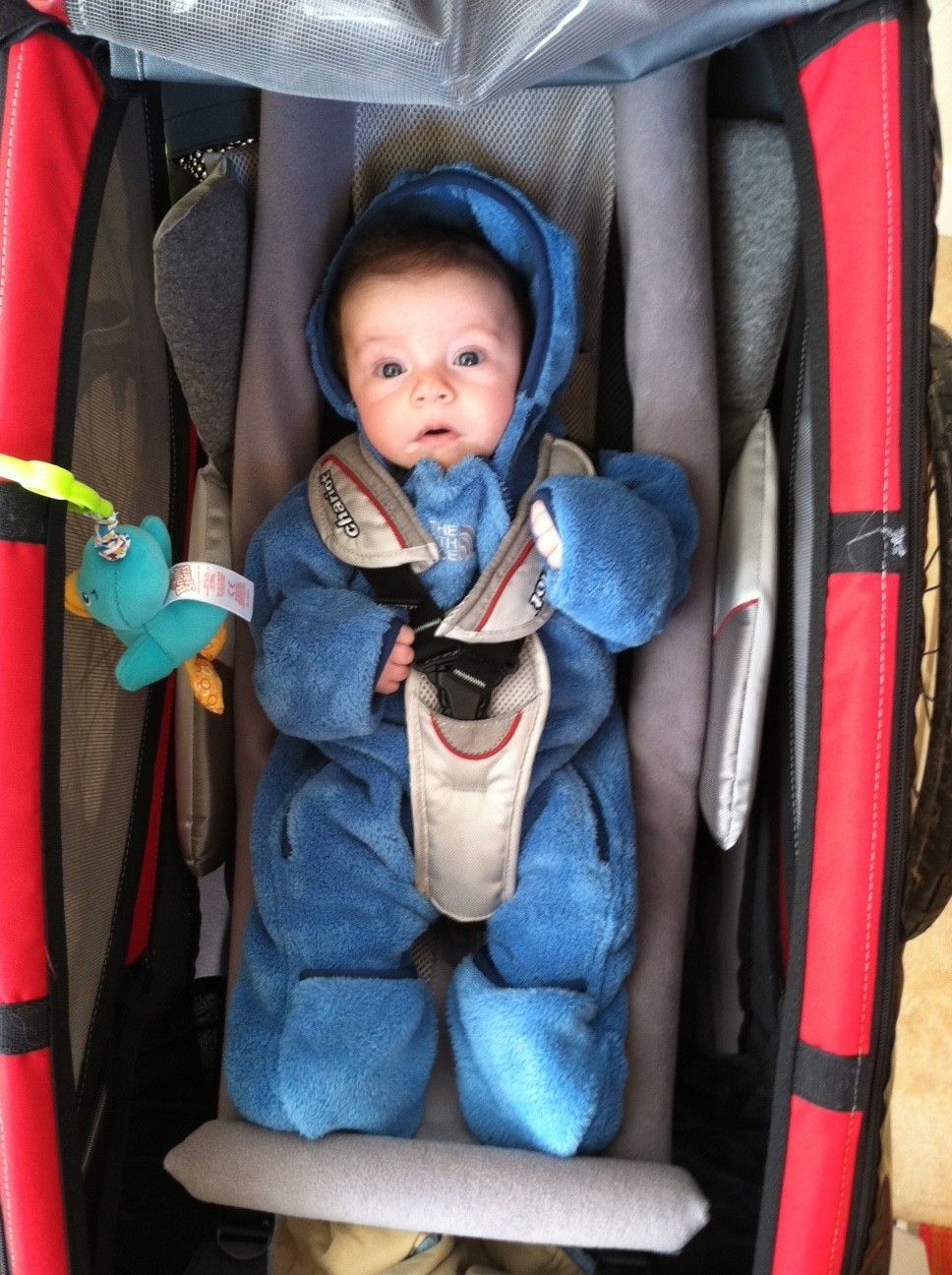 Content updated in 10/11/2017
I know some parents might GASP at just that title. I started cycling with my newborn a few weeks ago (around 8 weeks old).  The neighbors give looks like I'm crazy but I don't see the problem. He is tucked tighter than a burrito in a device called an infant sling, enclosed in a full suspension Thule Chariot Cougar Single Stroller
that retails for more than our SUV is worth, it's hooked to my 60 pound cruiser so I'm not going anywhere fast and we stick to the smooth bike paths or roads.  I see little difference in pulling him behind my bike vs.walking with him. I also think about my friends that live 10 miles out of town on a very bumpy road filled with pot holes and deep ridges. They drive that at least 2 times a day. Those little heads have gotten jostled around for years, even in a car seat, and they all turned out fine.
But, the Thule Chariot infant sling clearly says in big bold letters "Do not use with the cycling kit, serious injury or death may occur." You would think somebody with enough money to buy a Chariot could make an informed decision, but I guess not.
That said,  newborns are bobble heads. Their heads are much bigger than their bodies and their neck muscles are not fully developed yet. You do not want them shaken around and they can't communicate like a toddler can if their uncomfortable. It's probably best to wait at least 3-6 months, but if you're impatient like me here are some thoughts on minimizing risks.
Make sure they have body and head support. The infant sling does a great job at keeping him in place. You could also install a car seat in a Chariot or Burly trailer. I have heard of parents installing the base and then just clicking in the car seat when they go for a ride. Check prices here.
Don't attempt to put a helmet on them. I know helmets are a US safety standard for cycling,  but not for babies. Helmets add weight to the babies head and pushes the head forward. You also have straps to worry about. Instead use a head supporter such as the Thule Baby Supporter.
Stay on smooth paths and roads.
Stay away from a lot of traffic, both bike and car. We live in a small town so I don't have to worry about this one.
Invest in a good trailer with a suspension system. We have the Thule Chariot Cougar Single Stroller – Red
Check out the Taga Bike or similar models. This is a bike and stroller combo.  Taga is located in the Netherlands, where biking with a baby is the norm. The carseat adaptor allows your baby's carseat to install onto the front of the bike in lieu of the traditional child seat.
What are your thoughts on cycling with a baby?  Am I a selfish, crazy parent obsessed with my bike?