Don't get me wrong, I'm all for living with less. When you live in 200 sq. feet you are always evaluating what you really need and purging. I actually love purging and get a slight high when I throw or give things away.
But living in a 27 foot trailer with 4  people, a dog and hobbies is not living simply.
It's better…
It's living intentionally and with purpose.
But it's complicated and sometimes hard and not at all simple.
Here are a few ways we live purposefully but definitely not simply:
Bikes/Gear
We have 6 bikes and 1 Strider.  Well we had 6 bikes until a few weeks ago when 2 of our mountain bikes were stolen. 3 surfboards. 7 helmets. 6 pairs of riding shoes. 3 wetsuits.  It's a constant struggle to store and transport everything. For the bikes we have a Kuat hitch rack that we transfer between the trailer and the Land Rover. The rack comes with a thick cable lock which was what the thieves cut through (with very large cable cutters). We also have the Feedback Sports A frame that we set up when we are staying in the location for a week or more, it's a life saver for organization. We throw a tarp over it to shield the bikes from the elements and hopefully dissuade would be thieves. I'm not going to lie, currently our bikes our pretty much sleeping with us at night…all four get lined up once everyone is tucked in and sleeping. It's not a sustainable solution but we need to get over the trauma first. Sometimes I wish we didn't loathe running or hiking. Oh how simple that would be.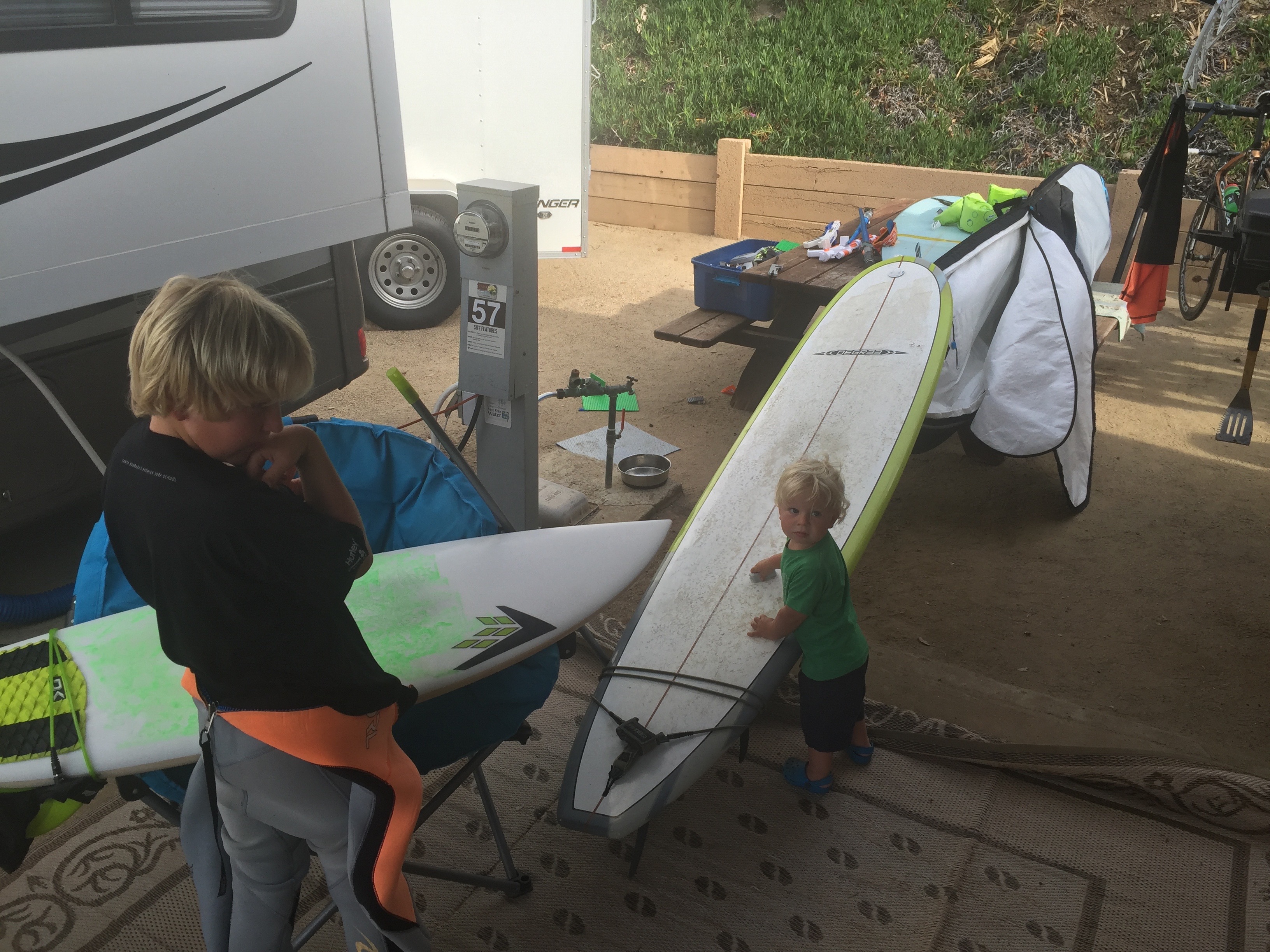 Logistics
We aren't living this lifestyle to escape anything/anyone. I sometimes get a bit jealous of people that are running away from a stressful city life and now that they are on the road they have tons of epiphanies and are enlightened. That is not us. We own a home in the San Juan mountains of Colorado with a population of 800 people and one of the darkest skies in the country (we can't even have porch lights). When we travel it's usually not to find a quiet piece of land to hang out on…we can do that in Ridgway. We want to bike, surf, eat…
This is not always a simple or cheap way to travel. If we want to surf we need to be by water and camping by the water is not easy or cheap. Or we need to fly somewhere (definitely not cheap) Winters are pricey on the road as boondocking is not an option in coastal California. Luckily almost all of our summer camping is done via boondocking (thank you BLM and forest service lands).
We are very intentional about where we go and it must meet our criteria to have fulfilling days but it's certainly not a simple or minimal lifestyle choice.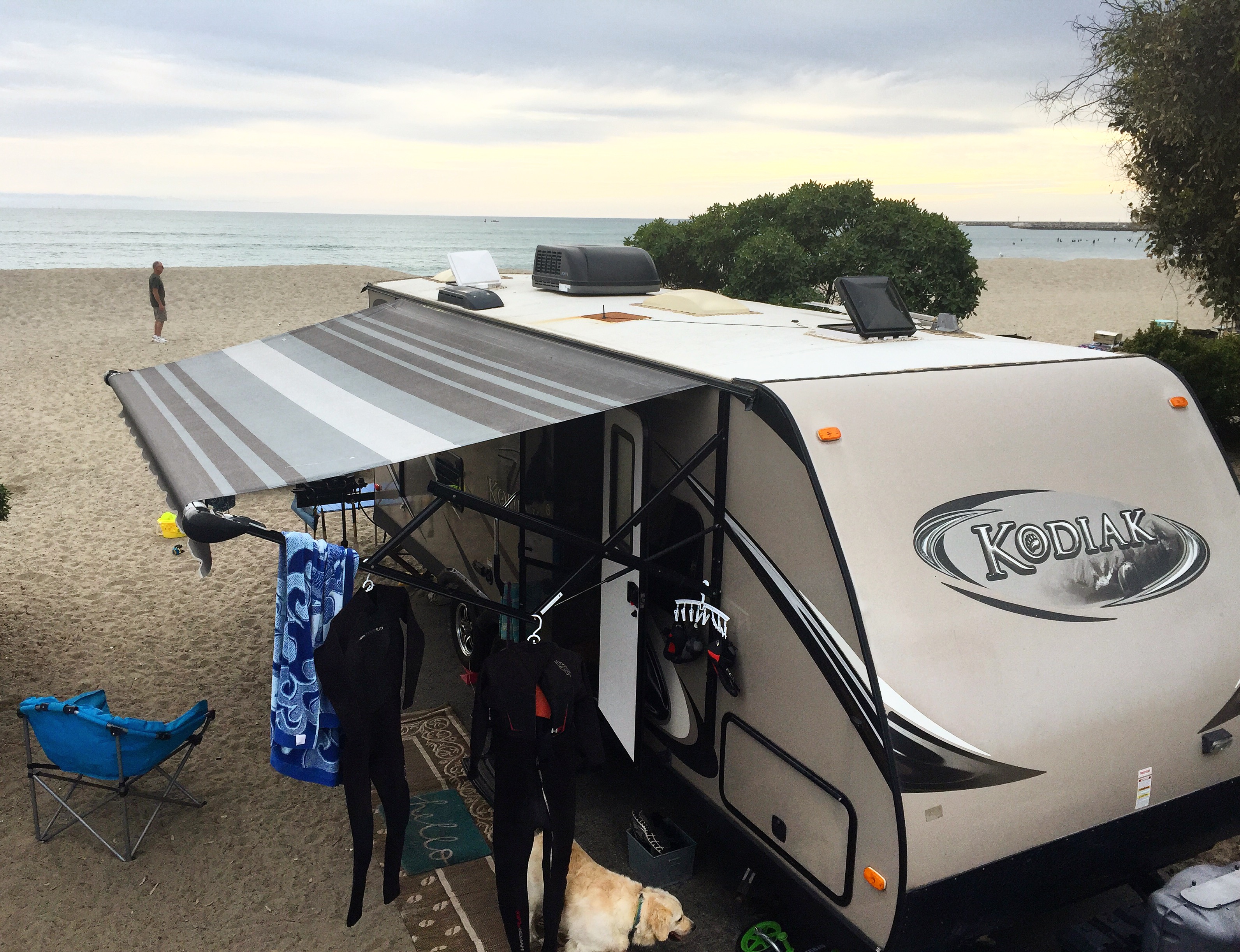 Laundry
This is my nemesis. With two kids that change clothes often we have to do laundry every 4-5 days. Most of the time we have to find a laundromat, deal with coins, and all the time wasted sitting around waiting for laundry (along with all the other homeless people). I miss home the most when laundry time comes around.
Connectivity
We suck at managing our internet bandwidth. If we aren't staying at a campground with free WiFi we can burn through our 20GB plan in 2 weeks. So when we have to decide between a cheaper state/county park and a more expensive private park the private park tends to win. An extra ten dollars a night pays for itself..not to mention laundry, pool, and extra security (hopefully). This means we are usually hanging out with retirees with Class A RVs or the suburban weekend crowd instead of all those cool full-timers we see/meet on Instagram.
The point here is not to complain (okay that did feel good) but to show that it's not about living simply. Simple would be to stay home, get rid of our bikes, and eat only veggies picked from our garden. Everything would be white, clean and fresh.
But we would be BORED TO DEATH. So we chose to live a bit more complicated but also more intentionally. We don't have it figured out and we change course day to day but that's the point, living a purposeful life.