Our trip to Tucson happened to coincide with El Tour de Tucson.  Randy did the 109 mile ride while Kalden and I did the 6 mile fun ride. This is a great event attracting over 9,000 cyclists of all ages. Kalden and I got up early to watch the 109 mile ride take off at 7am. It was a huge group and it took about 10 minutes for all the riders to cross the start line.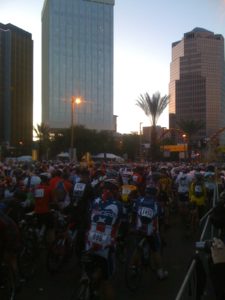 At 8am we lined up for the fun ride. It was mostly families (except for #30). Kalden was very excited to be up front and start "the race."  As always once we actually started he became cautious and made sure to stay in control and be aware of the cyclists around him. It was a good strategy as the group ability amounted to a bunch of kids and inexperienced cyclists. When the road opened up Kalden did put the hammer down. The event was very well run. There were police at every intersection stopping traffic for us and about 3 aid stations for the 6 miles. The crowd for the fun ride was also refreshing to see. In Colorado these types of events are dominated by hardcore cyclists trying to get their kids interested in the sport. Here it was mostly non-cycling families out to enjoy this event and spend time together. At the end everyone got a medal and there were smiles all around.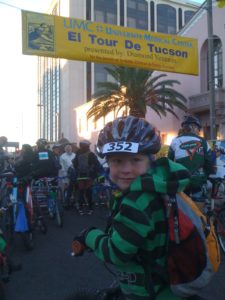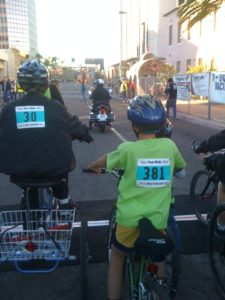 Since we had to wait a few hours for Randy we headed to Whole Foods and then In and Out for a well deserved burger! When we got back to the event around 11:30 the first cyclists were finishing. It was a tough year with 20-30 MPH winds. Randy came in around 6.5  hours  and was beat. He pretty much did the ride "off the couch." He was still very excited about the event and experience. It was amazing to see the amount of people and the different types of riders. Some people were out on the course for 11 hours! An event to keep on the radar if you are in Tucson around Thanksgiving!