The Campaign for a Commercial-Free Childhood has put together a yearly event encouraging children, families, schools and communities to go Screen Free and make changes toward a more active outdoor lifestyle.  This year the event is being held April 30th- May 6th.
Tales of a Mountain Mama has put together a group of bloggers to help support and publicize this initiative.   I am glad to support this effort to get kids and families outdoors and active.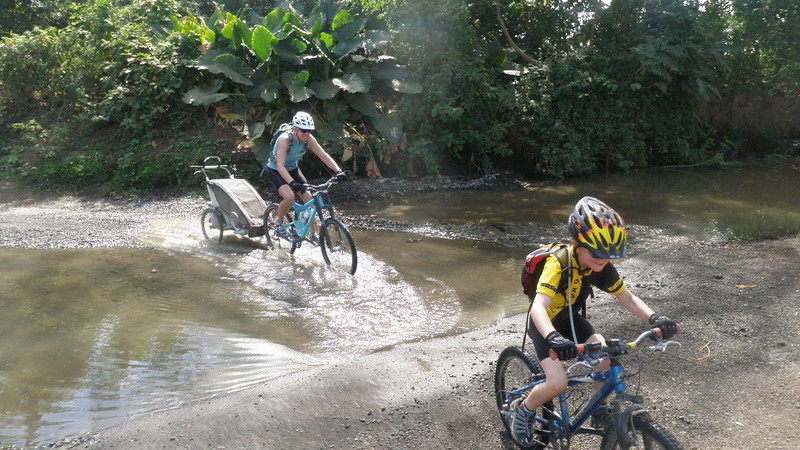 Exploring Nature with Bikes
With summer right around the corner it's time to start thinking about getting the kiddos outside. No more excuses about the weather. If you want them away from computer and TV screens then you are going to need more than one outdoor activity to keep them entertained. Biking is a perfect activity to explore nature.  Here are 4 tips to get you started.
1. Introduce kids early. Balance bikes, like the Strider, are a perfect introduction. You can start kids at around 18 months. Let them have fun and learn at their pace. I often see Moms with a Strider hanging off the top of their stroller. This is a great idea. Take it out when you get to a nice grassy spot or a safe part of the trail. When they are done riding, they can climb back into the stroller to rest.  I find the combination of walking/hiking, biking and recovery in the stroller gives toddlers a great experience exploring nature with all their senses and emerging motor skills.
2. Use the bike instead of the car. If we have a day planned that may not involve a true nature outing we try to bike there. An example is our weekly trip to the local hot springs pool in the summer. Instead of driving along the busy highway we get on our bikes and take the back way which is a dirt road. This road offers amazing scenery and we always spot wildlife since the road is not heavily traveled. It's a 10 mile trip so we always take an extended break at a beautiful mountain lake.
3. Look for family friendly trails. There is a new trend at state and even national parks to open family friendly singletrack trails for mountain bikers. I think this is brilliant.  While hiking and camping offer amazing opportunities to explore parks, mountain biking opens up a whole opportunity to get those reluctant kids out of the car. Your teenage son may not think hiking 10 miles sounds better than playing video games in the car, but what if he could bike down a fun trail while also seeing all that the park has to offer. Dead Horse State Park in Utah has done an amazing job of introducing mountain bike trails to the beginner/family.  Look for one in your area.
4. Stop to enjoy. It's easy to get caught up in mountain biking as a sport or recreational activity because it's so much fun. When you are with your kids make sure you stop frequently to take in the environment. You will need breaks anyway since their little legs can only pedal for so long. Use these breaks to discuss local flowers/plants, throw sticks, read nature signs or whatever your local trail offers. The idea is that while biking is fun, it 's also a way to introduce the concepts of protecting and enjoying the earth.
Hope these tips inspire you to get away from the screen and enjoy some family time exploring nature on your bikes!