This is a new feature I'm starting so we can learn how families are using bikes in their daily lives. Do you want to be featured one Friday? Fill out this form and I'll get back to you.
The first family is the Schwanks from Temecula, CA. You can find Zak (the Dad) tweeting about his adventures in bicycle commuting @SchwankyTown.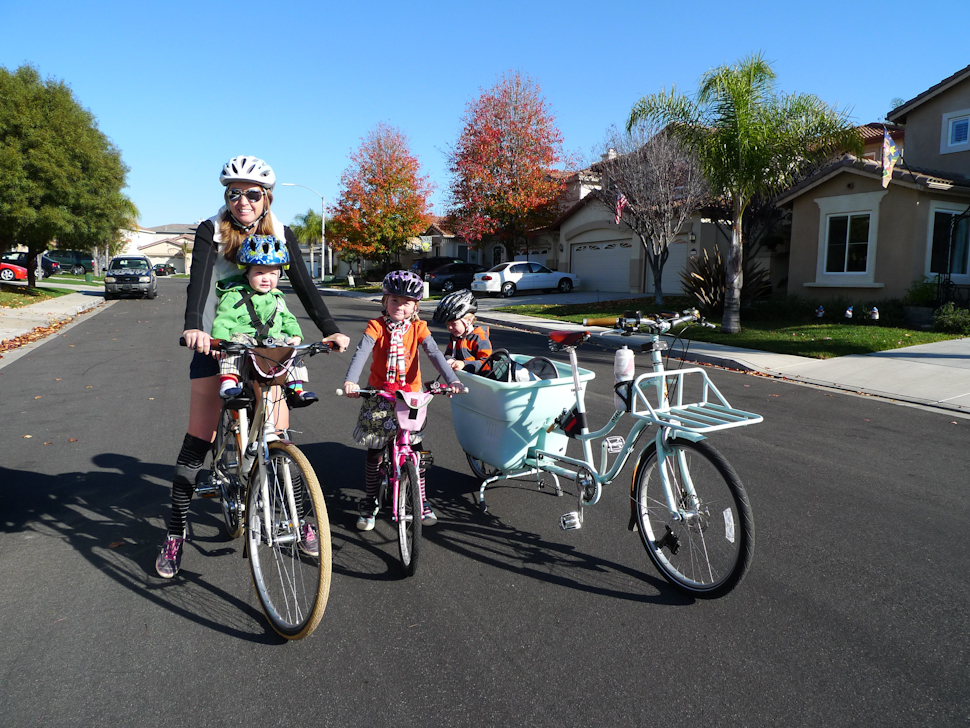 What are the ages of your children?
3 children…daughter 8, son 5, and son 16 months
What type of cycling does your family enjoy? (Road, mountain, commuting…)
As a family we mostly commute. My daughter and I have enjoyed road and mountain bike rides.
Where is your favorite place to ride?
To our local Great Harvest Bread Company. It's fun to get out and enjoy a yummy breakfast. We also enjoy riding to our local farmers market.
Tell us about your favorite memory riding as a family.
Has to be getting out Christmas tree this year. My daughter's school help a tree fundraiser this year. We picked up our tree as a family on bikes. Ended up strapping the tree to the front rack of my Madsen.
Tell us a tip for getting the family out on bikes.
Start with very small trips. Our first bike trips were under a mile one way. We would ride to the pool or to play games at a local rec center. Keeping it on residential streets and short trips helped us build to longer rides.
Tell us about your bikes.
Currently I ride a Madsen bucket bike. I usually will have my 16 month old and 5 year old if we are going on longer trips. My wife loves her Trek Atwood. We added a PDW rear rack and some Swift Industries panniers for commuting. My daughter rides a 20″ Specialized 6 speed Hotrock. It is perfect for some of the bigger hills around Temecula. My 5 yo rides his sister's old 16″ Trek Float. Like most girls bikes out there it was pink, so we took it apart and powder coated the frame black. Added some new grips, tires, and pedals and we were set. We also installed a Nexus 3 speed internal geared hub to give him a shot at some of the hills around here.