This is a new feature I'm starting so we can learn how families are using bikes in their daily lives. Do you want to be featured one Friday? Fill out this form and I'll get back to you.
The Vogels from Boise, Idaho are the family for this Friday. They are best known for their recent family bike ride from Alaska to Argentina! You can find Nancy on Twitter @familyonbikes. Also check out their website www.familyonbikes.com for wonderful stories and resources.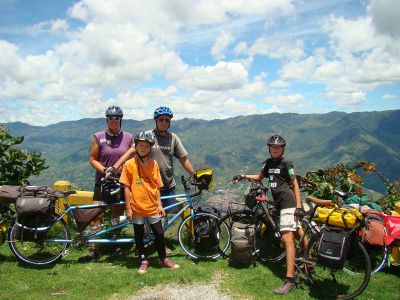 What are the ages of your children?
Two boys – age 14
What type of cycling does your family enjoy? (Road, mountain, commuting…)
Mostly touring, but we also commute sometimes.
Where is your favorite place to ride?
Remote country roads way far away from the nearest anything.
Tell us about your favorite memory riding as a family.
Only one? Who are you kidding? Probably my favorite was in San Juan Island. We were riding along the coast when we spotted whales out in the water. All four of us climbed off the bikes and stood, spellbound, watching a pod of 6 or 8 whales frolicking in the waves. Blackberry bushes filled with ripe, juicy berries lined the road at our feet. And then – we saw a majestic bald eagle perched in a dead tree right at water's edge. It was one of those magical moments that you never want to end.
Tell us a tip for getting the family out on bikes.
Just go. Expect the kids to love it and they will. It's us, as parents, who limit our children by underestimating them. Kids are capable of way more than we give them credit for.
Tell us about your bikes.
They've changed throughout the years. Right now, we're all riding old bikes that were stashed in our barn for years. When we toured from Alaska to Argentina, my husband and one son rode a Rodriguez tandem, the other son and I rode single bikes from REI.