If you have a cyclist in your life, or a family full of cyclists, you have circled the aisles at your local bike shop trying to find the perfect gift(s). Sometimes the perfect item jumps out at you and sometimes you end up just buying extra C02 cartridges as stocking stuffers because the walls of your local bike shop can sometimes be underwhelming.
Here are some ideas for every cyclist in your family. If your local bike shop(LBS) doesn't have these items click each item link to buy from Peak to Peak Bicycles (our little LBS). Use code VMHOLIDAY and receive 25% off any item in the holiday section until Dec 15th. All items also ship free and will arrive before Dec 24th.
Roadie
Campagnolo BIG Corkscrew: $249
The BIG Corkscrew is the ultimate gift for any cyclist out there. It brings a little euro flair into your dining room and also looks great in or out of the box.
Large design will open almost any wine bottle
Packaged in wooden gift box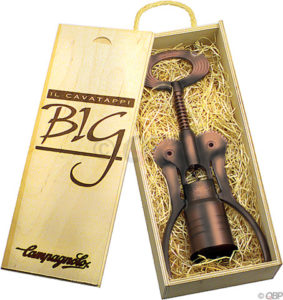 Cycloc Icicle Wall Mounted Bike Rack: $100
For years I have been looking for a nice bike rack for our home. Usually the ones I find are too utilitarian or too expensive. The Cycloc is both stylish and functional for home of office use. Cycloc is strongly constructed and fits a wide range of bike frames. A matching insert panel neatly conceals the three fixings and slotted mounting holes allow Cycloc to rotate to match the angle of your frame.
Mountain Biker
The Raptor is my favorite Osprey pack. Some of the highlights include ventilated back, built-in magnet to secure your hydration line, helmet holder, and hipbelt pockets for your phone.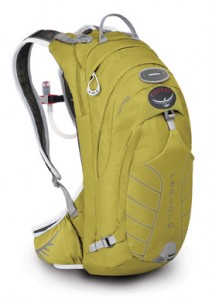 Garmin Edge 500 Wireless Bike Computer: $249
This Garmin is for the minimalist or racer in your life that still likes to have stats.I love it's compact design and it gives me all the stats I need for a long day of training or a casual ride. You can change the screen to view as much or as little as you like.
Low-profile bike mount attaches easily to your stem or handlebar; high-sensitivity GPS receiver with HotFix™ satellite prediction calculates your position
Edge 500 measures your speed, distance, time, calories burned, altitude, climb and descent, and records this data for your review
For extra-precise climb and descent data, Edge 500 also incorporates a barometric altimeter to pinpoint changes in elevation
Courses feature helps you compare successive rides over the same route; other features include Auto Pause, Auto Lap and temperature readings
Once your ride is done, use the included USB cable to connect Edge 500 to your computer and the internet to analyze your performance
 Junior
Strider running bikes are a great gift for your 18mo-4 year old to get them started out on two wheels. I haven't seen a kid yet that doesn't love a balance bike and the Strider is light, has fun colors and is durable.
iBert safe-T-seat Child Carrier: $99
If your toddler wants to see the road and be up front and center the iBert is a great choice. It mounts easily onto the front of the bike and comes in a cool green color that should make your boy or girl smile.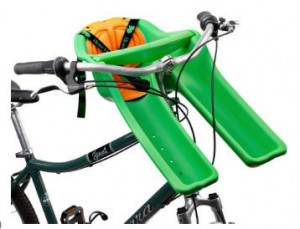 Mirrycle Incredibell Jellibell: $12
If you are looking for a great stocking stuffer look no further than the Jellibell. It comes in Blueberry, Grape, Tangerine, Lime, and Strawberry.
Charity
Remember that the holidays are about celebrating and appreciating what you have. If the cyclists in your life have enough gear why not donate to a cycling related cause in their name. Here are a few:
IMBA: IMBA is energizing economies and communities all over America with new trails and bike parks.
Bikes Belong: From helping create safe places to ride to promoting bicycling, they carefully select projects and partnerships that have the capacity to make a difference.
Worldbike: Worldbike was founded ten years ago as an organization focused on designing innovative bicycle prototypes to advance development in poor countries.
Pedal Powered Family: If you want to get a little more personal and help out a blogging family currently on a bike trip check out the sponsor page at Pedal Powered Family. Know that your money will buy them a rare night out or a hotel for the night. The cool thing is they blog about what they did so you can see your impact!
Want to see what other outdoor families are recommending for the holiday season? Check out these great blogs for more ideas.
Brave Ski Mom: Gift ideas for skiers
Bring the Kids: Christmas Gift Ideas – The 5 pieces of gear we take everywhere
Cragmama:  A Wishlist for Cragbabies
Tales of a Mountain Mama :Great Kids Gear (Adventuring for Christmas!)
Outside Mom: Gift ideas for outdoor families