We have just a couple of days left here in San Diego and it's been a wonderful month here. In my last post I mentioned we had to take our truck in for some service work which is all completed now but with Thanksgiving and the need to order parts things took much longer than we expected. Luckily the dealer gave us a loaner SUV to keep us going. The past few weeks we have actually dialed back the riding a bit and been doing more surfing. We found a great "Black Friday" online sale from Degree 33 Surfboards and took the plung (bought one). Now we are all set for Mexico, Kalden has his board and we have ours!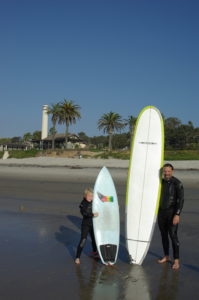 We've found some great surf spots here for us beginners including San Onofre, Del Mar and We even made a day trip up to Huntington Beach.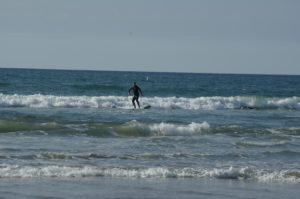 Kalden has be ripping it up and appears to have found his "second" favorite sport 🙂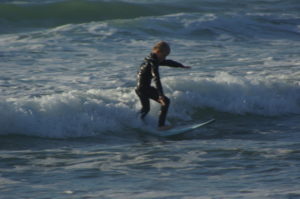 Our surf routine is very similar to our bike routine. Pull up and unload. Get Kalden out then Jen and I take turns. I do have to say though that it's much nicer hanging out on a beach with the ocean than a dirt parking lot in Fruita or Moab!
We'll spend the next 3 days packing and organizing. The plan is to drive to Phoenix Thurday and store some stuff with my Cousin at her house then put the camper in a storage unit there until our return from Mexico. After dropping all of that off we then head down to Tucson for the rest of December.
Talk to you from Tucson. Until then we'll enjoy our last few days here.