Our July 4th weekend was filled with plenty of bike riding which is always a good thing. On Sunday I took a few ladies up to the Dallas Trail. The Dallas Trail is that secret high alpine singletrack you dream about. It's not in any guidebook (yet), there is little to no traffic, plenty of wildflowers, views, climbing, descending, ripping good time all around. Two of the ladies (Jen and Anne) were visiting us from Fruita. Jen and Anne own the Hot Tomato Cafe in Fruita. As a side note, when you are riding in Fruita this is a must do stop for beer and pizza.
I don't have many pictures from the day. All I had was my iPhone and I was having so much fun it only left my backpack once. There are some great pictures of the Dallas Trail from the IMBA trail crew on Flickr.  The ride starts up under the San Juan mountain range in Ridgway and finishes near Ouray. This picture of the trailhead says it all about the scenery.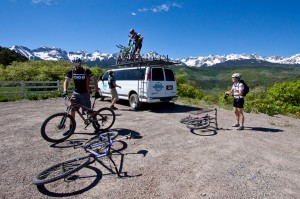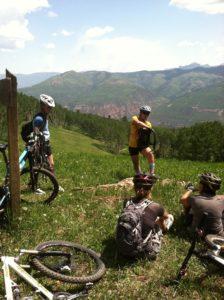 After the ride we stopped by the local burger place for a glutenous post-ride lunch. We deserved it!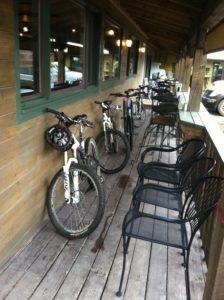 Monday was Randy's turn to ride and he did and out and back road ride to Silverton. When he returned, Kalden and I did the 5 mile ride to the hot springs.  We are lucky to have a hand full of hot springs in the area. This one is the Orvis Hot Springs. It's clothing optional (why are only the old/fat people naked at these places?).  If you put your blinders on to the sagging flesh around you it's actually a peaceful and nice place; especially on a holiday weekend when the Ouray Hot Springs is overflowing with people.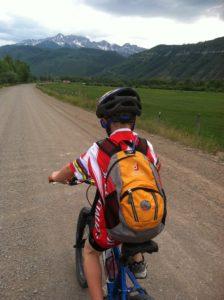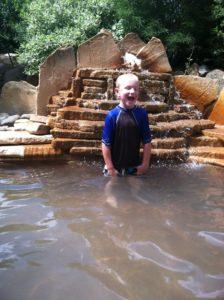 We finished the weekend off with a fun BBQ and local fireworks. It always amazes me how fast the 4th rolls around. Reminds me to enjoy every bit of these long summer days.