Home is where you park it…that's our life for the next few months. Randy said the other day that the camper is "his happy place." I would have to agree unless you ask me when Lars is screaming or Kalden has a millions LEGO pieces all over the floor, toys on our bed, and I can't find a single quiet place for a conference call.
But no place is perfect and a having a place we can move when the weather turns bad or when we're bored is priceless. I know for some people this would be pure torture – living with few belongings, changing places all the time, not having space or alone time but for us it seems to be our sweet spot. I also think that knowing we do have a "real home" waiting for us if/when we need helps. For us it's not an all or nothing lifestyle but a lifestyle that includes constantly figuring out how to balance it all or at least make sure the scale is tipping the way we want most of the time.
So after 3 weeks of staying with friends and family we ended up in Tucson. We've never camped in Tucson but have been here many times as a base for great road biking. We quickly discovered that the few campgrounds here that allow those of us under 55 aren't in great locations for cycling. It was a rough day making a complete circle around Tucson looking for something suitable. Finally, we ended up at Catalina State Park.
Apparently a lot of 55+ don't like to stay in the 55+ resorts and the park was pretty much sold out to snowbirds except for the overflow camping. Turns out that was perfect for us. At only $15 a night and next to the most well-kept modern bathrooms in state park history it's a great base camp until Friday. There is also mountain biking from the park and good access to the some of the best road biking in Tucson.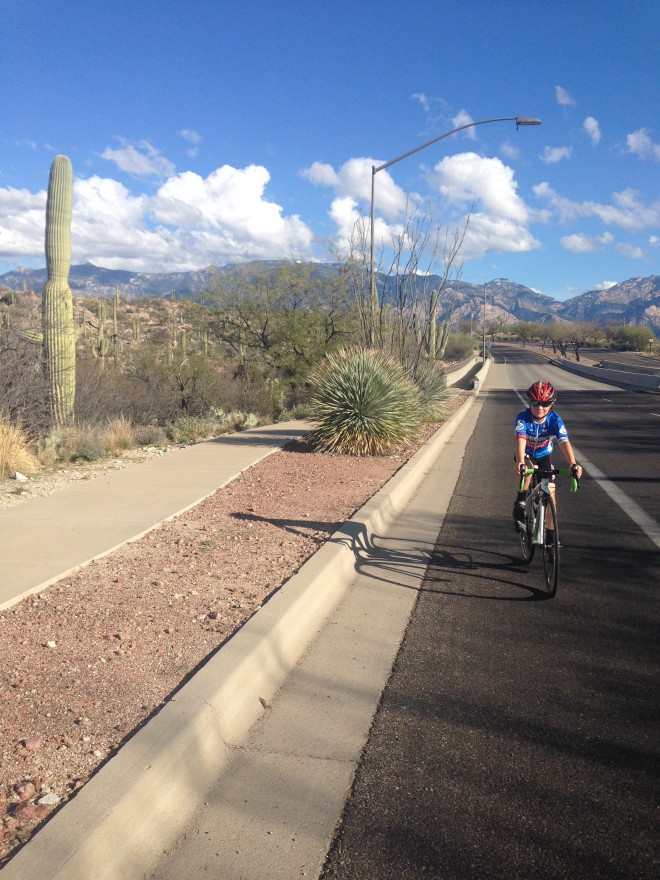 Oh and there is a brand new Whole Foods, one of our favorite pizza places, and super yummy gelato all down the street. Yes, the little things.