"Can I do school work?" and "Can I code?" Are two statements I have been hearing lately.  And – I am not dreaming! It's taken awhile to get to this point but we are finally in a place where we have a good grasp on how to homeschool for our family.
When we started a year ago we were certain the Oak Meadow program was the best choice. We talked to other families that used the program, studied the materials and liked their approach to learning. In addition we used Math by Hand to supplement the math.
Those lasted about a month.
I still think both programs are amazing but they just didn't fit our lifestyle, interests or natural skill set. Let's just say both programs require you to be very crafty and not focus on technology. And then there are all the materials that go along with both these programs. It got to be frustrating.
Then for 3 months Randy and Kalden came up with lessons on the fly every week that focused on reading, writing, and math. It worked but it was hard on Randy to come up with lessons and Kalden argued anytime he had to sit down and do any 'school work.' It was a battle.
To be honest he still argues sometimes but lately we've found our groove.
Philosophy:
I'm not sure that what we do fits neatly into any homeschool box. We tend to think like some unschoolers but those 3 months of 'winging it' showed us that we needed some additional structure to Kalden's education.
In a nutshell he is mostly self-directed and can work on his schedule but has daily or weekly goals to achieve. There is a lot of time in the day for him to focus on what he wants: read what he wants, write what he wants, play how he wants and research what he wants.
Programs:
Time4Learning is the primary program he uses. We learned about this program through another homeschool/travel family. We decided to give it a try back in March and it has been a success. The key to this program working for Kalden is that it's self-directed, interesting and visually engaging.
We have used Khan Academy a lot in the past but not lately. Kalden's not a fan of watching the videos but he does enjoy the practice portion. Khan has a good program for learning to tell time.
Currently we are on the first section of the after-school Codecademy program. It's a 15 week program to introduce kids to computer science.
Besides my belief that all kids should learn these basic skills at some point – there is a reason we are doing this program now. For the past few months Kalden has been talking about and designing(on paper) a mobile app bike game. He has it all planned out and is very excited about it. But he has no concept of what it actually takes to develop that game to run on a computer or phone. He takes for granted, like most of us do, the effort and skills required to actually turn that idea into a reality. I choose Codecademy because after learning the basic skills you make a small game in Javascript.
Note: This is not a self-directed program at his age. I have to be there to read and usually 'translate' most of the instructions. But he is able to complete all the exercises himself and is enjoying it.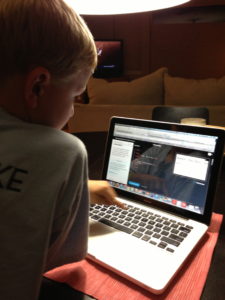 We also go through a lot of journals. He is always writing and drawing stories. Usually the stories are about cycling.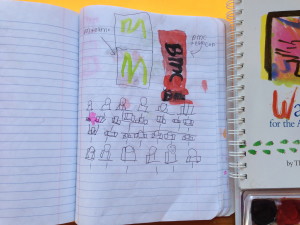 And sometimes the cycling stories end up being about math. Below he was figuring out how many riders were in a race if there were 22 teams and 8 riders on a team. Then he was assigning them race numbers based on their standings. In case you were wondering, Team SKY was given the first set of numbers since they won the Tour De France.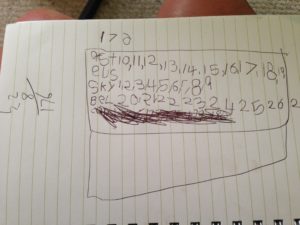 And then, of course, there is a lot of time spent outdoors, traveling and exploring.