If you hadn't noticed I stopped doing gear reviews awhile back. Blogs just seem to be saturated with them and I frankly find 90% of them boring to read. Most of the time bloggers copy from the manufacturer's website or go on and on and I get bored. This year I've decided that I will talk about brands I love but it's easier and more real to do that in an adventure post rather than devote an entire post to discussing an item(s) ad nauseam.  But I do find giveaways fun and I have one for you here. I do want to say a few quick things about the gear I received from Icebreaker back in December since I have not gotten around to writing about it much in my adventure posts.
The Women's Vertex Zip – 100% merino wool that does not itch…at all! Also Icebreaker runs an entire marketing campaign around the fact that their wool does not stink-ever. This is not hype. I have worn this top biking one day and then skiing the other and it does not have even a touch of odor to it. I have never seen this before in any of my technical gear.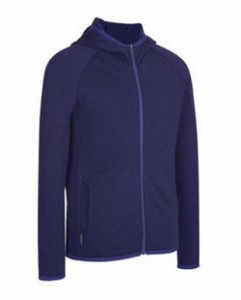 Kid's Camper Hoody– They sent this for my 6 year old. It looks very warm and well made but to be honest he has not worn it yet. It's a bit to bulky for skiing or biking but will be great for Fall and Spring camping trips. I guess the name says it all. Also, be aware that if you order one for a boy the Horizon/Mystic color is purple. My son took one look and said, "that is for a girl."  I think I convinced him it was a shade of blue.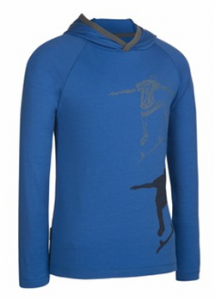 Skater Hoody – Love, love, love this top for my little guy (now 11 months). He has worn it on every skiing and biking outing because it fits perfectly under a snowsuit or jacket. The blue color also looks adorable on him and has held up amazing after washing and drying. Yes, I said drying, even though you are never suppose to machine dry merino. Since that is not going to work in this house (at least not 100% of the time) I thought I would throw it in and see what happened. It was perfect, no shrinking, pilling or fading. I know Icebreaker would not endorse this but line drying kids clothes seems silly.
Pocket Hat- This hat is perfect for under a bike helmet. It does run small so order a size up.
Icebreaker's prices are high but I feel worth it. I can see the Vertex zip lasting me years. As for the kid's gear, most people say it's a waste of money to spend that much on a kid. I don't agree 100%. I want my kid to be warm (or cool) and enjoy what they are doing outside. If an expensive clothing piece helps, then I'm all for it. But I don't just drop $100 and forget about it. I follow 2 rules…
Rule 1: Buy a few sizes too large so they have it for a few years. I bought a size 3/4 Patagonia rain jacket for my son when he was 14 months old and we have just retired it. (see pictures below).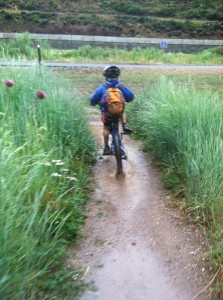 For more information or to order go to: http://us.icebreaker.com/
And now for the giveaway. Here is how to enter for a chance to win an adorable Skater Hoody (boy) or Oasis Crewe in color Cerise (girl):
1.  I really need more fans over on my Facebook page.  Like Velo Mom on FB.
2.  Leave a comment here about the clothing you buy your kids for outdoor adventures.
3.  Optional: Like Icebreaker on Facebook (I honestly will not check that… but it's the right thing to do)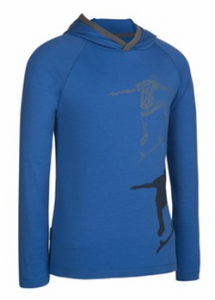 Winner will be selected on Jan 23rd.