If you're planning a mountain biking trip, we've got you covered, whether you're wondering where to ride, where to sleep, or where to 'gram. From Sedona to Whistler, mountain bike trails are an Instagrammer's dream – vistas, mountains, and colorful bikes and gear make for amazing shots. Need to up your Instagram game? Here are our picks for the most Insta-worthy mountain bike trails in North America.
Note: These are just some of our favorite shots, We know there are others so please list yours in the comments.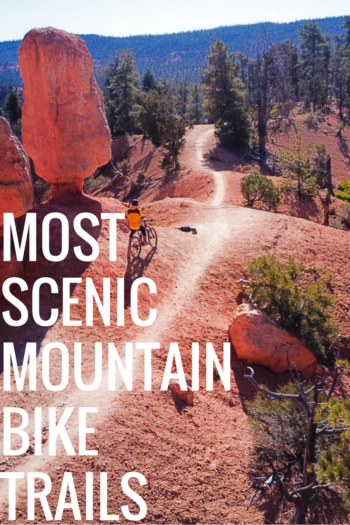 Sedona
The red rocks, the sunset lighting, the magic in the air. You almost can't take a bad shot on these trails. For some dramatic shots head to Chicken Point, Hangover, or Mescal at sunset.
Moab
Like Sedona, the desert doesn't disappoint in Moab for classic riding and 'gramin. Although popular, you can't miss Porcupine Rim overlooking Castle Valley. Need more information on where to ride in Moab? Click here. 
British Columbia
Loamy forest, lakes, and snowy mountain tops make for spectacular photos. Hashtag your BC riding photos #mtbBC – and Mountain Bike BC will feature their favorites!
Thunder Mountain Trail
Tucked next to Bryce Canyon National Park in Utah the Thunder Mountain trail offers multiple opportunities to drop your seat and gain some Instagram followers with shots like this.
Paradise Royale Mountain Bike Trail
This one shot from MTB Project had us driving on a crazy adventure with our camper to get to the Paradise Royale trailhead. Go and you'll be rewarded with a bike park, empty trails, and views like this for upping your 'gram game.
Pisgah and Dupont
The Pisgah and Dupont National Forest have no shortage of waterfalls to bike by, under, and over. Reward your efforts with a  stop at The Hub and Pisgah Tavern for a beer and to drool over bike gear.
Crested Butte
Plan your visit around the first few weeks of July and you're in prime wildflower season. Ride 401, Lupine, or Meander for some of the best wildflower viewing.
Tucson
If you want to mountain bike next to the giant saguaro cactus this is the place to go. Tucson mountain biking trails are also some of the best in Arizona if you're looking for a winter escape. Don't forget your first aid kit with tweezers!
What are your favorite trails to take photos? Let us know below.