"Skill to do comes of doing." ~ Ralph Waldo Emerson
On Saturday I took Kalden to ride the 401 Trail. The 401 Trail is a legendary single track in Crested Butte, Colorado. Some call it the best trail in the US. Randy and I debated about taking him on the trail  It's a hard singletrack climb to the summit and a fast descent with significant exposure.  Yes most 7 year old aren't ready to ride this type of trail but we knew he could handle it and, more importantly, would be very happy to ride it. Still he's 7 so that always makes us double guess what he can and can't do. In the end we decided he would be up for it. To limit some of the climbing Randy drove us 90% up the dirt road from Gothic. This put us at the top of Schofield Pass with fresh legs. From here it is less than 3 miles to the summit but it's a tough continuous climb with very steep sections. I figured he would have to hike his bike up at least 50% of it as most adults I know can't clean this climb. Well, he took off and we never stopped. We were at the summit in 23 minutes!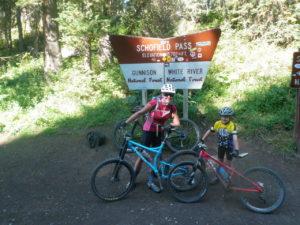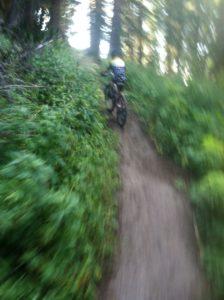 The descent was in good shape after the rains of July. Kalden is solid, yet cautious at descents. We stopped a few times to evaluate sections and then he rode them.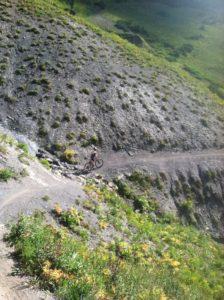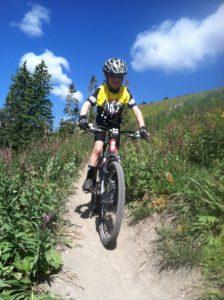 We made it down to the first exit of the trail in a little over an hour. Since Randy didn't expect us back for at least another hour we decided to take the 401 extension trail to Gothic. This trail involves a fair amount of climbing and some technical water crossings. We took our time enjoying beef jerky and Honey Stingers along the way. This was a great section for Kalden to practice riding in rocks. The end of the trail has a fair amount of rock gardens.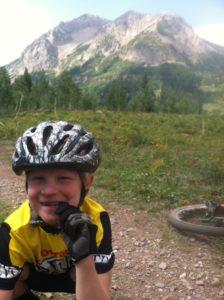 401 is now of of his favorite trails and he can't wait to get back to CB and try it again!