Ok, let's just schedule the C-Section for the 27th of May, that way Kalden can do all 3 of his races over the weekend then on that Tuesday Lars enters the world. It's a perfect plan.
Well one thing is for sure, babies could care less about your plan! Lars arrived 5 days before the scheduled C-Section and 1 day before Grandma and Grandpa flew in. Time for plan "B".
With Jen in the hospital recovering from her VBAC delivery we decided the best plan was for Grandma and Grandpa to stay in a hotel down in Rifle, CO with Kalden for the weekend where the race was based out of and I would drive down each morning to catch the race then come back to Grand Junction to spend the rest of the day/night with Mom and Lars. This is what you do when you're a bike crazy family 🙂
The first race of the 3 days was a time trial and a chance to meet all the other kids in his 9-10 year old group. Kalden quickly recognized a few of the kids he had met at the BRAC Jr road camp he did back in April and fell right in with his friends. They all told him about Voli. Another 9 year old kid who was super fast!
After a good warm up it was time to line up for the TT.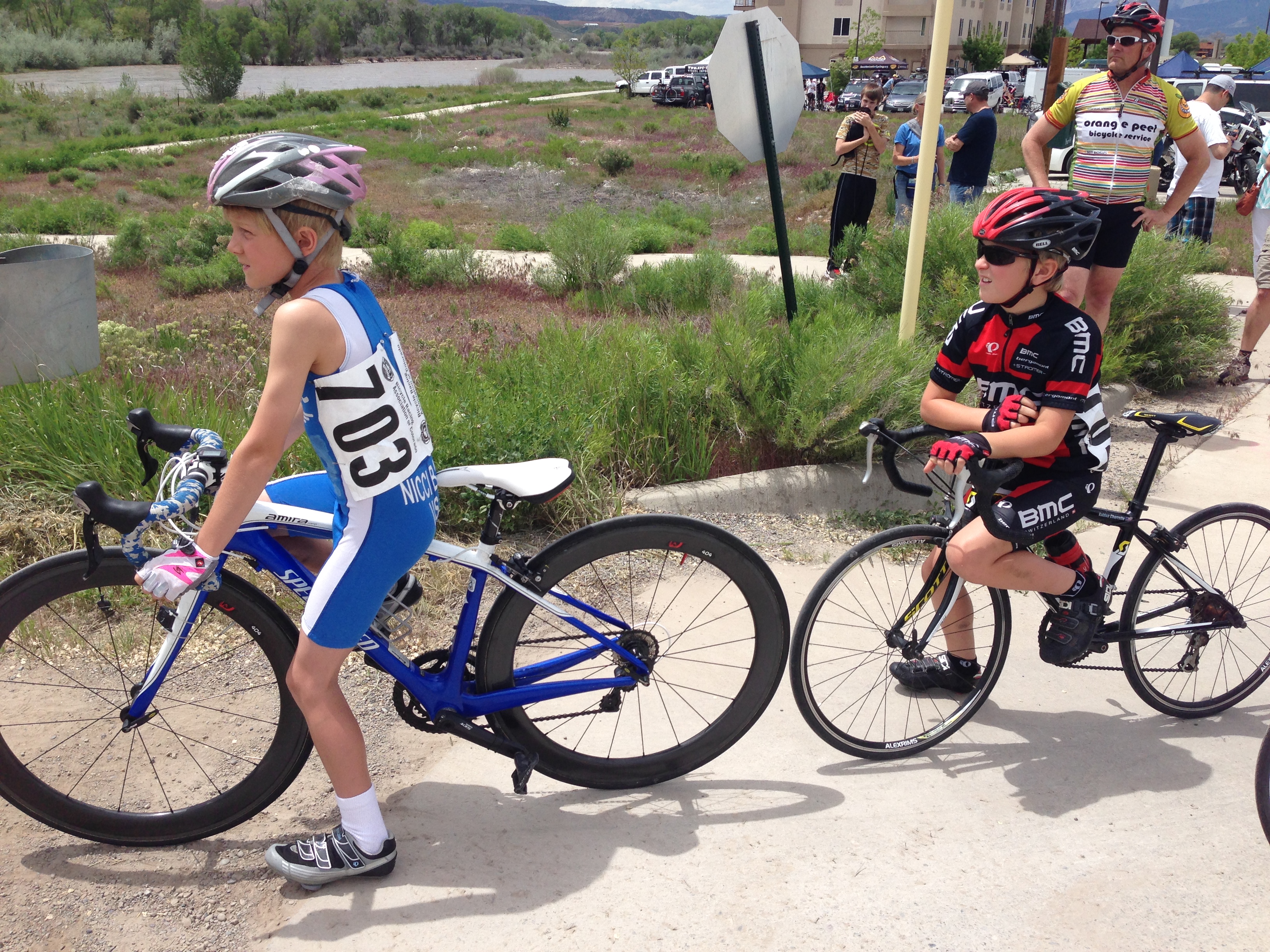 Kalden had a great time trial and gave 110% out there.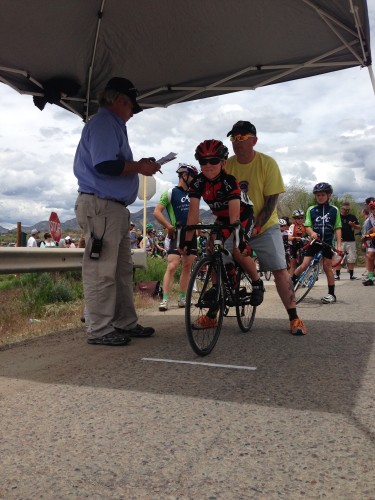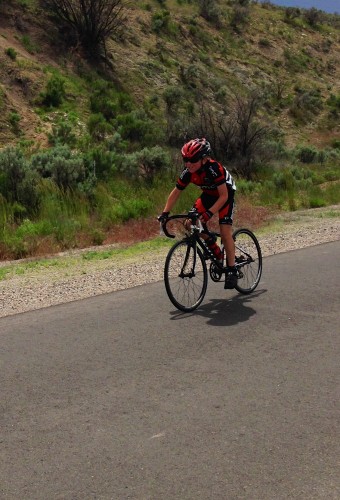 When the time trial was done we saw the results and Voli had beaten Kalden by about a minute. That's a fair amount of time. Certainly enough that we knew Kalden was not going to simply ride away from him tomorrow in the criterium. It was time for race tactics and Kalden luckily loves this stuff!
I simply told Kalden to sit in with some easy pulls and force him to the front for the last lap or 2. At this point I should mention there were a total of 6 kids in this race but Voli and Kalden were in a class of their own. Anyway, from the gun Kalden put Voli on the front and just sat at the back. Voli pulled along and Kalden sat in for 20 minutes! With one lap to go as Kalden entered the small climb I told him to chuck his water bottle! I knew this would make him feel more "pro" and psych him up for the sprint!
Kalden put together a perfectly timed sprint and took the win by a half a wheel!
That night BRAC put on a pizza party for all the kids and had an awards ceremony for the time trial and criterium. All the children had a blast!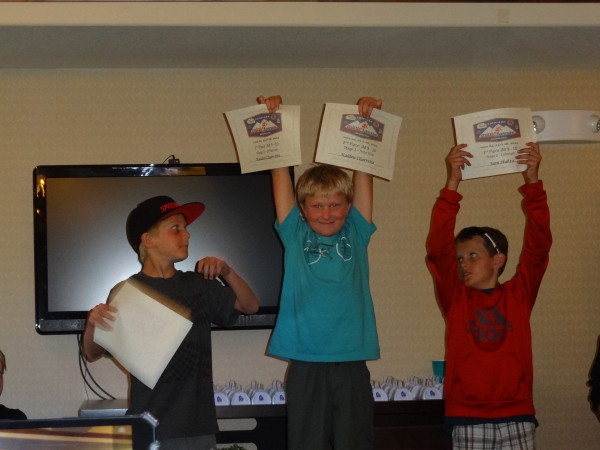 Kalden went into the road race knowing 2 things for sure.
1)Voli was not going to let him sit on his back wheel for 14 miles and beat him in the sprint again!
2) Voli was a bit stronger so Kalden had to race smarter and time his sprint perfectly.
Kalden had a great road race and the two of them once again blasted out of the gate and dropped the rest of the field in short order.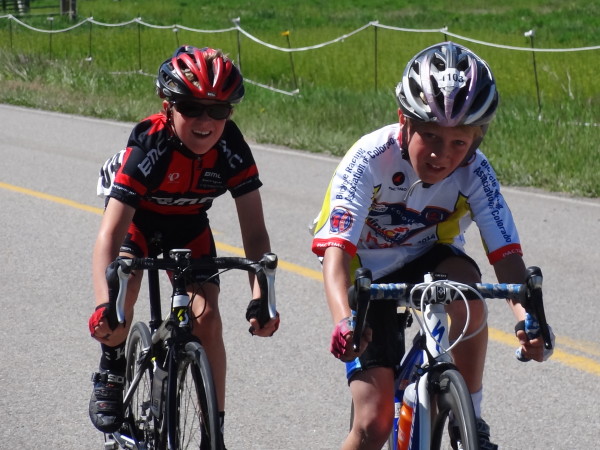 They covered the hilly 14 mile course in about 53 minutes and Kalden showed a top speed of 38MPH on the descent! As they came through the sweeping left hander to the final straight away Kalden slowed a bit too much and opened up about a 3 bike gap. That was the mistake and he worked so hard to close it that by the time he did he had nothing left to come around. No problem though, he tried his best, learned a lot and had a blast! Also, he made a great new friend in Voli!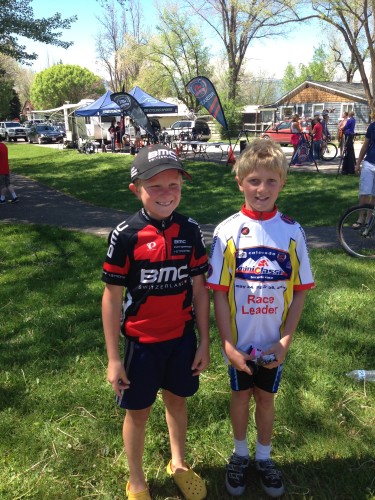 And as a huge bonus Lars got to watch his big brother race on the last day!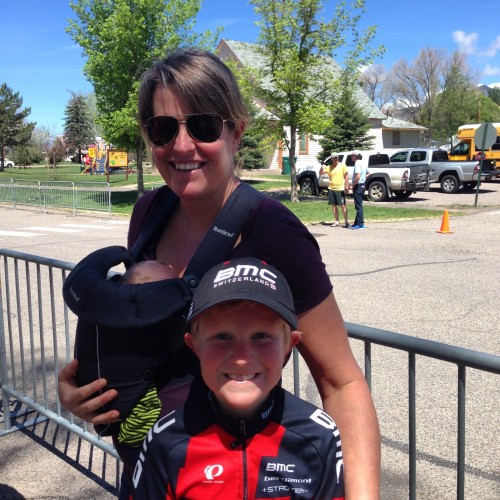 A huge thank you to both BRAC for giving all these kids the chance to get out and race!