Yesterday I took Kalden on his first backcountry mountain bike ride outside of Stanley, Idaho called the Potato Mountain Loop. We finally felt at the ripe old age of 9 he was ready to venture out for an epic ride. And more importantly, he felt up to it.
Here is my definition of a backcountry mountain bike ride:
Hours from any city
At least 10-20 min from any town
Probably no cell service
Probably will not see anyone else
Probably will see wildlife (hopefully not the predator kind)
20-30% hike-a-bike
Obstacles such as downed trees, water crossings and/or erosion
Halfway through the ride Kalden said it best, "You have to know what you are doing out here."  To be on the safe side Randy rode the route first since neither one of us had done it before. It took him 2 hours to do 13 miles and he came back saying it was "brutally amazing."
That is how most backcountry trails go – brutal sections that give way to amazing singletrack. He also said there were at least 10 creek crossings so Kalden was ready to roll!
The first three miles took us an hour and they were brutal with a lot of hike a biking. I believe at this point Kalden said to me, "I never want to do this trail again."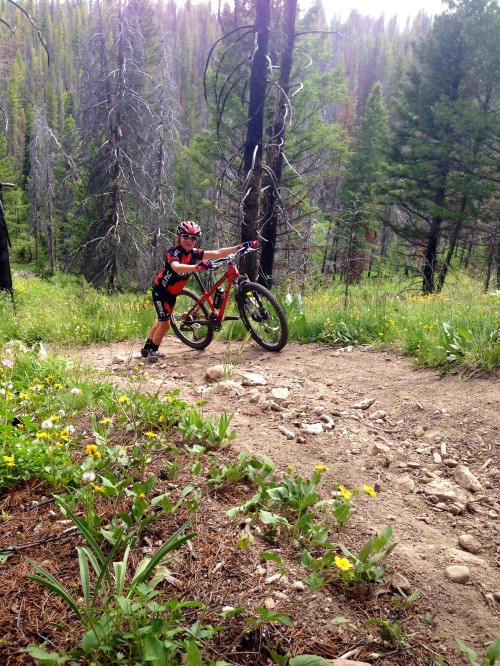 But after we were rewarded with a lot of fun singletrack, amazing views and wildflowers galore.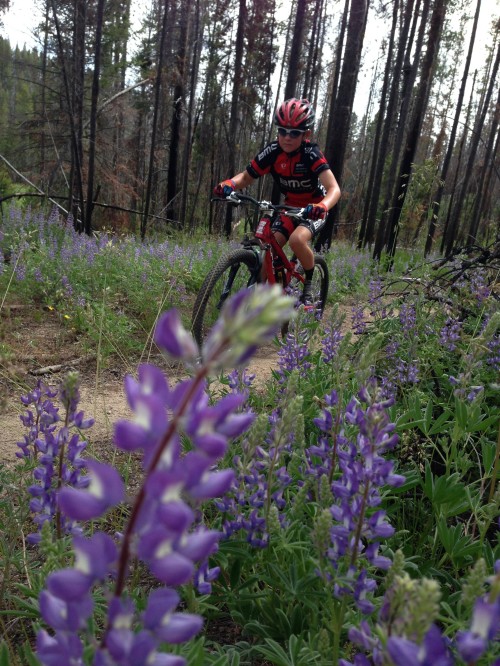 Then a lot of creek crossings.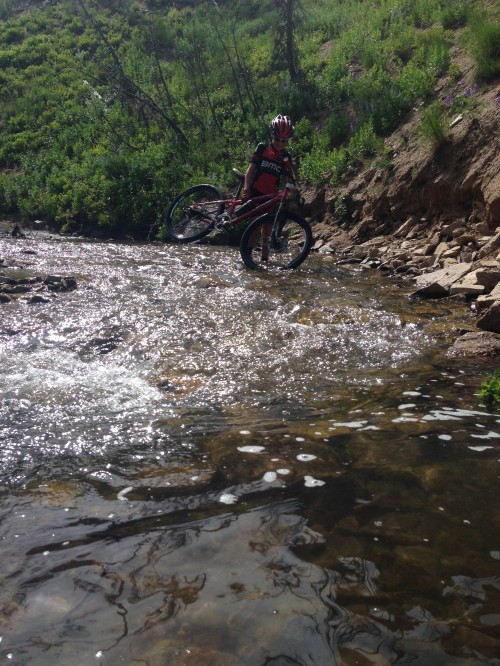 Then brutal again…yes this is the trail.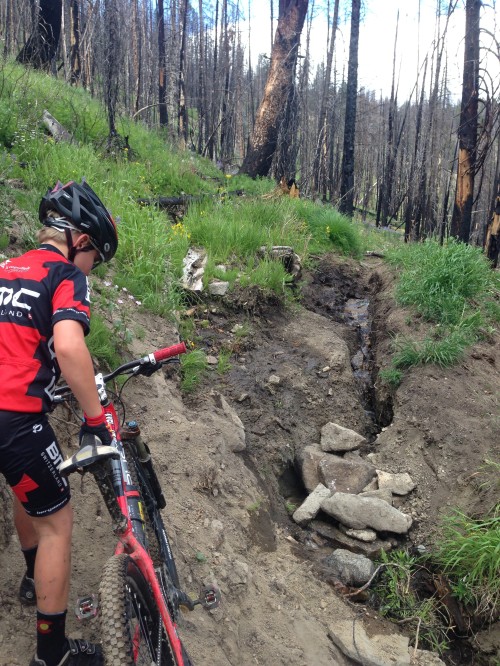 By the end of the 14 miles Kalden was telling me it was the best trail he had ever done.  And I couldn't have agreed more. For me it wasn't just about the trail but the experience and gratitude of being able to do this amazing adventure with him. Although our family has a lot of fun and we take on a lot of adventures, it's rare when I can just be with him and not be his 'Mom.' Mountain biking allows us to enjoy each other in silence as we ride or talk about things we may not be able to during the rush of a typical day. In fact, on this ride he was looking out for me, telling me in the first few miles "to make sure I was pacing myself."
I believe in being grateful everyday but when I can both be grateful and experience how grateful I am – well there are no words.