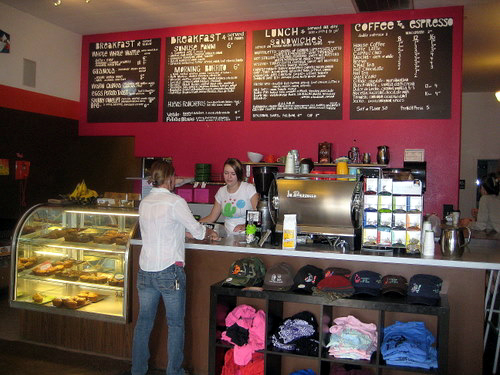 Heading out for a lunch with your kids? Or just want to get a quick bite to eat after a long day on the trails? Here are our top lunch picks.
Milt's Stop and Eat: Any day of the week you'll find a line outside this classic diner in Moab. Don't let the old fashion greasy diner exterior fool you. Milts serves up grass-fed, hormone-free beef burgers and natural buffalo burgers, fresh ground and hand-crafted. Kids of all ages will enjoy the homemade ice cream and old fashion malts using milk from local dairy cows.
Info: 356 Millcreek Drive
435-259-7424
Website
Tripadvisor
Love Muffin Cafe: A local's favorite for breakfast and lunch. The line can be long so be prepared for that with the kiddos. Fresh organic goodness to fuel your ride.
Info: 550 North Main Street
435-259-8983
Website
Tripadvisor
Sweet Cravings Bakery + Bistro: Very friendly staff with yummy homemade sandwiches, burritos and more. We loved this 'new' find during our last visit.
Info: 397 North Main
435-259-6833
Website
Tripadvisor
Eddie McStiffs: It's large, loud and sometimes that just what you need with a large or a small group of kids. Pub food rules here: burgers, nachos, chicken tenders and fries. But the pizza here is the house specialty.  A kids' menu is available.
57 South Main Street
435-259-2337
Quesadilla Mobilla: Need to grab something quick? Check out this gourmet food truck for a fancy or plain quesadilla. Dough + cheese = happy kiddos.
83 S. Main St.
435-260-0289
Paradox Pizza: Another places to grab something quick. Located next to Chile Pepper bikes it's a great place to recharge after a day of family riding.  Again, dough + cheese = happy kiddos.
702 South Main Street
435-259-9999