I love the sound of rain and thunderstorms in the distance when we're camping. It's soothing knowing we are tucked warm inside the camper.
But Kalden and I had a big ride planned from the top of Kennebec Pass down into Durango on the Colorado Trail the next morning. When you have a ride in the high mountains with your 10 year old booming thunder and intense rain all night are not the best signs.  But by morning all was clear in Durango and the radar showed no activity until late afternoon.
So we packed up and started the long car shuttle up to the pass. As we got on the dirt road and headed up it was misty, cloudy, and cold. We had a 14 mile drive on a 4×4 road and as we got higher the worse it looked. By the time we got to the top I was doubting this ride was going to happen.
Kalden and I both hesitated in the car trying to stay warm. But as we debated 6 other riders arrived and took off. That made me feel better. I know it's a somewhat false sense of security but knowing other people are out there calmed by nerves. Now I had to convince Kalden and I knew the magic words, "Do you want to spend the day with the fussy baby or ride?" Okay Lars wasn't even being fussy but I knew those words would seal the deal.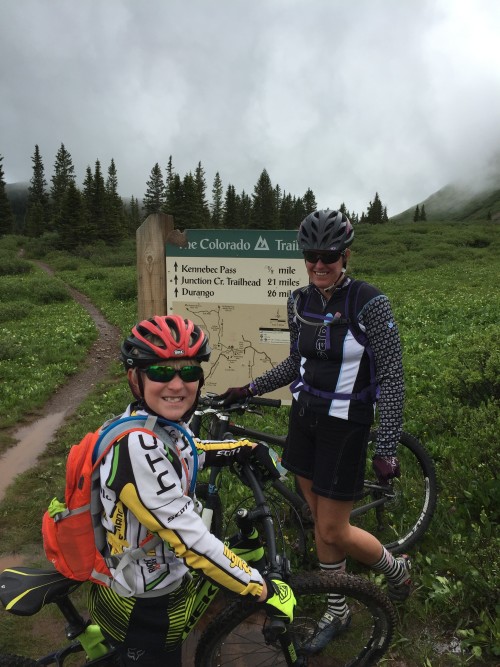 He quickly dressed and off we went. The start is a short climb to the summit and then a huge descent on a scree field with some exposure. Did I say it was wet? Kalden never crashes –  he crashed 3 times in the first few miles. Luckily they were small and didn't bother him physically or mentally. Despite that we caught those 6 people in the first few miles. That made me feel really good as I prefer to know people are riding behind us in case we need help.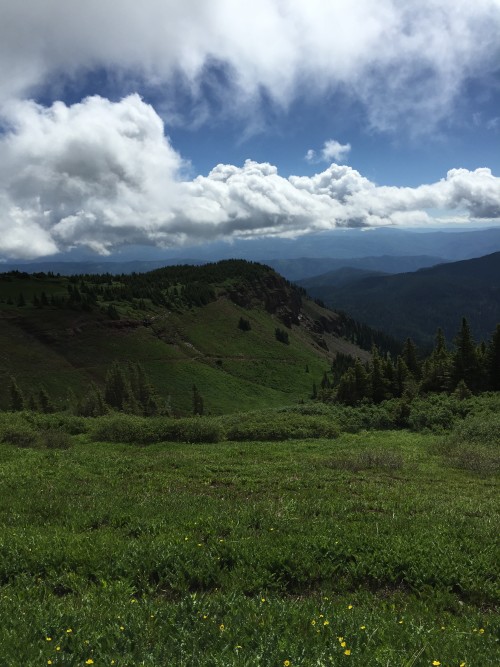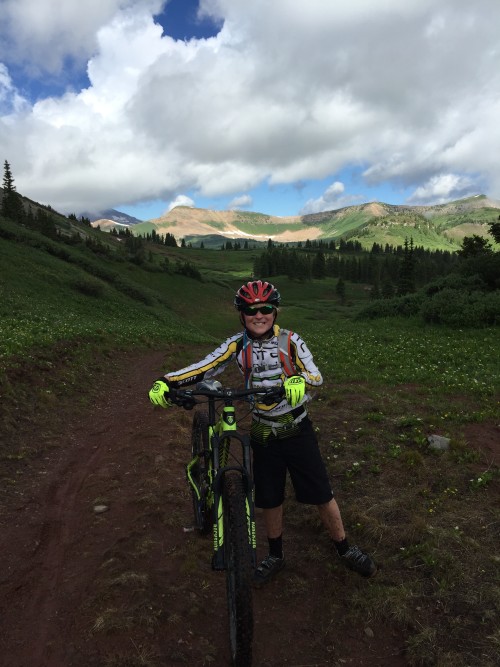 The next 5 miles were suppose to be a fast and fun descent. But this is the high country and our weather conditions made for a descent that was fun but we had to really pay attention because of all the wet roots, water bars, and water crossings. Kalden was riding way better than I was at that point.
I know we are suppose to teach our children but in times like this I know I learn more from him. Like how to focus, stay in the moment, not freak out – to just ride your bike!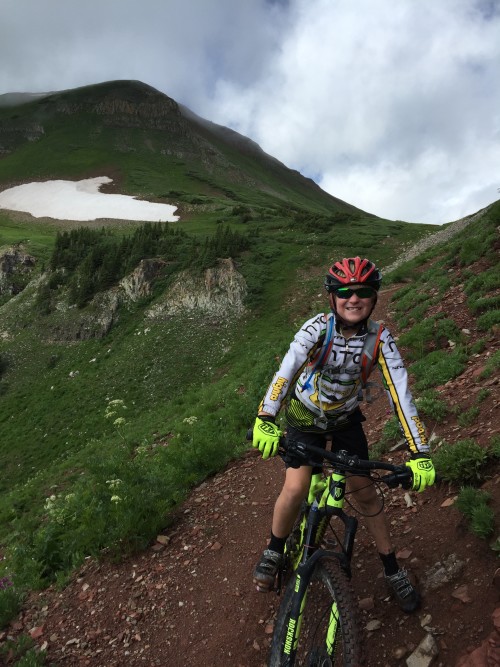 And then we were rewarded with this amazing waterfall as the sun was breaking out. Notice the rainbow through the middle of the picture!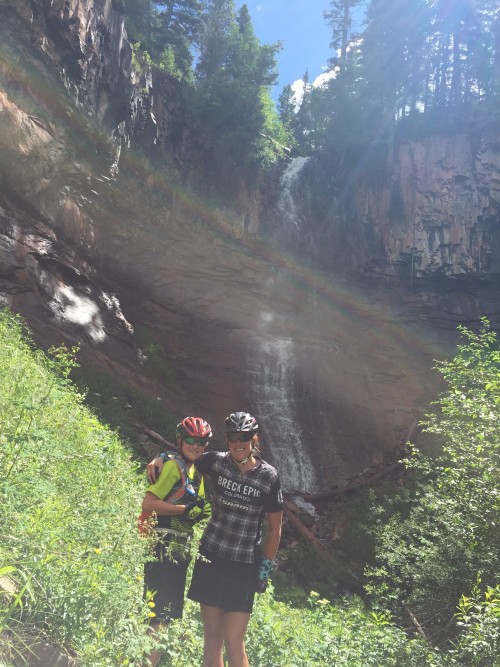 After the 5 mile descent is 4 miles of climbing. All 1700 feet of climbing in this ride are in these 4 miles. It was hard, a lot of hike a bike, and now the sun decided to come out so it was a bit hot and muggy. I can't imagine most 10 year olds have ever done anything like this so I keep that in mind as I start to deal with the complaints. I carried his bike a bit when needed, gave him goals when I saw rest points, and tried to stuff food in him. It worked, for the most part, and we make it up the 4 miles without getting caught by the others.
And then the fun…11 miles of swopping downhill to The Dry Creek Trailhead in Durango! This section did not disappoint – it was long, dry, not too technical, and fast.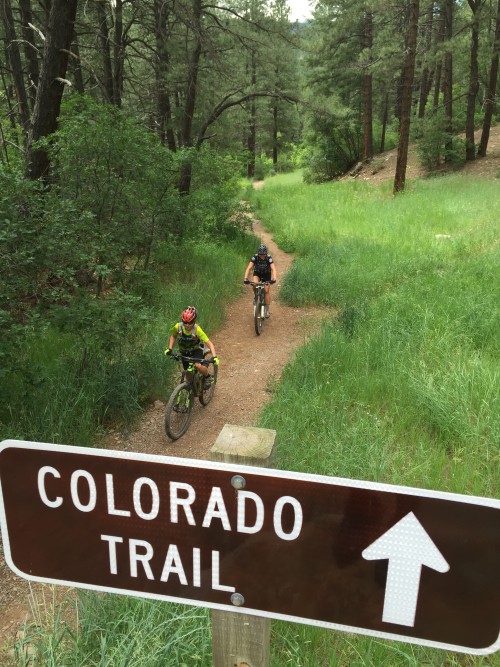 We made it safely back to Randy and Lars waiting in about 4 hours. I'm so glad we decided to ride and not bail because of the weather or my anxiety about riding 22 miles in the middle of nowhere with a child. He was capable (more than me at times), we were prepared (my hydration pack must have weighted 50 lbs), and the radar proved correct.
Sometimes you just have to trust and ride on!