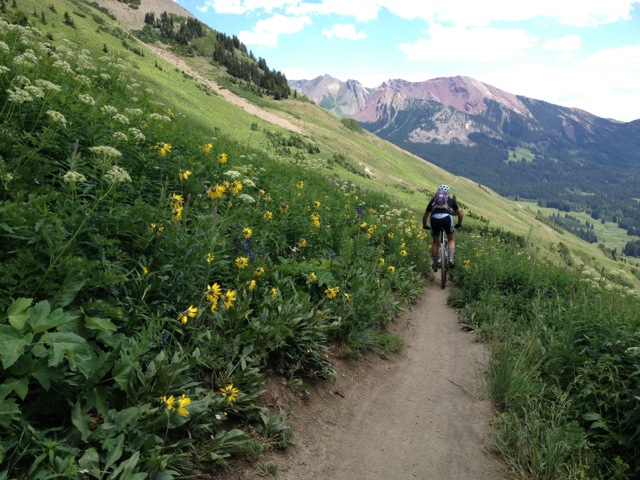 On Saturday four of us Moms did a big mountain bike ride in Crested Butte. It involved 3 trails (401, Snodgrass, and Lupine and we did a road start and finish from camp). It was just what I needed on many levels and great training for the Breck Epic coming up in 3 weeks.
After logging 37 miles we returned to camp. It was in that moment I realized the huge difference between women's cycling and mom's cycling (aka Velo Moms). As we rolled into camp exhausted, and some of us a little bruised, it was not time to kick back and rest.
It was time to work.
I was promptly greeted by my 8 year old, helmet on, exclaiming he was ready for a long ride with me. How could I say no? I bought myself a few minutes to devour the closest thing resembling food and drink. This happened to be a half eaten slice of pizza that was lying on the camp table and a Coca-Cola. I have no idea whom that slice belonged to or how long it was sitting there, but it worked.  No time to whip up a more appropriate protein recovery drink.
Mom #2  didn't even have time to change before she jumped in the truck to shuttle the Dads up to 401 so they could get in a quick ride before dusk. When she returned, an hour later,  she still had no time to change because now her kids were needing dinner.
Mom #3 had to pick up her child from a babysitter back in town then watch Mom #2's kids and her own.
Mom #4  had to set up her tent while entertaining her daughter then find a moment to clean out her wounds from a crash.
There was also a Mom #5 that didn't ride with us since she has a 5 week old. But she did manage to get out for a few hours. She and Dad #5 had to coordinate two meeting points so the little one could eat.
And not to leave out the other Dads. They had the same drill, just in reverse, although I did hear them mention sneaking in a beer at lunch.
I know this all sounds like a lot of work and complaining but really this was fun.  I was happy to end my day riding with my little man and seeing him happy to be mountain biking again. And all the other parents were full of endorphins, happy to be sharing the day with friends, and squeezing every bit of daylight to make it all happen.
Crazy but worth it…and no comparison to a day in the life in camp and on the trail pre-kids.