After out brief unexpected detour to Las Vegas to dry out we got on the road for a 3hr drive to Sedona.
After a brief stop in Over The Edge Sports to get BETA on the area, buy a map and borrow their hose to fill our water tanks we were on our way up into the foothills above town to search out a camp spot. After a bit of searching we landed on this spot!
Most important it had 5 bar 3G service for Jen to work, great MTBing nearby and then we woke up every morning to this out our front door!
The mountain biking here was pretty perfect, a nice mix of technical with some wide open singletrack to let it rip.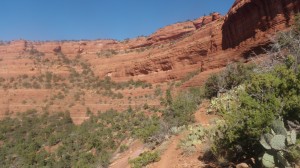 While in OTE Sports the first day we noticed a flyer in the window for the Sedona Century on the weekend and decided to do it. It was a pretty low key event with I'd say under 75 people riding in it but still a lot of fun and a great way to check out the best roads Sedona has to offer. It was also a great deal, for $65 you get 2 days of riding, breakfast, fully supplied aid stations and a lunch catered by the Hilton after the ride.
I rode day one which was a great 65 mile ride up to a town called Jerome and back. I got into a group with two other guys and we worked well together and finished the ride in 3:32.
While I was riding Jen took the boys for a ride on the Bell Rock Trail. It was a fairy gentle dirt trail that allowed her to take Axel in the Chariot and then carry his Strider. The boys had a blast.
After my ride we went to the town pool for a nice swim. Also, they were having a "Pumpkin Splash".
Basically they filled the pool with pumpkins and the kids swam in to get one. Also, the park service was there with a bounce house, pumpkin decorating and all kinds of other activities.
With the boys Jen and I of course could not ride both days together so on day 2 Jen rode the 63 mile route which took her out and around one of the local wineries.
After Jen's ride and a great lunch provided by the organizer we headed back to camp to unload bikes and gear so we could hit the trails in a non-traditional way (for us!).
Kalden got to do a little rock scrambling and water jumping in his new Keen Alamosa hiking shoes. They were perfect on the slickrock!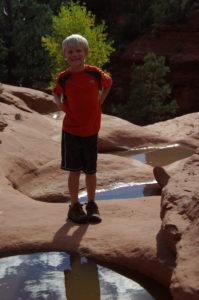 After our 4X4 adventure we headed back to camp for dinner and a nice sunset.
The following day(Monday) we woke up and Kalden and I did a bit of school work as usual. After "school" we were suppose to go for a MTB ride but Kalden didn't want to go so I got to head out for a longer ride on my own! I put together a nice 12 or so mile loop and ran across this guy on my way.
So far Sedona has delivered the goods for riding both MTB and road. The town itself is a bit weird, a mix of psychedelic hippy with crazy traffic and a feel of stress (probably due to traffic). Anyway, luckily we are well above and out of town in our peaceful campsite and can chose when to jump into that. We have 5 days left here. We are heading to the Grand Canton for a day trip then  Jen's parents are coming here and we move to a hotel for a few days!
More to come from Sedona.
Velo Dad