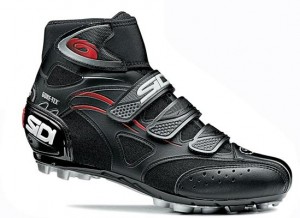 Over the past two winters, I have been putting cold, snowy and muddy miles on the Sidi Diablo GTX mountain biking shoes.  So after hundreds of miles and as many trips into snow and mud as I could find, how did the Sidi Diablo GTX shoes hold up?
More on the Sidi Diablo:
Sizes: from 39 to 50
Upper: Constructed of four layers :

Seemless Gore-Tex Technology w/ billowed tongue keeps feet dry
A light insulated layer for warmth
Durable exterior consisting of Lorica panels and breathable heavy-duty nylon inserts
Four Velcro straps

Sole: Competition Sole
Available In: Black
MSRP: $319.99 US
Fit and Feel – Sidi Diablo GTX MTB Shoes
These shoes only come in mens and when Sidi says to not size up there are correct. I wear a 41.5. Since these only come in whole sizes I got a 42. The 42 is a bit too large. The upside is that on cold days I can wear thick socks or two pairs of cycling socks.  These shoes are not as comfortable as Sidi's other shoes. They are very stiff and do not give you a "cozy luxurious" winter boot fit you might expect.With the 4 velcro straps you can get them snug but not as adjustable as other Sidi buckle systems.
On the Bike – Sidi Diablo GTX MTB Shoes
I wear the Diablos on my cyclocross bike for riding on country roads in the fall, winter and spring. I rarely clip in our out and I am not riding technical terrain. These shoes would be too stiff for me in technical mountain bike terrain. They also use a standard plastic sole (not the SRS) so they don't grip as well on rocks or roots but are fine on snow, grass or mud.
The stiff  sole does a good  job of transferring power from your legs to the pedals. I notice very little flex with each pedal stroke. The overall stiffness of the Diablo  keeps your feet exactly where you want them.
The Sidi Diablo is very waterproof. I have ridden through snow storms, mud puddles and always had dry socks when I returned home. The top cuff isn't that watertight so don't intentionally wade through deep water.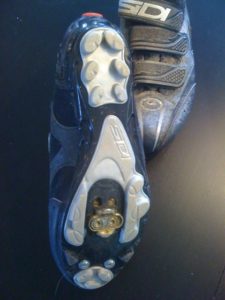 Durability and Long Term – Sidi Diablo GTX MTB Shoes
This is my third winter with the Diablos and they have the same stiffness and still as waterproof . I find that with all Sidi shoes you are paying up front but they last for as long as you need them to.
Overall Thoughts – Sidi Diablo GTX MTB Shoes
I'm glad to have these for the winter months. They provide extra protection on muddy, wet roads. With thick socks they will keep your feet warm until about 10 degrees. At 10 degrees and lower they do not offer the warmth you'd expect from a winter shoe.  These shoes will work best for:
1. Winter commuters -They will keep your feet dry and will be warm enough for commuting to work or running errands.
2. Winter cyclocross riders – They will hold up to the wet and muddy conditions you'll find on cyclocross rides.
Positives: Sidi Diablo GTX MTB Shoes:
Durable – Should last for years
Extra Protection for cold and wet conditions
Stiff
Extra toe room for winter socks
Negatives: Sidi Diablo GTX MTB Shoes:
Pricey
Not as warm as you would think.
May be a little too stiff for technical riding
Only available in men's whole sizes so may be hard to find a good fit