I was 6 miles into a 30 mile day with Kalden (10) when there was a whole bunch of whining, crying and throwing of water bottles. This was not the scene I expected on a beautiful Sunday in the woods. Granted the trail was tough and was testing everyone's skills but this behavior? Meanwhile, Kalden and I were grinning ear to ear as we dug deep into The Whole Enchilada…
The plan was to ride the Magnificant 7 trails on Sunday but as I was picking up a rental bike for the day at Moab Cyclery we found out that The Whole Enchilada trail was open from the top at Geyser Pass. It had been closed due to snow but with the warm temps it had dried out and was ready to ride. I had never done the Whole Enchilada as it is now but way back in 2003 I remember piecing together parts of it and it was brutal, probably illegal, and involved a lot of route finding.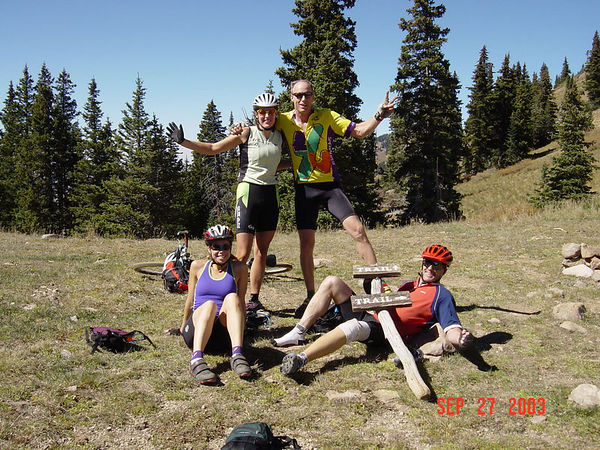 But with the amount of shuttles going up there these days I was told it was the best trail to ride and had just been signed at every turn. Still, I knew it would be a tough and long day. When I show up to the trailhead of this magnitude with a 10 year old most people think I must be crazy. I knew Kalden could handle the terrain but yes I am a bit nervous as we take off knowing we have close to 30 miles and no cell signal. The upside was we were not alone, not by far, as hundreds of people dumped out of shuttle vans all within the same hour as us. It really was like Disneyland but I'll take the crowds and safety in numbers versus being alone out there.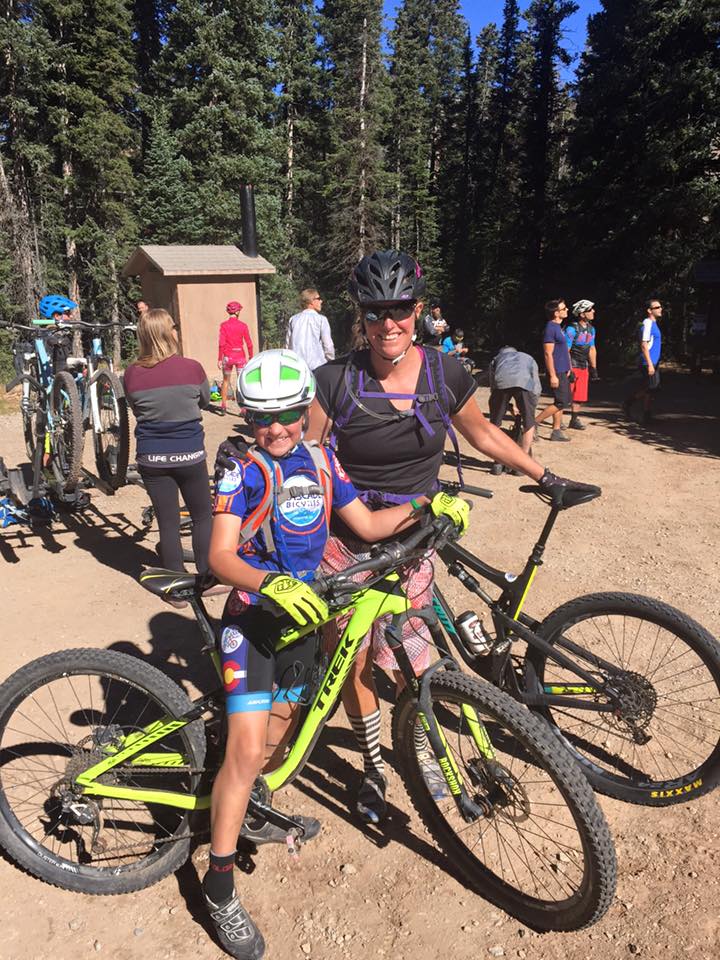 The first few miles feel like you are in the Colorado backcountry and we had amazing views of aspens and snow capped La Sal mountains.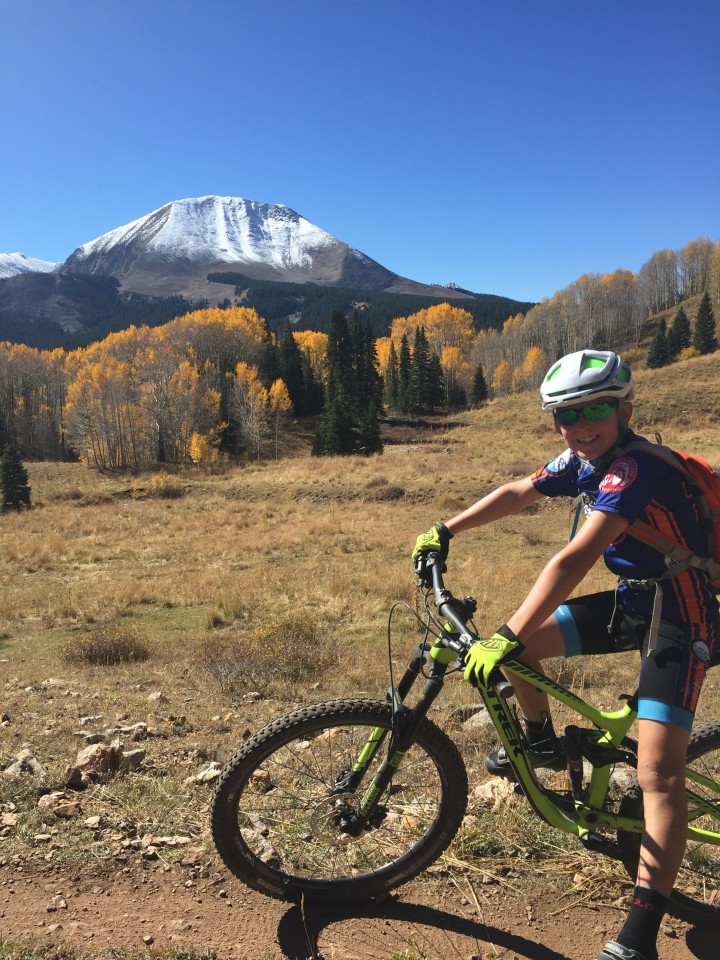 Soon enough the fun is over and you start the climb up Burro Pass on a singletrack. The elevation is over 11,000 feet and the pitch is steep. It's not technical so you think and want to ride it all… but you just can't because your heart is beating up into your throat.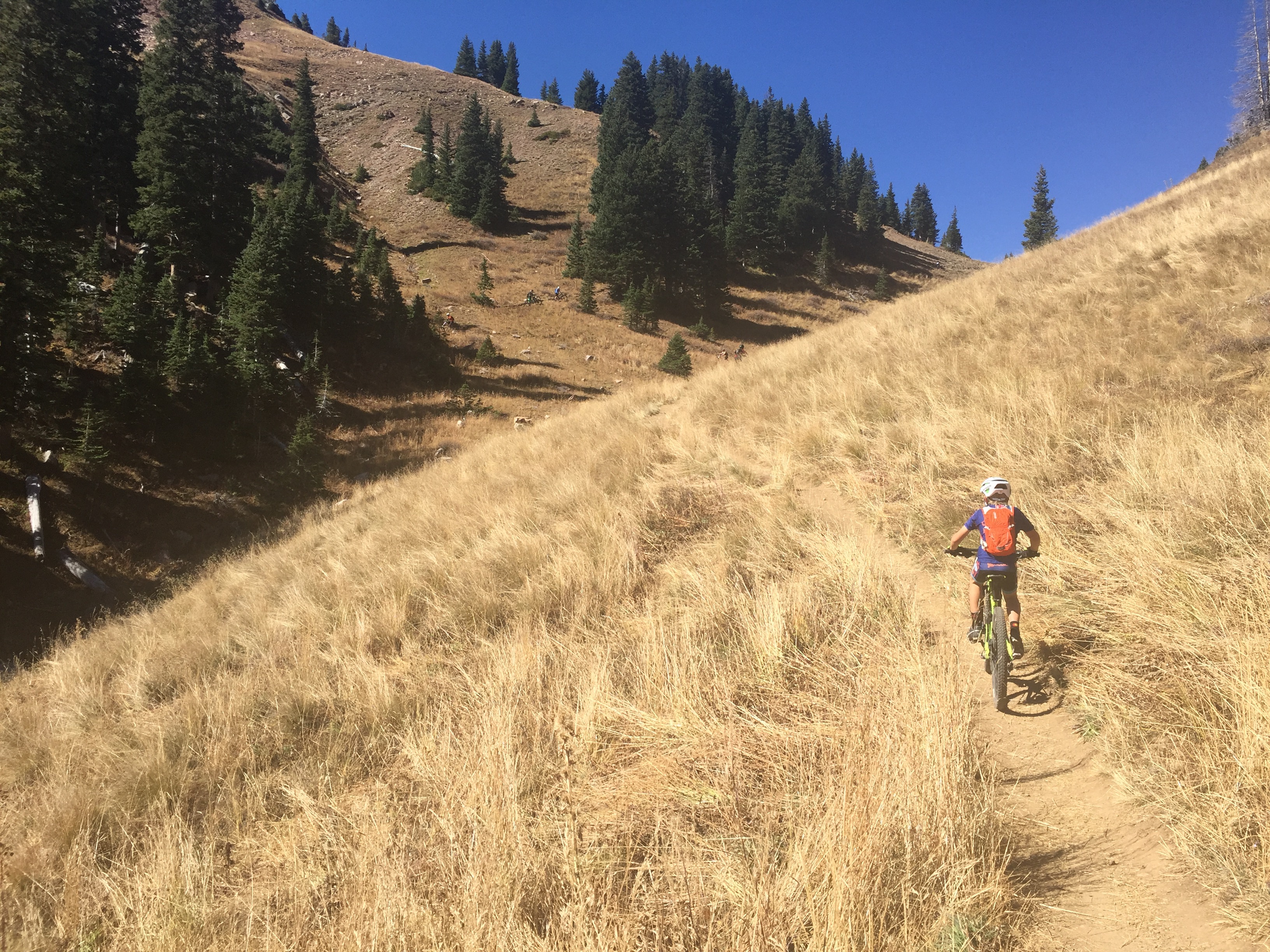 Once at the top of Burro Pass we knew we had a fun and technical descent. It starts out with some really tight switchbacks and tests your ability from the go. Here is where the trail was spitting out the beginners and those short on patience with a vengeance. We passed a woman throwing a fit and her water bottles (how she had so many water bottles we still can't figure out), others crying, and a few others just stopped trying to figure out how to proceed. It was rideable but once you got going there was no stopping. Kalden was in the lead and he hammered us down so fast the guys behind us in full face helmets only caught us at the very end. Although it was all wet chunky rocks and roots we never once slipped or missed a beat. I was very happy to have a dropper seat post and not be on my hard tail!
After riding a bit more in the trees the trail opened up to the start of Hazzard County. From Hazzard you are still in the high country but you can see all the way down to Moab and the red rocks. We hung out (with about 25 other people) at the top for a bit to take in the scenery.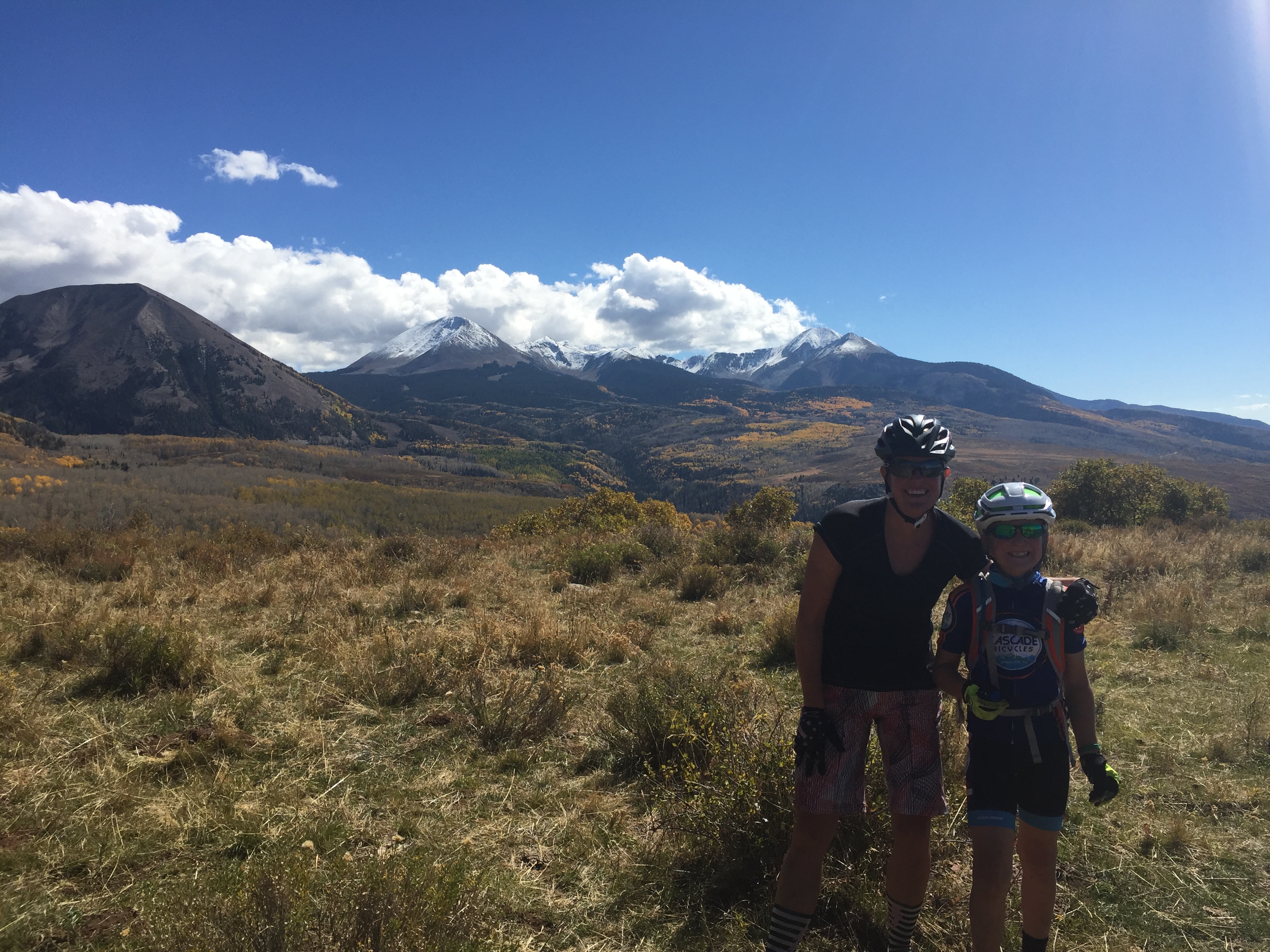 The descent off Hazzard County is some of the most fun you can have on a bike. It's non-stop descending that's sometimes technical but not enough to slow you down.
Next up was a quick descent on the Kokopelli jeep trail and then UPS and LPS (Upper/Lower Porcupine Singletrack). I've never ridden UPS before and loved it. Not quite as technical as LPS and not as pounding or boring as Porcupine Rim. We had a blast stopping at the overlooks and navigating the singletrack through the rocks.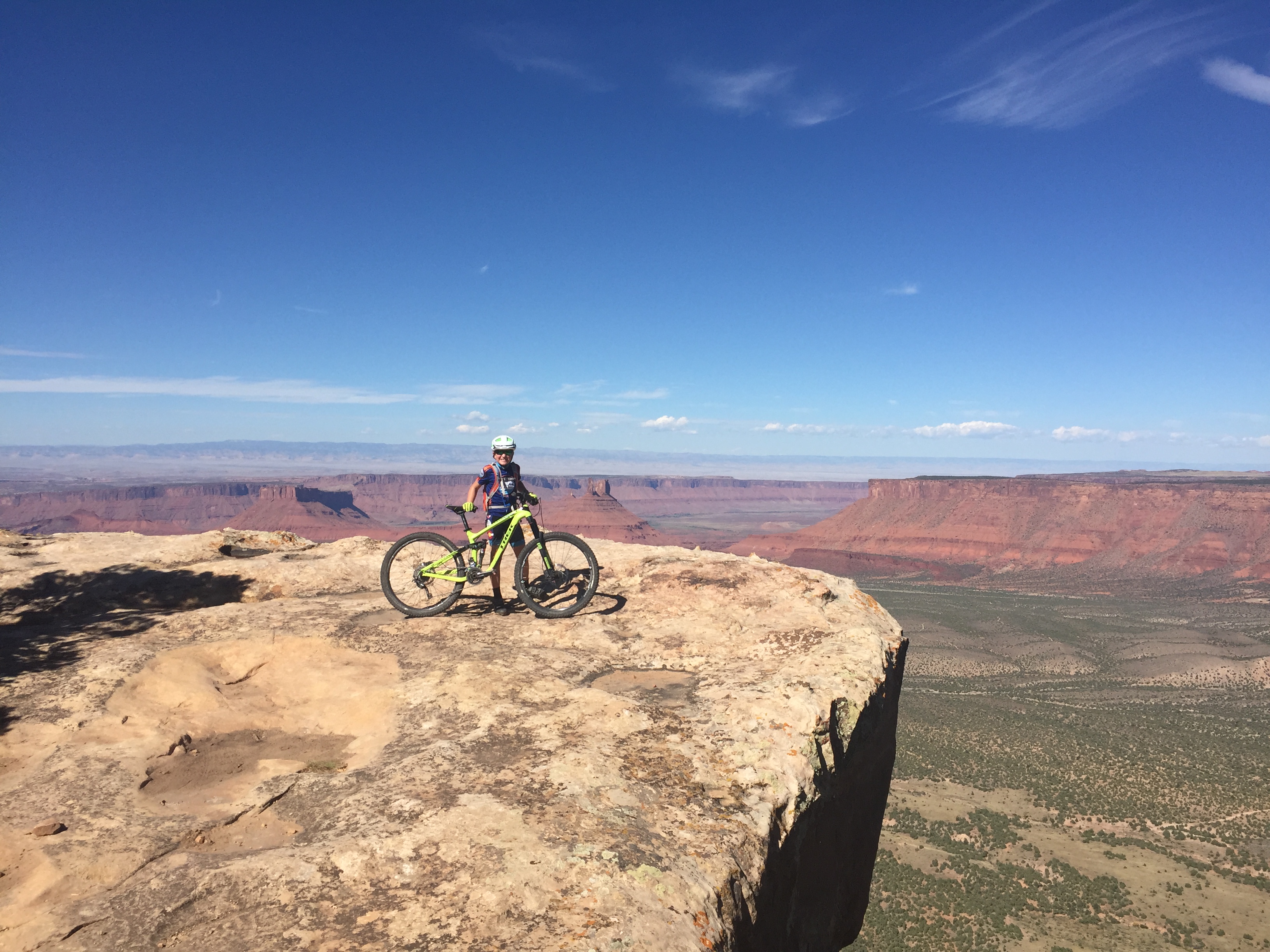 Just when we started getting tired we hit Porcupine Rim. This is mostly a technical jeep track that climbs for awhile and then starts descending back to road 128. We still had fun but we were both a bit hot and tired. This is when I was happy we had lots of company on the trail as it keeps Kalden motivated and it also makes me feel like we're not alone out there.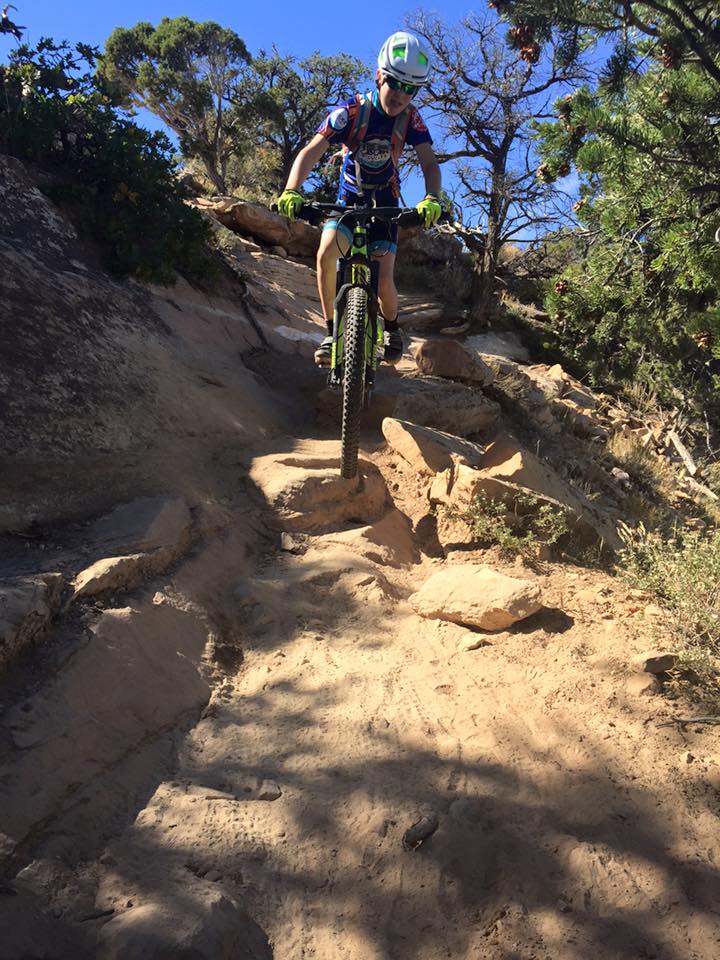 "The company" really came in handy 2 miles from the end when Kalden got a rear flat and in frustration I broke our pump. Two really nice guys that we had been leap frogging came along and offered to help. I'm not ashamed to say I let them do most of the work.
Those last 2 miles were a bit long and we were so excited to see Randy and Lars waiting in the parking lot! Kalden summed up the day with this.."Why do the trails that are the most fun always make you work so hard." One of the great benefits of riding with your kids is that you can learn so much about them. Kalden still wants to be a pro bike racer when he grows up but the skills he gets to practice are much more important. And I'm not just talking about bike riding skills. Riding trails like this teach him to stay calm under pressure, to suffer, to have fun even with challenges, and to refine and test the hand/eye coordination that's involved when choosing the best lines on technical trails. While these are all necessary skills for a pro racer they are also the necessary skills for a brain surgeon, a mechanic or a multitude of other careers. This is learning at it's finest.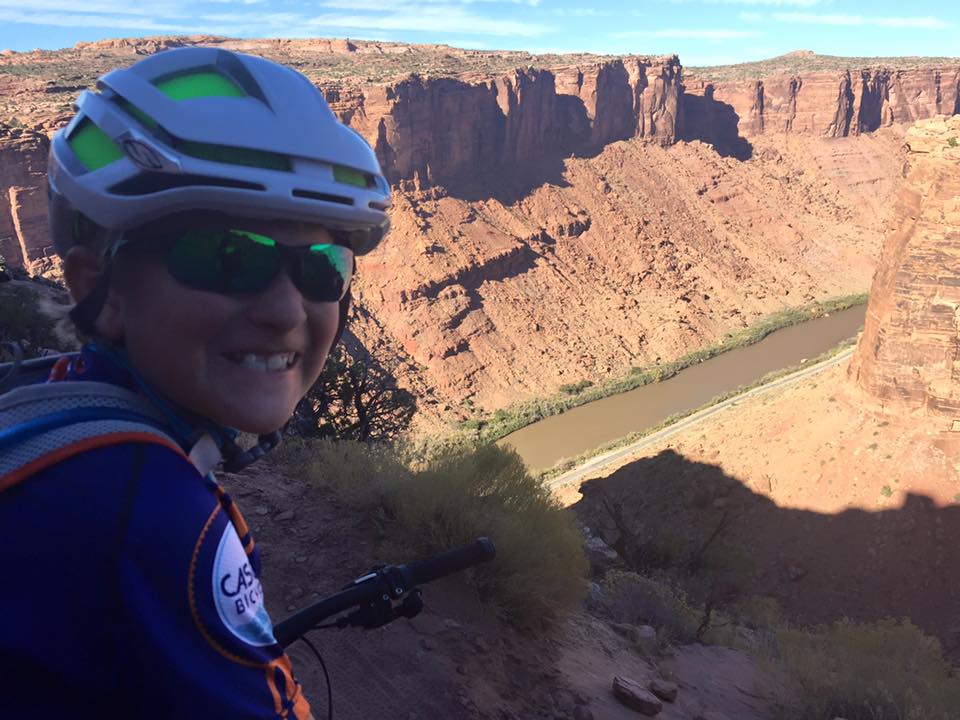 Here is the link to my Strava file if you want to see the details.
This blog is part of our full-time work and we rely on the support of readers. If you like it, please help us continue producing Pedal Adventures by making a contribution in any amount: $5, $10, $25, $50, $100 on up. Thank you for your support.