Our 8yr old Kalden LOVES to road bike. We got him a Scott Speedster 24″ road bike last year and he was off and riding with a huge smile immediately. Road bikes have always been my first choice and with me spending a lot of time on mine and always having the Spring Classics or one of the Grand Tours on watching it with him, it was natural for him to want to join in the fun.
Rewinding to last year when Kalden was 7 we knew he was skilled enough to handle a 24″ road bike. Our concern was his maturity and understanding of the danger riding on a road. Jen and I discussed this a lot, figuring out if we had enough "safe" (neighborhood) roads and bike paths to get him going. In the end we of course came up with a list of rides and were happy in our minds we could introduce him to the road in a reasonably safe manner.
His Scott Speedster 24″ was a birthday gift and we purchased it from Boulder Cycle Sport in Boulder, CO. Since he was riding clipless on his mountain bike already he wanted to do the same on the road. Luckily my friend had an old pair of Shimano road pedals and cleats and I came across some very small road shoes that fit him. I set him up on a trainer in the house and he spent the next hour pretending to race and clipping in and out of his new pedal system.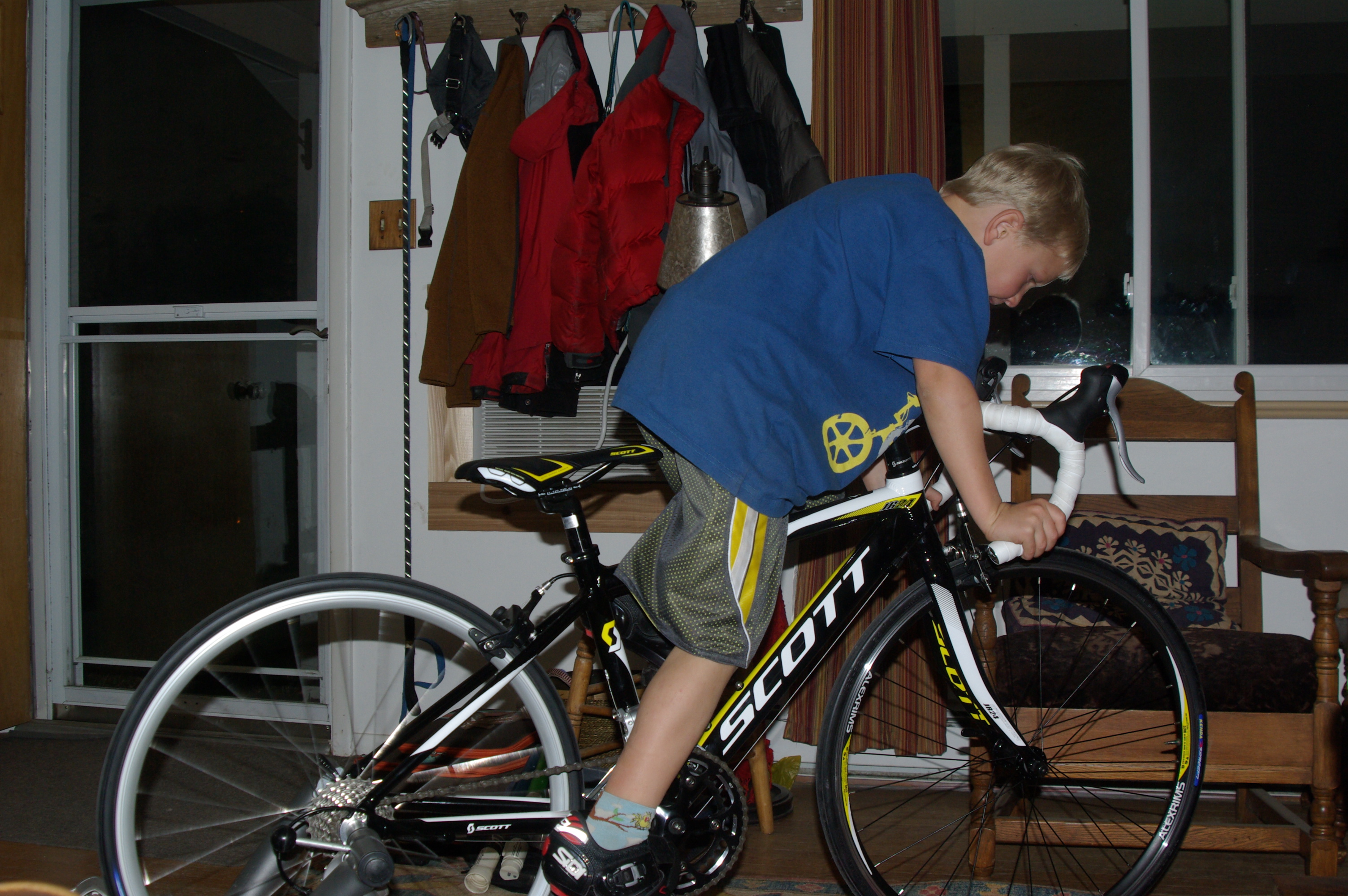 From there we moved outside. We had a wonderful neighborhood called Log Hill Village above town. It's a very quiet area with all paved roads, nice, wide and clean. Since getting up to it requires a 900ft ascent with grades up to 11% we drove to the top, unloaded and began our rides. We spent a lot of time up here last summer working on:
"Holding your line": Not drifting or swerving side to side.
Looking around for other riders/cars before making any big changes in speed or position.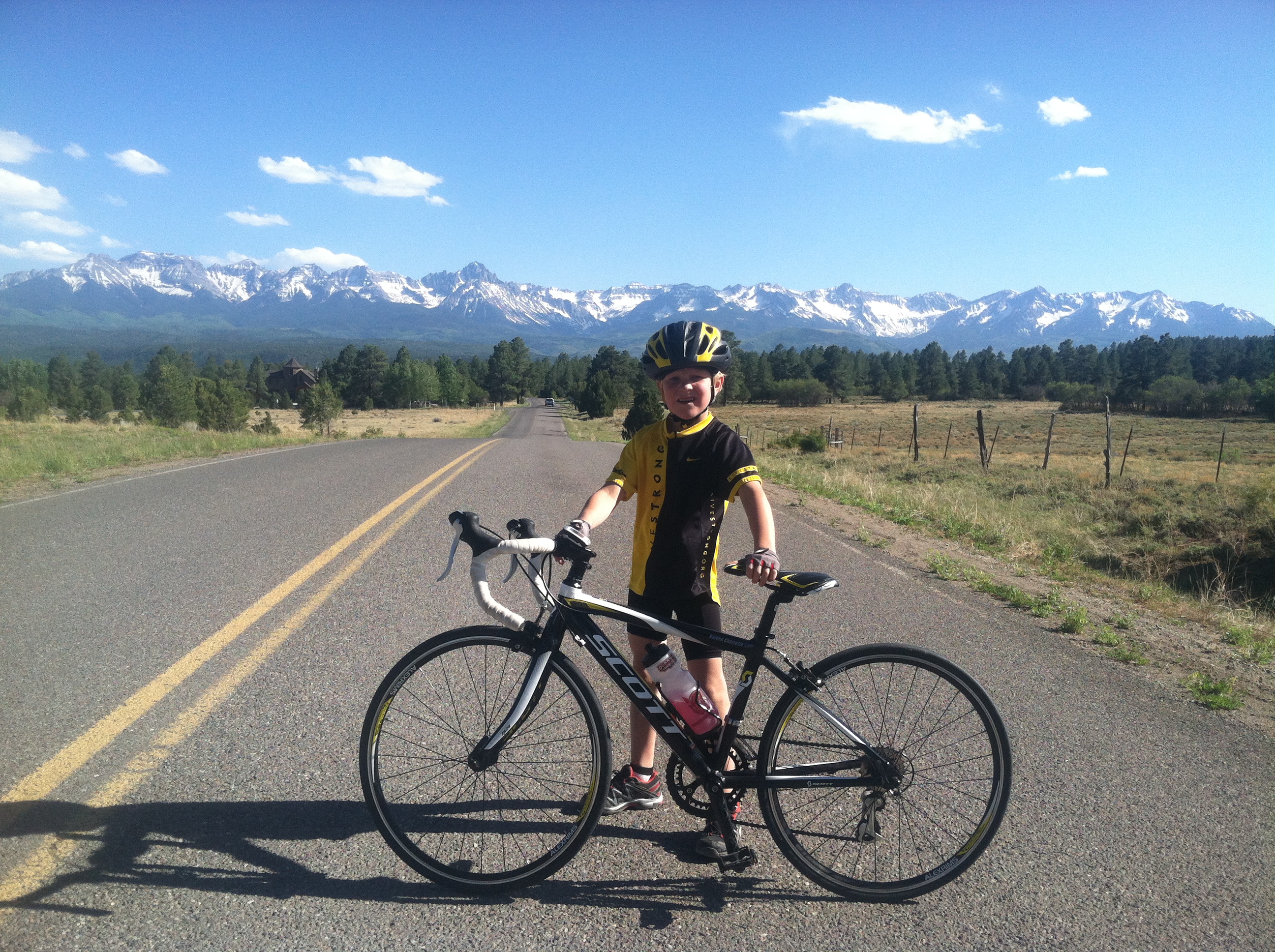 After some time on the bike getting used to it he finally wanted to take it out and race. Our first stop was the Iron Horse Bicycle Classic. Jen and I were racing so Kalden came along and signed up for the "Kids Criterium". This race brings out a TON of kids. Kalden got out there and had a blast racing against some much bigger kids!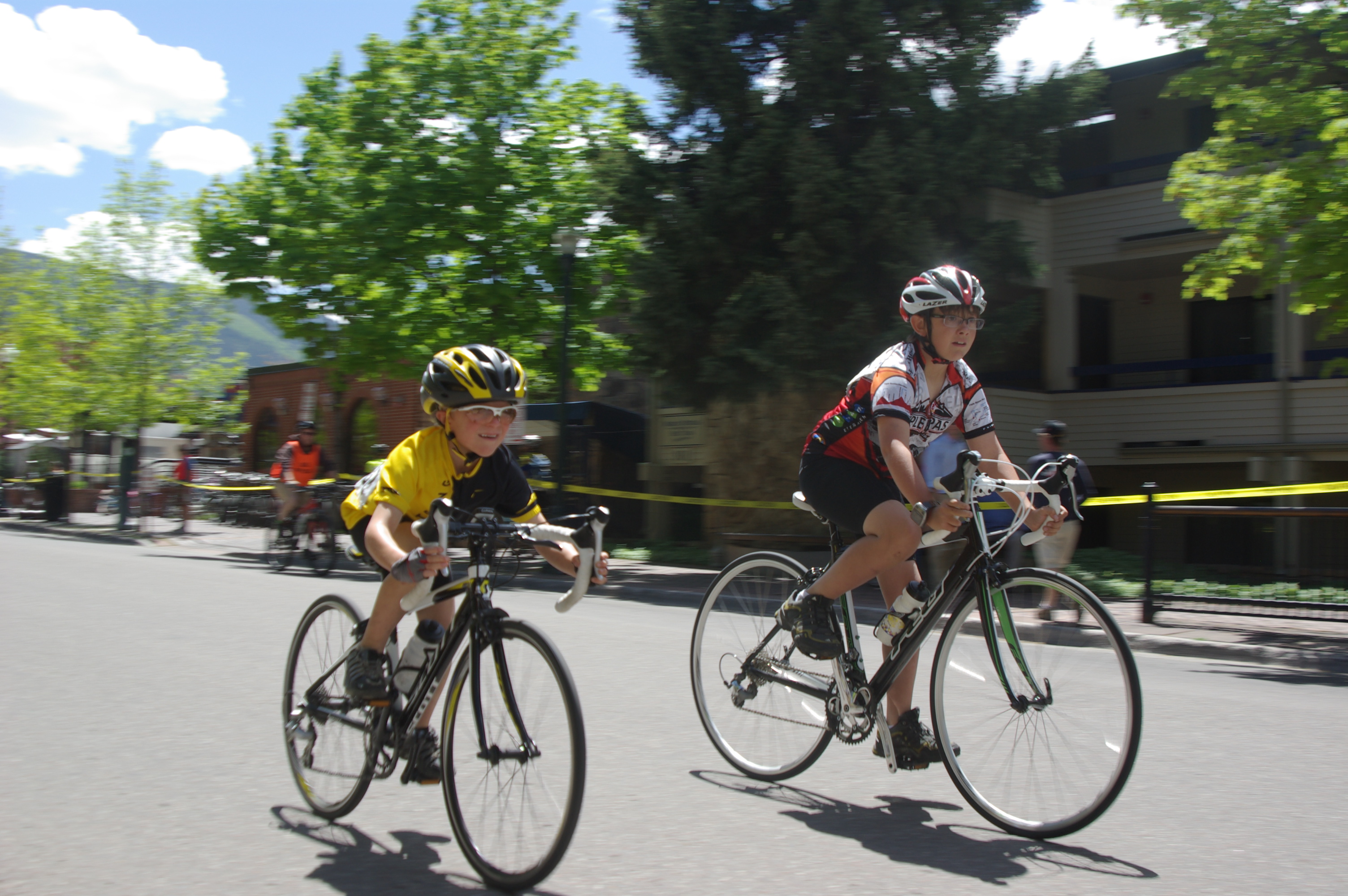 He spent the rest of the summer riding and racing right along with us. When riding on the road we watch him like a hawk usually positioning one of us on the outside keeping him against the white line with no chance of him drifting out into traffic.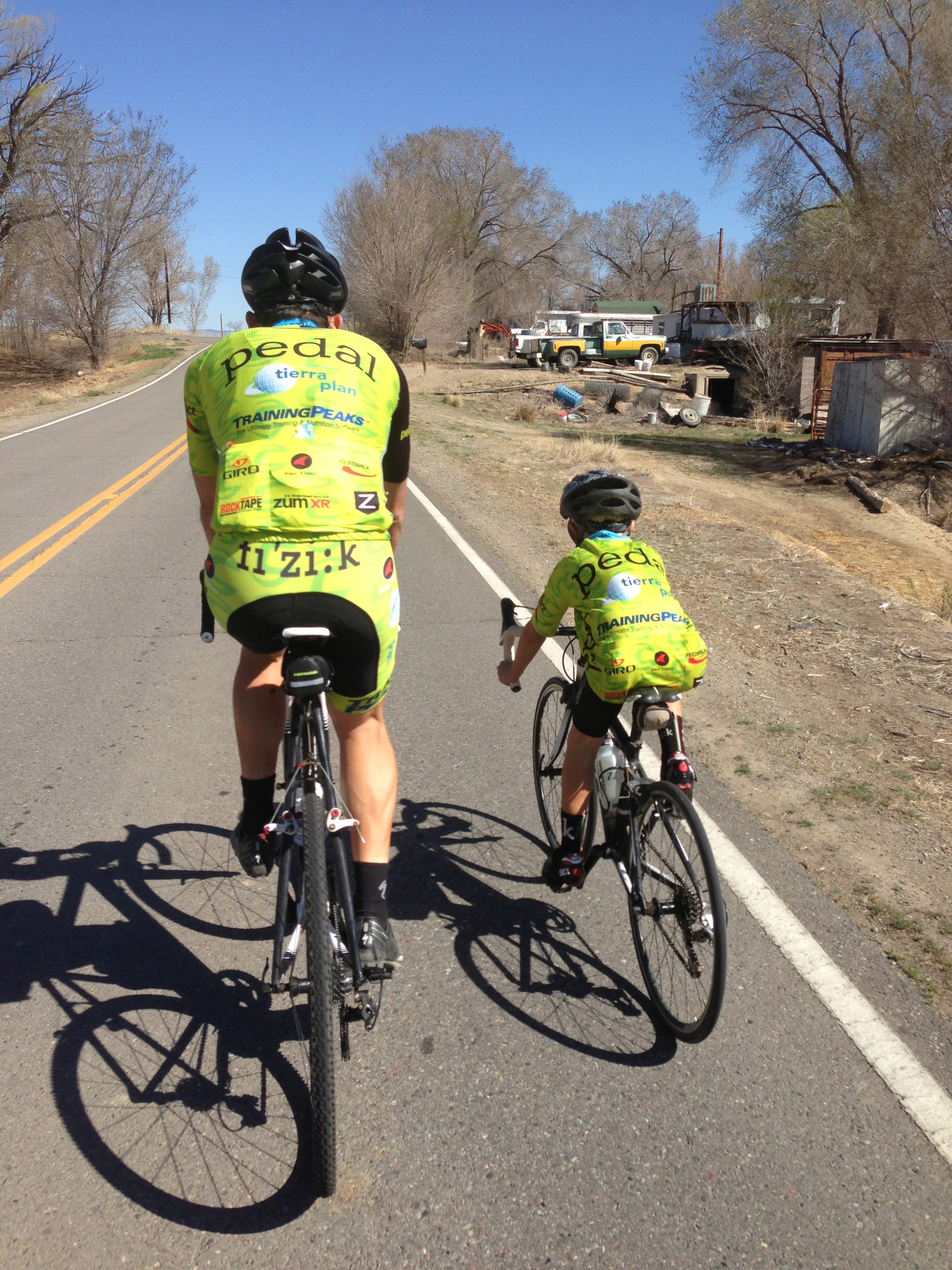 This past weekend Kalden rode to the top of the Colorado National Monument. He started from the Fruita side with Jen and made it all the way past the visitors center to the high point of the road. My friend Mike and I rode the valley floor from Fruita and ascended the Grand Junction side meeting them on top.
Needless to say Kalden was very proud of himself as were we! Before descending off the top we sat down and has a very serious discussion about descending safely. With some traffic on the road (it was pretty calm that day) and gravel/sand in the turns he really needed to pay attention, hold his line and control his speed. It was a stressful descent for Dad but Kalden did great. Everything we had been working on and talked about over the past year fell right into place.
Getting your kid out:
Getting your child out on a road bike can be a scary experience. Look for local bike paths, closed office parks (weekends) or quiet neighborhood roads. Road riding puts a ton of responibility of your child to pay attention but even more on yours to keep them safe. I'm always planning 100yds ahead or more. Preparing him for whats coming.
"Intersection ahead, get ready to clip out"." Car coming up behind, stay on the white line".
Get on the USA Cycling website and look for events in your area. Most if not all races will include a junior category. These are meant to be fun and encourage kids to get on the bike. Under 10 or so, "everyone's a winner"
Understandably there are not a lot of companies in the kids road bike market here in the USA but there are a few and ranging from $400-$1200 you should be able to get something in your price range.
I searched the used market pretty hard for one of these for several months and found nothing. Also, because this is a pretty small market not many bikes are made each year. The bottom line is…. if you want one of these for your kid and you find a shop that actually has one, get it!