This week Kalden decided he wanted to go skiing at Telluride after watching a Scooby Do episode where Scooby goes to a ski resort.  "Skiing? Are you sure?"  We have tried skiing with Kalden since he was 2 and he has had zero interest in it. Last year he got a snowboard but he preferred to build jumps at the local park and ride it rather than go to a ski resort.  This has been fine with us since we are not big resort skiers. Living in Boulder for years we gave up the I70 drive to resorts a long time ago.  Since living in Ridgway, we've spent our time ice climbing, xc/skate skiing and dabbling in backcountry skiing on Red Mountain Pass.  We've also spent the last three winters mostly in tropical places enjoying bike weather and surf over the snow. So we never pushed skiing on Kalden, although secretly I wanted him to learn how to ski since he is a mountain child and lives within one hour of the best skiing in North America.  Also, with Kalden starting Kindergartenthis year the two month surf/bike trips are on hold. When he asked to go skiing we had to take him ASAP.
Luckily it was a blue bird day to take a 5 year old skiing. And while you will pay big dollars to ski at Telluride (vs the I70 resorts) it is well worth it.  You can park in a heated garage that leads to the center of Mountain Village for under $5 a day, there is no traffic to get there and the slopes are never crowded. I was even able to ski a green run 7.5 months pregnant without worrying about hundreds of newbies all around me. There is always plenty of room at Telluride.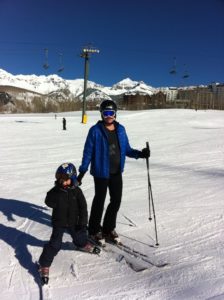 After getting Kalden set up in his skis Randy took him for a run down Lift 1. Kalden was a little nervous on the run but by the second run he was grinning and excited to go again. He did about 8 runs for the day and then we left him wanting more. He still has a lot to learn but we are excited he is into a winter sport. Of course now he wants skis, boots and daily trips up to Telluride! I guess we'll be making a few more trips to Telluride this winter and checking out Kendall Mountain in Silverton.