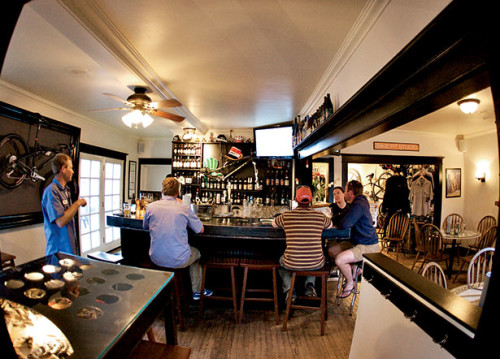 The Sun Valley area does not lack great places to eat. And a bonus for families is that many of them are kid-friendly. Here are a few of our favorites.
Power House Pub and Bike Shop
Local grass-fed burgers, handmade fries and homemade ketchup all in this bike shop turned pub. We love to ride our rides down to Hailey from Sun Valley and stop in here for lunch. Bonus: there is usually a bike video or race on the TV.
Info: 411 North Main Street,Hailey, ID
208.788.9184
Website
TripAdvisor
KB's
The New York Times named KB's as a must stop in it's article of top 10 things to do in 36 hours in Sun Valley, Idaho saying, "Even when people are far away, they're still thinking about the food at Ketchum Burritos. This cheerful laid-back burrito joint serves delicious fish tacos and offers a build-your-own burrito with"
We ate lunch there 4 times in 10 days if that tells you anything.
Info: 126 S Main Street, Hailey ID and also on Main Street in Ketchum
208-788-7217
Website
TripAdvisor
RickShaw
Unique asian food and kid-friendly if you sit outside. Amazing pot stickers, curries and noodle dishes. Order family style and dig in.
Info: 460 N Washington Ave, Ketchum, Idaho
208-726-8481
Website
TripAdvisor
Big Wood Bread
A local's favorite for home cooked bread, pastries and yummy sandwiches and salads. They have a new location in the Ketchum town center with lots of outdoor seating.
Info:
380 East Ave, Ketchum (across from Atkinson's market)
208-928-7868
Website
TripAdvisor
Condo/Camp Food
You can stock up in Ketchum at the amazing Atkinsons Market. You can find tons of fresh and local fruits and veggies, natural meats, local bakery etc…we love this place. Warning: It's not cheap.
There is also an Alberstons in Hailey that also stocks some great local produce and bakery.
More don't miss spots: Wise Guys Pizza, Galena Lodge for lunch, Despos for Mexican