With the Grand Canyon only 2 1/2hrs away we decided it was a must do while we were in the area so on Tuesday we loaded up and headed that way. It was a nice and easy drive and being a weekday the park was not to crazy. I can only imagine what this place is like in the high season! The original plan was to head in, have a look around and then ride our road bikes on the main road through the park (where cars are not allowed). This however changed once we arrived to winds gusting up to 40MPH and Kalden just not being interested at all in getting on his bike. No problem though, we had a nice walk along the canyon rim and got our family shots!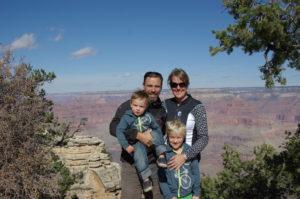 Although I've never really been a fan of National Parks and the crowds and chaos they bring, it was an incredible site to look down into the Grand Canyon.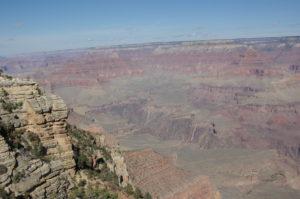 The following day was "moving day". We were up early and decided to drive into town for breakfast then get in a little hike before packing up.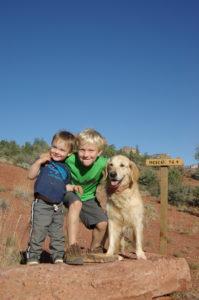 We are starting to get our system (packing/unpacking) dialed in now but it is still a full 2 hour process everytime to pack up camp. It took a bit longer this time as well because Jen picked up a pile of dirty sheets she had put down on the ground (for about 45 min.) and had another surprise waiting for her!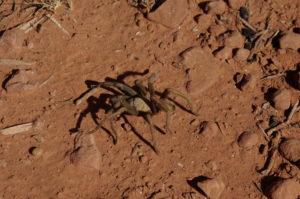 This was our second tarantula sighting on this trip (the 1st on Goosebeery Mesa, UT)!
We got into town once packed up, grabbed some lunch and headed to our hotel. Once there it was time for further clean up. Jen hit the laundry room and I took the truck to the car wash to clean it inside and out (after 3 1/2 wks it was getting pretty dirty!). Ahhh, the fun stuff of the trip 🙂
By the time we finished all of this Jen's parents were arriving in town and were rolling up at the hotel. For dinner we all headed over to the Oak Creek Brewery here in town. Dinner was great and the beer wonderful as well!
The following day Jen's parents took the boy out for a trip into town for a few hours. This freed up Jen and I for a nice ride together (very rare!). We did a great loop starting from the Broken Arrow Trailhead. The first 30 seconds went great then I stalled out climbing a small rock hill, Jen ran into my rear wheel and fell into a cactus bed!!!!
We spent about 20 minutes pulling cactus quills out of her a$$ then got back on the trail. The start was certainly technical then the trail mellowed as it went on.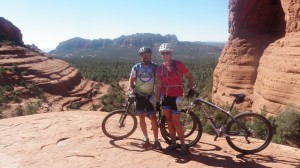 The scenery while riding this area was pretty amazing!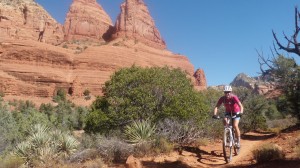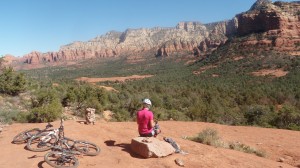 Our loop ride took us about 10miles and we had an amazing time…after removing the cactus quills.
Tomorrow we head to Phoenix to visit with Jen's cousin then we make our decision. We were pretty set on heading to San Diego but are now thinking we may actually come back to Sedona. San Diego we think may break the bank and with a nice backcountry (free) campsite here in Sedona we can afford a  hotel here once and a while for Jen to get caught up on work and still save HUGE money over going to California. Besides, after a week here we are only just discovering this place. We have lot's more MTB spots to visit, sunset vistas to check out and maybe a few more 4X4 trails for Kalden and I to play on!
Later, Velo Dad!