When we moved to Boulder in the late '90s my favorite part was that we could bike on a Saturday and be doing powder turns on Sunday. We have since moved to the western part of the state but it's the same story over here. You can still bike year round in places like Fruita and be hitting the slopes in Telluride the next day.
So that is what we did….
Fruita
Saturday was 40s, sunny and dry in Fruita so we headed there. The trails over at the Loma exit where perfect and the traffic was light. Kalden and I did the usual Rustler's Loop and then I finished up on Mary's Loop. If you want to bike with your juniors in cold weather I have a few suggestions that have served us well.
Arm warmers – No not just for for you but also on your child's legs. Size xs – medium work well as leg warmers for juniors. Sure you can have them wear pants but then they miss the benefit of the cycling shorts. And really kids are just little adults that still need some cushion for their delicate areas. You wouldn't ride without some type of chamois in the winter so why should they? Kalden wore some warm and comfy xs arm warmers thanks to a  Hincapie and Velo Shine contest I won a few weeks ago.
Thin Hat – This is one thing we have struggled with in the past. Every year I go to put a hat on my son for under his helmet and every year he complains it's too big and hurts with the helmet.  Last week Icebreaker sent me a few items to field test.  Included was the Kids Pocket Hat.  One look at it and I knew how it would be used in this family. It's the perfect hat for under a helmet. It's hard to tell from the online picture but it's super thin yet warm since it's 100% merino wool. He wore it without complaints; it also warmed up during our ride and I was surprised he never got too hot in it. It really did seem to breathe and wick away moisture as he was not at all sweaty when he removed it.  They do seem to run small if you order one. My six year old has a large that fits perfect. My 10 month received a size small; while it was the first hat he actually wore without tearing off, it did not cover his ears and was a bit too snug. I suggest ordering up a size.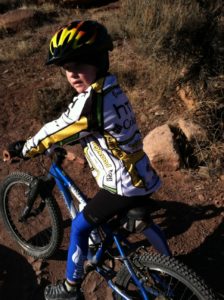 Telluride
Sunday we joined friends that have kids the same age and hit the slopes in Telluride. I'm not sure why but getting the family prepared to ski sure seems harder than biking. It shouldn't be as they both require the same amount of gear but skiing as a family always seems to be a little harder on us than biking as a family. Honestly, if I lived back on the front range of Colorado and had to get up at 5 am, drive 2 hours, park a mile from the slopes, deal with crowds and eat over-priced greasy foods we would probably not ski much. Lucky for us we live within 45 min. of the Telluride slopes. While I'm not sure Telluride tops the list as a family-friendly ski resort(they are more known for scenic views, expansive terrain and charming atmosphere) it should. One of the biggest stresses for a family is accessibility, crowds, and entertaining the smaller ones in the family while the others ski.  Telluride is at the top of my list for meeting those three needs.
Accessibility – Most of what I remember about skiing at Copper Mountain, Breckenridge etc…was that we would have to park miles away and take a bus to the slopes. Either that or pay upwards of $20 a day to get closer or stay overnight slopeside.  I can't imagine doing that with kids. We have so much gear and usually have to run back to the car a few times for forgotten items. In Telluride you can park under the slopes in a heated garage. An elevator takes you up through a luxury hotel where you can use a fancy bathroom before you open the door and take about 100 steps to the main lift.  All for less than $6 a day. Actually the first 3 hours are free and then you pay $2 an hour.  This particular garage, HPG,  isn't exactly a secret but you have to know it's there (now you know but don't take my spot as it's first come first served!).  But even if you have to park in one of the other lots they are all close in and stress free.
Crowds – Until this weekend I had never waited in a lift line at Telluride. The only reason I waited this time (less than 10 min) was because we went down to the newly opened lift 9 (aka the local's lift) and since it's early season and there was little terrain open, all the locals went to the same place. You can expect little to no lift lines while skiing green and blue runs at Telluride.  We all know that kid's do not like to wait in lines especially when they can get cold and are eager to get more turns in.
Entertainment – While I'm not sure this qualifies as true entertainment nothing is better than a warm (ask for a blanket) free ride on a gondola to entertain an infant or toddler. There is only so much time you can spend in a lodge or restaurant before you need to move on. You can count on the gondola to either entertain them, or if you're lucky, put them to sleep. It also helps to pick up some  Amy's donuts before you board!
In the reviews I have read about great family friendly ski resorts they all mention the same things…ski schools, day care, kid food and easy terrain.  In my opinion, Telluride has all that plus the accessibility, small crowds and unique entertainment.  And to me the latter are the most important factors!
Look for a few more skiing posts this winter as my son is pretty hooked on the slopes this year.