We only discovered Tucson about 4 years ago but professional cyclists and even serious amateurs have called this area home in the winter for years. With temps in the mid to upper 70's and even 80's through the "off season" it's a great spot to get out and log some early season base miles. The terrain here is incredibly varied, from larger climbs up Mt Lemmon or Kitt Peak to flatter rides such as Avra Valley , Tucson has it all and most of the time with a wide bike lane to boot!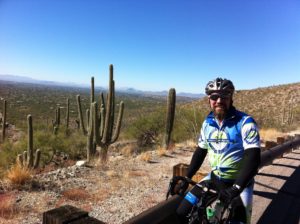 Tucson also has two great bike paths to get the young ones out while here. Both bike paths follow river beds so the grades are very gentle for the entire route. The Rillito Trail is mostly paved and runs from Craycroft to just West of I-10. The Santa Cruz Trail which runs along the Santa Cruz river. It is paved from Grant St to 29th on both sides. These two trails can also be linked together for a full day of riding.
If you're looking for something a bit more challenging for the family (or yourself) check out the Cactus Loop Drive in Saguaro National Park. This is a 7 mile loop that is rolling but the scenery is amazing. The road is open to auto traffic however it is a one way road so everyone travels clockwise and the road is super wide.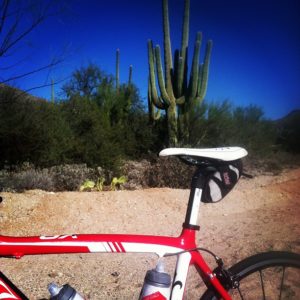 For a more structured week of training out here check out The Cycling House here in Tucson. A stay here includes your lodging, food, and a guide for your rides!
Saguaro NP is also one of a very few in the Country that has a MTB trail! While not a super challenging ride it does get you out amongst the Saguaro cactus in the middle of the park and makes for some amazing sightseeing. This also would be a great outing for your younger rider.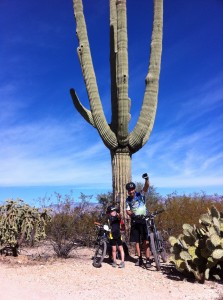 For something a bit more challenging and "singletrack"oriented look at The Sweetwater Preserve. These trails are a lot of fun and 100% singletrack.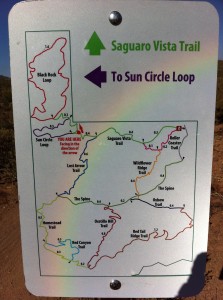 Technically I would rate them as easy/moderate, not much to cause problems here but if you miss a turn or "stall" out going over a rock there is a high probability you'll end up on a cactus!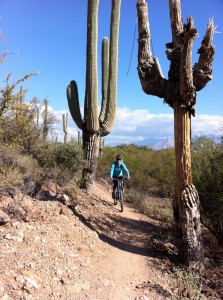 There are a ton of other rides to do around here and even with this being our 3rd visit to this area I feel we are only beginning to scratch the surface of rides, both MTB and road.
Both Strava and Garmin Connect have been a great resource in finding routes to ride. And I highly suggest using these sites when visiting an area you are not familiar with. Using Randy's Garmin Edge 800 we can upload routes that other people have ridden right to his GPS. This gives us a map to follow for the ride and keeps us on track.