Sometimes even when a child is passionate about cycling they have moments, or even months, when they just don't want to ride. They still love the sport but for some reason the motivation is not there.  This happened with our 8 year old son recently.  While it might not be the most complex parenting issue you ever face, it's important to recognize the cause and respond appropriately. For me it was a balance of letting go (for a while) and then applying some motivational tactics.
Letting Go
Last November our son told us he needed a break from cycling. This happened around the same time he got a surfboard and was surfing everyday while in California.  I thought it was a great idea and wise of him to notice before burning out completely. He had been riding and racing all summer and even pro cyclists take a break in the 'off' season.  Sometimes we all need a break in order to keep our passions fresh and exciting.  So for 3 months he rarely rode his bike. When spring came around, he was excited about the bike again. He was talking about racing, long rides, and just about everything else related to cycling.
But every time we actually got out mountain biking on trails he would get about 15 minutes in and ask (aka whine) to quit. At first I let him – thinking he just wasn't ready, the trail was too hard, or some other excuse. After all, riding is supposed to be fun and if he wasn't having fun, why push it?  But after doing this a few times I knew we needed a better solution because he was disappointed and full of energy after getting back home.
So I decided to use a motivational theory that I learned years ago in grad school. It's called the ARCs model.
A= Attention
Think novelty, curiosity, and variety.  For us this involves food, games, and races.  We set goals such as "make it to the top of the hill and we'll stop for a Honey Stinger break;" "what kind of dog is that up there on the trail… let's get there and find out;" or "race you to that tree!"  Keeping him curious and engaged helps overcome most whining. Bonus if you can discover and play along the trail, like when we found an old snowmobile next to the trail.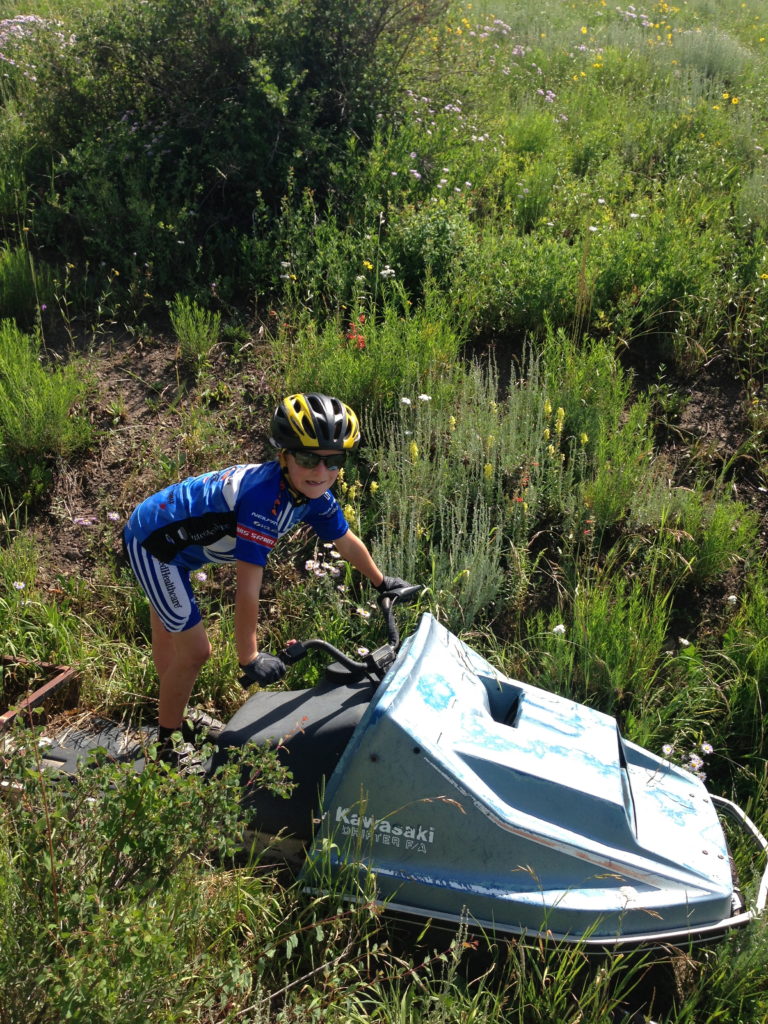 R= Relevance
Think goals, motive, and familiarity. When possible, before a new ride we look at a map and discuss the terrain, time, and elevation. This way we all know what to expect and how it relates to other trails he is familiar with.  Also, our son is always asking to do big rides and races yet he doesn't fully understand the need to train. So when we are out riding and he wants to quit, I remind him about the relevance of training to achieve those big miles he dreams about.
C= Confidence
Think requirements, opportunity, and responsibility.  Helping your child gain confidence takes more than the occasional or even frequent, "good job."  It starts with putting them in the correct situation, or in our case trail (not too hard or too easy) and explaining the 'requirements' of the ride.  Things like needing to get from point a to b, or obstacles he will need to navigate such as rocks and bridges.  Lastly, we link his success to his effort and ability. "Nice work shifting before the climb, that allowed you to rock up the hill!" or "nice line through that rocky section, looking ahead made you super-fast."
S= Satisfaction
This last one is easy and comes naturally after using the other three. The feeling of completing the ride, working his body, and learning new skills is usually all his needs to be 100% satisfied.
Of course, if we can end the ride with a nice creek to play in… that's a bonus!