Recently at the El Tour de Tucson I was waiting for my husband to arrive at the finish line after the 109 miles tour.  As I watched thousands of riders cross the finish line I kept wondering "where are the women?" the tour was dominated my men. And the few women I did see I either recognized from Colorado or they had Colorado team jerseys on (go Title Nine and Tokyo Joes!) I'm not use to seeing this in Colorado. In Colorado women would be everywhere. In Tucson the women were waiting (like me actually) at the finish.  Am I really living in a biking bubble here in Colorado? Do women not cycle as much in other states? I have recently been to rides and races in California and Texas and I never noticed a lack of women but maybe mountain and road biking isn't quite as popular with women in other parts of the country. And what about women commuting by bike? Do urban cities see a disparity between men and women commuters? I did a little research and yes there does seem to be a gap between female and male participation but I believe we are in the perfect position to tip the scales and wow are there a lot of women's cycling websites and blogs out there!
Mountain Biking:
In September 2010 IMBA and Sacred Rides sponsored a survey about women and mountain biking. Here is a recap of what they found:
Most women mountain bikers are between 30-39
They have been mountain biking for as long as they can remember
They first learned about mountain biking from their partner (I assume male partner)
They enjoy being in nature
Think other women do not mountain bike because they believe it is too hard core
Inviting another woman to ride  is the best way to get more women into mountain biking
All of these stats ring true to what I see around me. In places like Grand Junction and Boulder there are novice women mountain bikers everywhere. Why? Because other "hard core" women paved the way and introduced them to the sport. These areas also have novice trails and a support system of bike shops and organized rides.  As we build trails in my town I'm going to use this data to get more women around here to mountain bike.
What can you do if you're an experienced mountain biker?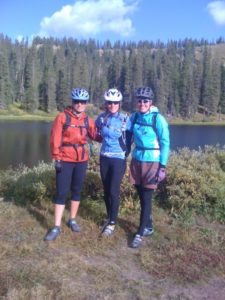 Ask another woman to go on a ride with you. Chances are she'll enjoy it and tell her friends
Organize a weekly or monthly ride if there is not one in your area
Talk to your local bike shop about their ideas to get more local women mountain biking
What can you do if you are interested in mountain biking but fear getting started:
Ask an experienced mountain biker to take you out on the trail or take their invitation to go. I always hate when I ask someone to ride with me and they say no "because they can't keep up."  Trust me if they ask they want you to go.
Join a local woman's ride
Find a women's only mountain bike camp (some listed below)
Find a local mountain bike race and enter the beginners category. This is a good place to meet other women mountain bikers.
Find a local bike shop that will help you get started with the correct bike and gear. This includes a bike fit, tune ups, maintenance tips.
Here is a link to the entire report: womenmtbsurvey
Road Biking and Racing
Research done by the Outdoor Industry Association shows that road biking is mostly gender balanced with slightly more males. This is good news and there does appear to be a larger emphasis on women specific road bikes and apparel over the last few years. What I don't see are a lot of women lining up for races even here in Colorado. Take the Iron Horse for example. Two men's categories are already sold out within 1 week. But I know I can wait until the day before and still get into either the Cat 3 or Cat 4 women's race.  According to USA Cycling statistics bicycle racing demographics shows eighty seven percent men to only thirteen percent women. But didn't the Outdoor Industry association just say road biking is about 50/50 participation? Apparently the balance is way off in racing.
In the Denver area the American Cycling Association(ACA) has started a women's program to help narrow this divide between men and women's racing numbers. If you are interested in racing they will assign you a Cat 1 or 2 mentor who is "available prior to the race, during the race, and after the race to answer questions, guide in tactics and skills, and provide an encouraging environment for new riders to learn the skills of racing." They also have suggestions about finding a team on their website.  If you live in the Southeast, I found an organization called Southeast Women's Cycling. The SEW Cycling Series is a grass-roots effort by women, for women. "Our ultimate goal is to grow the sport of women's cycling by providing an environment that is both challenging and fun."  As you move into the higher categories of racing there is a  program headed by Michael Engleman for elite cyclists. The Womens Cycling Development Organization helps build a network of people who could help close some of the gaps that stand in the way of a woman cyclist reaching her potential. I encourage you to check out their website as it has great information and tips for cyclists of all levels. On the bright side of women's road racing, Mara Abbott (US National Team) became the first American woman to win the Giro Donne this year. That is a huge accomplishment for her and women's cycling in the US.
I know that racing might not interest a lot of women but if you have a desire I encourage you to seek out a local team and jump in. They will be excited to have you aboard. I find racing gives me something to train for and I love finding out my time against others versus just doing a tour.
Commuting:
In the U.S., men's cycling trips surpass women's by at least 2:1. This ratio stands in contrast to cycling in European countries, where urban biking is a way of life and draws about as many women as men—sometimes more. In the Netherlands, where 27 percent of all trips are made by bike, 55 percent of all riders are women. In Germany 12 percent of all trips are on bikes, 49 percent of which are made by women. I don't live in an urban area so I don't have much direct knowledge about women vs men.  Here in my small town both women and men are hoping on their bikes to do small trips but commuting is not something that is done 100% of the time. One issue I see is that the bikes we have here in the US vs. Europe are not as practical for carrying kids or gear.  Meanwhile, Dutch parents have the cargo bikes that hold 2 children plus the groceries. And in Japan, women ride their kids on cycles called mamachari or mama chariots. Maybe we'll get there someday. This year at Interbike I did see a lot of European companies offering these types of bikes to US bike shops. Hopefully they will catch on in 2011!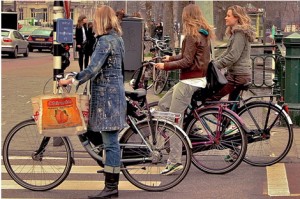 Streetfilms.org has posted a short video with a nice look at women and kids who cycle in New York City, specifically those who have recently discovered riding. There are more cyclists in NYC than ever before, and an increasing number of women using bikes are part of the story. The reasons are many. For one, NYC has added over 200 miles of bike lanes in the last three years making streets safer. Mothers are biking their kids to school and bringing home groceries on the backs of their bikes. More women are commuting to work and enjoying nightlife by bike. All the while, these women are getting more exercise and increasing their energy, saving money, protecting the environment, and getting things done more efficiently than before.
Women In Motion: New Lady Riders Reflect on NYC Cycling
Below is a collection of national women's cycling websites to get you started. I chose these because they either had a forum or good advise/info. Please send me your favorites and I will add them to my website.