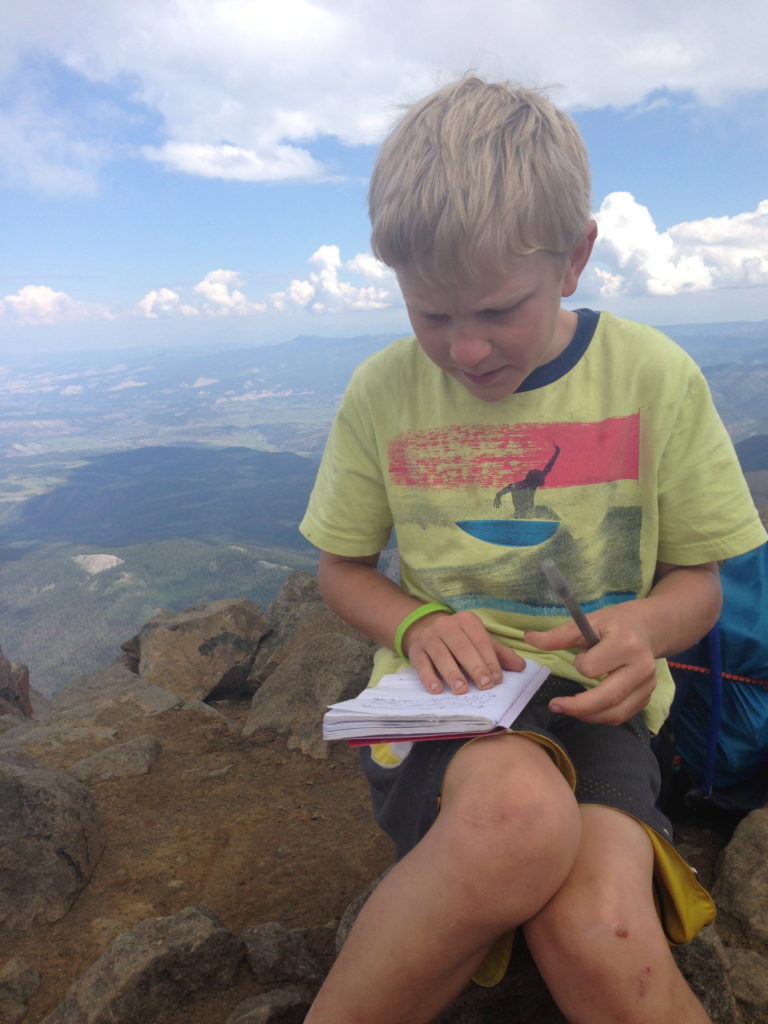 Around the time Kalden was born our neighbor started homeschooling her two young girls. I thought she was crazy. Who lets their kids stay home when there is a perfectly good school down the street with stellar state rankings? And she could be back to work, or better yet, bike or hike all day while her kids are being taken care of for free!
Fast forward 8 years and I am that crazy lady. Except I think I'm anything but crazy for actually paying attention to what's best for our son and family and not just going a long with what is standard and expected. And we're not alone. Homeschooling has increased 75% in the last 14 years. And it's not just for Christian fundamentalists anymore. Doctors, lawyers, and other people with 'big jobs' are jumping in. Here is a great article on how and why two professionals homeschool.
But this decision didn't just happen overnight. After two years in public school a number a factors added up and then the decision was easy to make.
Schedule: Most people probably think this is the only reason we homeschool…because we like to travel. And yes that is a huge factor. The tradition school schedule leaves little flexibility to explore and enjoy valuable time in the outdoors, let alone the world.
The Outdoors: We live in one of the most beautiful states surrounded by amazing mountains and my child was spending 8 hours a day in a 1960s brick building with maybe 2 recesses. As a boy that would fidget when he was suppose to be 'reading' he would spent half of those recesses inside making up his work. I know that for some spending most of the day inside is just part of life but it's not what we want.
Passion: I have a son that is passionate about a few things(yes cycling is one of them!). And he likes to talk and do them all day long. This doesn't go over too well in school. And I don't believe there is a reason to be 'well rounded' anymore. With homeschooling we can plan his learning around his interest and passions. He also has time to focus on one or two things and be really good at those things. Actually, to get into a top university these days you need to have that 'hook.' Just getting A's and high test scores are not enough. You need to excel at something. And if you excel at something you don't even need to waste your time going to college…unless it's a top university.
Customized Learning: In school learning is standardized to what someone else says is best. I struggled with this for two years because at our school there are a lot of good teachers that want, and would tell me, that they could customize learning. What they mean is that your child's learning is customized based on how they do on the tests. Not customized based on their passions, true intelligence, values, or interest.  In school they do work someone else wants for someone else's purpose. We dealt with this when it came to reading. Kalden is a highly visual-spacial learner and was having problems with learning to read their way- which was focused on phonetics. It's a long story but his love of reading was swashed quickly by having to read worksheets and pages of words that had nothing to do with reading comprehension or the enjoyment of reading. On top of that they would give him a DIBELS test that was 100% auditory which is a nightmare for students that learn visually.
Testing: Testing is probably my biggest issue with public school and specifically public schools in rural areas that need funding. Schools that don't need funding are more progressive and focus less on the tests. They know that to succeed as adults kids need to learn optimism, resilience, and grit. So when someone recently told me that our schools had some of the highest test scores in Colorado I wasn't as impressed as they would like the public to be.
Patience: People think we must be patient as heck to homeschool. I hear it all time. "I could never homeschool my kids, I'm not patient enough."  The opposite is true. Patient are all those parents running for school board or sitting in three hour school board meetings hoping they can change the system. I'm not that patient. I want change and results now and the only way to do that is to homeschool or move to NYC, find $60k a year, and to send him to this school.
I don't think homeschooling is for everyone and while I think public schools need reform I don't like to jump on the 'schools are horrible for every child' bandwagon. Our situation could change tomorrow and Kalden could be back in school next year. Or things could change once he gets older. I know better than anyone that we don't know what the future holds. But for now it's working and I'm glad we made the choice.
In my next post I'll discuss how we homeschool.

Created by: CollegeAtHome.com