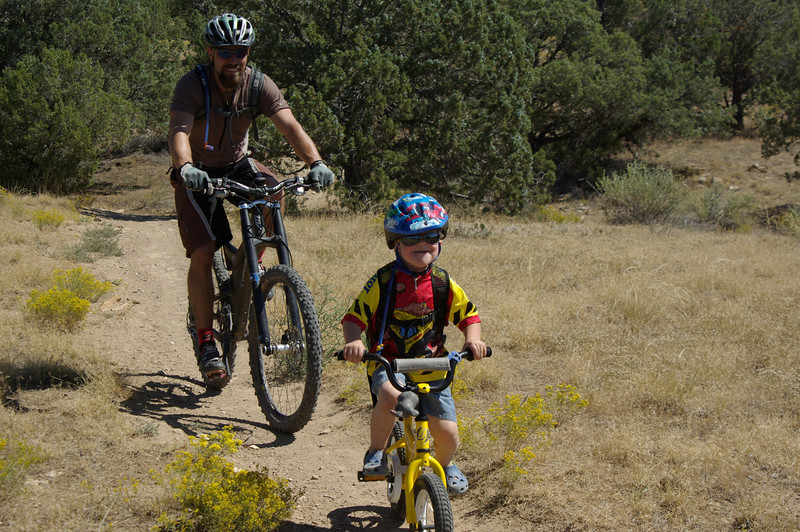 What do you think of when you envision riding with your entire family? The dream is that you will all be in a state of family bliss, riding along together at the same pace, wind at your back, kids smiling, and lots of family bonding.
The reality is that while that can happen, you need to plan and work at it. And don't be discouraged when the first (or two or three) rides seem overly rough. As you all fall into a routine it will get easier and it will be fun.
Assuming you are already an avid rider I'll spare you the most basic of bike riding tips. But here are four things to consider before you set out with the entire family.
Do the Prep Work
If you are an avid cyclist you are probably good about maintaining your bike. But don't forget the kid's bikes or trailer. Basics include proper tire pressure, functioning brakes, and a lubed chain.
You also need to prepare snacks, possibly toys or books for a trailer ride, baby wipes, drinks, and more snacks. Don't underestimate the power of snacks on a bike ride. And a bike ride might just be the perfect time to allow a treat if the going gets tough. I swear by energy chews like Honey Stinger or Clif Bloks for both fuel and mental incentive when my son needs extra motivation.
And check their helmet for fit and safety. Don't be one of those parents with a $200 perfectly fit and adjusted helmet while your child has a cut up foam mess – half hanging off his head.
Alyssa, a mom, and cyclist from Salt Lake City swears by helmets with visors. "I cannot tell how many skinned chins, skinned faces, and skinned noses we have bypassed by that silly visor taking the fall."
Take the Proper Gear
Trailer and kids bikes can (and will) break down during rides. Be prepared to fix not only your bike and theirs. If you are not 100% comfortable with emergency bike repairs, bring the gear so someone can help you. In addition, bring along some step-by-step instructions so you can walk yourself through a repair if nobody is around. Check out Hero Kits for an affordable all in one tool and instruction kit.
Tip: If you don't have a small tube for your kid's bike you can use your full size tube in a pinch. On a recent ride my son forgot his 24 inch tube and got a flat. I used my 29 inch tube. It got us through our ride and back to the car.
Adjust your Attitude
Nancy Sathre-Vogel biked from Alaska to Argentina with her two boys so she knows a lot about family bike rides. Her #1 tip is to never doubt your child. And it's true that they are often capable of so much more than we think or give them credit for. I have often thought a ride was too long or too hard for my son only to have him breeze through it and want to go farther. Of course the other side is not doubting her when she says she is too tired or not in the mood. Try to leave your goals and plans on the back burner and listen to your kids. (Insert bridge.jpeg in this section)
Think about the Destination
For adults a ride may be about the journey and exercise but for kids it's often about the destination. Tanya who writes a family blog called Family Adventures in the Canadian Rockies says, "riding for the sake of riding may work for some kids but for others, riding to a playground, a duck pond, a big bridge, or even ice-cream shop just might be the incentive they need."
Personally, our most enjoyable and memorable rides have been to a destination. Pick somewhere they love and the ride will become part of that enjoyment.
Image Credit: Tanya Koob
So what are you waiting for? Okay, maybe for the snow to melt depending on where you live. But why not start to plan your next cycling adventure as a family.