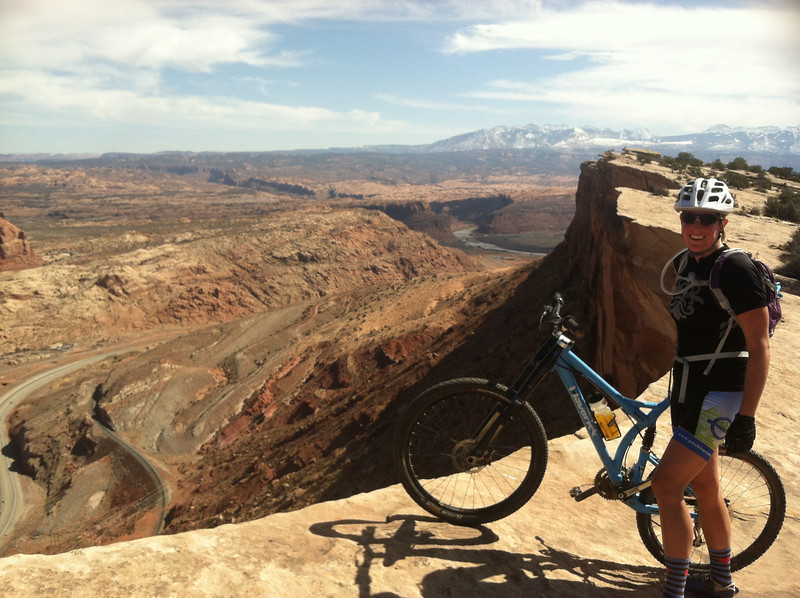 These are the 5 'must ride' trails in Moab based on the amount of time you have away from the family. They are intermediate to advanced rides. Of course these are subjective and Moab has been building new trails like mad-so feel free to comment below about your 5 must ride trails. Also check out the Moab Trail Mix page for the latest trail building news.
Each trail has extensive information, maps, pictures and even virtual tours brought to you by the MTB Project. MTB Project is built by mountain bikers. Their data comes from dedicated riders like you — including IMBA Chapters, Clubs and Patrols — who are willing to share their intimate trail knowledge.
1-2 hours:
The slickrock and singletrack fun begins at a junction with gas pipeline coming from Willow Springs Road. You'll pedal your way over numerous fields of slickrock and coast through several sections of flowy singletrack. There's climbing, descending and flat riding along the way. If you want to extend the ride continue down Willow Springs Road to the new KlonZo trails. You'll see the trailhead on the left.
Ride if: You want a bit of challenge with beautiful scenery, slickrock and singletrack.
Family beta: Since this is an out and back we usually set up a base out at the parking lot across from the pipeline and make a half-day outing with the family. Kids can bike trails near the parking lot and explore the sand and slickrock nearby why Mom and Dad take turns on Sovereign.
MTB Project link: http://www.mtbproject.com/trail/231528/sovereign
The Pipe Dream Trail is advanced, with narrow, technically difficult grades.  Along time dream of Moab locals is a reality with this trail system right on the south edge of Moab. Test your skills on Moab's most accesible singletrack. No need to drive, just head out on your bike!
Ride if:  You only have an hour and want an advanced ride.
Family beta: Sometimes you only have time for a quick ride, it's late in the day and you need to ride from your hotel. This is your ride! Start the trail right as the sun dips below the rim and you'll have plenty of daylight to finish your ride. The trail flows best from South to North.
MTB Project link: http://www.mtbproject.com/trail/827004/pipe-dream
2-4 hours:
The Magnificent 7 trails are part of the exciting singletrack resurgence in Moab. Mag 7 features a network of trails that link the upper and lower ends of Gemini Bridges Road and can be ridden as a point-to-point with a shuttle or as different loops.
Ride if: You love flowy singletrack with some technical moves.
Family beta: If you take turns shuttling you can both ride it in one day; taking about 2 hours each plus drive time. The other person can ride with the kids at the Bar M trails while waiting or explore the Mag 7 trails as an out and back.
MTB Project link: http://www.mtbproject.com/trail/652241/mag-7-bull-run-great-escape-little-canyon
The world famous Porcupine Rim ride is a must-do on any mountain bike bucket list and is a classic Moab ride.  The route takes you to the edge (literally) of Castle Valley and then down a thrilling (and bone jarring) descent to the edge of Jackass Canyon where you'll ride sweet singletrack around and down to the Colorado River.
Ride if: You have 5-6 inches of travel on your bike, want to go fast, want amazing scenery.
Family beta: This is another shuttle ride. We have done Porcupine Rim from three drop off points. Burro Pass Trailhead for the Whole Enchilada (3-4 hours plus shuttle time), LPS (2-3 hours plus shuttle) or from the end of Sand Flats road (2 hours plus shuttle time). When you reach the Negro Bill trailhead you ride back to town or have the other person waiting there. The Negro Bill hike is a great place to hike with kids while waiting for your spouse.
MTB Project link: http://www.mtbproject.com/trail/157369/porcupine-rim
Amasa back is classic Moab. It's a favorite trail for Jeeps but worth your time on a bike. In March a new trail opened from the top called Captain Ahab.
Ride if:  You want a classic Moab experience with amazing scenery. You are brave enough to ride Captain Ahab down.
Family beta:  Amasa Back can be ridden as an out and back or you can take the new Captain Ahab down. It's an easy ride back into town to meet the family or they can hike or bike around the trailhead.
MTB Project link: http://www.mtbproject.com/trail/171635/amasa-back-cliffhanger
http://www.mtbproject.com/trail/648766/captain-ahab
Yes, we left out Slickrock. If you're dying to see what all the hype is about (or not about) here is the link for more info.