Some say it's about the journey not the destination. That's great when you're alone and have time to explore, but when you are riding with a six year old wandering aimlessly is not an option. Or almost worse, choosing a trail that is too advanced which can cause a tantrum in even the most patient kid (and parent).
These are the top 3 'family friendly' riding areas in Moab. These are beginner and lower intermediate rides and great places to take your kids mountain biking. And these are actual trails, not jeep roads or dirt paths. Real mountain biking for your little rippers.
If you have a gravity grom on your hands head over to the 5 Best Rides in Moab page for more options.
Brand Trails
Trailhead: Take U.S. 191 North about 8 miles to the Bar-M Chuckwagon. Drive down to the new parking lot and trailhead to the north. Do not park in the Chuckwagon parking lot.  There is something here for everyone in the family.
Suggested Trails:
Bar-M Loop
Length:
8 miles
Notes:
Non-technical but somewhat long for little ones. Total climb is 625 feet. Some steep roller coaster hills to climb at the north end. Average grade is around 3%. A mellow family ride on a dirt road with rocky sections.  Shared motorized but they are rarely encountered except near the highway.
Rusty Spur
Length:
1.5 miles
Notes:
Easy loop with gentle grades. Two cattle guards to power up and over. Includes about 150 feet of climb in either direction. Average grade is about 3%. Smooth mellow ride on dirt and rock. The trail begins and ends at the Moab bike path.
Lazy/EZ
Length:
1.5 miles for Lazy 1.25 EZ
Notes:
Moderate with a few more difficult turns and climbs. You will climb about 200 feet in either direction through the Lazy-EZ loop. Average grade is around 3%.Turn right at the Lazy-EZ sign until you reach the junction. To the left is Lazy and to the right is EZ. Go right.
North 40
Length:
4.0 miles
Notes:
This is a longer ride that starts easy, but becomes more challenging so beware with little ones. You will climb 600 feet, ride counterclockwise as it offers the lower uphill grades.  The loop can be shortened by about a mile by turning around at the crossover point at the pipeline road. Average grade around 5%.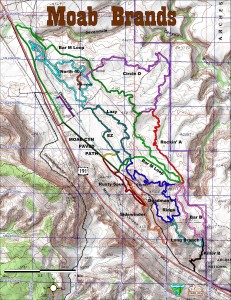 Klondike Bluffs Area
Trailhead: Drive 17.5 miles north of Moab on Hwy 191 and turn right on Klondike Bluffs Rd. Proceed 3 miles to trailhead.
Suggested Trails:
Inside Passage
Length:
0.4 miles from the south parking area to the intersection with the Copper Ridge road. From there you can connect with Jurassic. Skip this section and ride the road if you want to ease into the ride.
Notes:
This is a fun ride thru some rocky terrain, and some large boulders to maneuver around.
Jurassic
Length:
3 miles including spur to Baby Steps Loop. South end starts off of Copper Ridge Rd. North end starts off of Jasper.
Notes:
The trail has a few ups and downs, but mostly stays at the same elevation. Connect this trail from Inside Passage up to Jasper. At Jasper connect back to road, ride south for a bit and take Dino Flow back. Great 1 – 1.5 hour ride for beginners with some intermediate sections on Dino Flow.
Dino-Flow
Length:
5.6 miles connecting the parking lot for the Copper Ridge trackway with the Klondike Bluff Road. Crosses Mega Steps, Baby Steps Loop twice, Little Salty once, and EKG trail.
Notes:
This trail wanders along the dirt and slickrock between EKG and the Copper Ridge Road. It is for lower intermediate riders, but beginners can ride this with caution. Despite the name it's not a traditional flow trail but it is fun.

Agate Loop and Midline Trail

Length:
The loop is 1.8 miles and the centerline trail is 0.8 miles.
Notes:
This loop is great for families. The grades are gentle. The west loop is easier than the east loop that follows the crest of a ridge.This is a good trail to get used to riding singletrack. It is wider in the beginning but narrows a bit as it approaches the junction with centerline trail.
Jasper Loop

Length:
The loop is 1.7 miles and the connectors to Copper Ridge Rd are both about 0.3 miles.
Notes:
This loop is slightly more challenging than the Agate Loop, but still okay for families as the grades are gentle. The west loop is easier than the east loop. The south end has one short steep section that a child might have to walk.  Wide on the west side as it flows through gentle rolling hills covered with chert. The trail narrows as it ascends onto the ridge overlooking the Copper Ridge road. Families might want to follow the west side of each loop, then return to the start on the Copper Ridge road.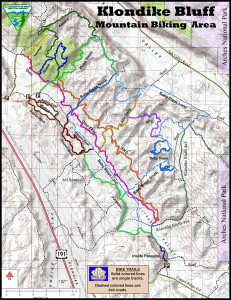 Dead Horse State Park
Trailhead: Dead Horse Point State Park visitor center parking lot which is 32 miles west of Moab.
The Moab Trails Alliance has been up there working on a new trail. Check out this video for more information.
Intrepid Loop
Length:
1.1 miles
Notes:
Easy. Great family ride with amazing views of the Colorado River below. Always tons of families getting off the beaten path to enjoy the scenery.
Great Pyramid Loop
Length:
4.2 miles
Notes:
Easy riding but a longer extension of the Intrepid trail offering more amazing views.
Big Chief Loop
Length:
9.0 miles
Notes:
Beginners and intermediate riders will enjoy this longer loop. It has a few more climbs, rocks, and a long straight-away to take you back to the parking lot. You'll experience slickrock sections, singletrack, sandy washes, and incredible views from the cliff-side overlooks.