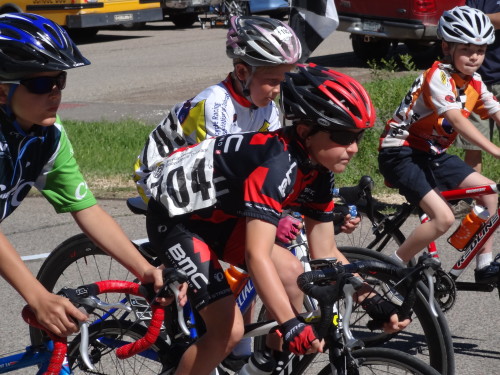 Over the past three days I've been trying to find out if there are any races mountain or road for kids under 13 at Sea Otter Classic…you know one of the largest cycling events in the US. I can't even get an answer direct from them. I did hear from Primal Wear, one of their sponsors,  that the answer is no. But then I get confused as I have seen reports from U13 racers that they've been racing there for years. So is it allowed, not allowed, or only allowed for some if they are connected or know how to break rules? Just.So.Confused.
I get that in the current environment holding races or events for the youngest of juniors is a huge pain in the ass. There aren't enough of them in most cases and there is a limited amount of time. So I also checked if kids could do any of the mtb rides (not races). Nope, not until 12.
We need to start somewhere and address this issue.
Why are the teen years too late?
When kids start elementary school they are introduced to popular organized sports such as soccer, baseball, and football. Outside of the professionals these ball sports focus on children. While there are pick-up adult teams you don't see a huge focus on Master or Amateur baseball/football/soccer players. They focus on kids. Kids grow up to love these sports, the good ones move up and the ones that aren't so good go on to spend billions on sporting events and proudly wear their favorite player's jersey.
Cyclists? We ignore kids after they grow out of Striders and free Shimano Kids Races. So at 5 these kids pick up those other sports and once they enter these sports they tend to stay. Some sit on benches not getting much exercise and some get really good.  The ones that get really good aren't likely to switch over to cycling when they reach puberty.
So while NICA and other organizations focus on high school cycling it leaves a huge gap between Strider races and High School!  This is one reason while NICA seems to have two types of riders…a handful of strong athletes that grew up around cycling and have been doing it since they were young and then the kids who never fit into any other sport or just started cycling.
I'm not saying that kids need to be on training plans or even racing seriously but there needs to be more diversity and opportunity before the teen years. This would introduce cycling to more girls, more kids from non-cycling families, and more athletic kids before they get drawn away to other sports because there is nothing in cycling for them until it's too late. There's a lot to learn from competing including camaraderie. Especially road biking which is not an individual sport.
What's the Answer?
While this will take many solutions here are a few:
Encourage Master's teams to support Juniors – I know some Masters Team have Juniors but these Juniors are usually U23 not U14. I say Masters because there are a lot of these guys (yes guys) racing and they have a pretty easy time getting sponsor money because they often work within an organization to secure  funding.
More community cycling clubs – There is a reason kids from places like Durango and Boulder top the podium…and it's not a secret sauce. I know in Durango they aren't putting kids on training plans or even push racing until kids want to race. They provide a community cycling club starting with balance bikes. Kids are encouraged to enjoy cycling and are supported as they move up. Some naturally want to race as they get better. Others move into sessions that focus more on exploring via bike.
USA Cycling/Promoters – Need to communicate and encourage junior racing. I can never get a clear answer from USA Cycling about juniors except that "it's up to the promoter." Surely they can help the promoters – financially or other. And importantly don't throw up bounce houses and a course around the parking lot and communicate that as "supporting kids cycling." It's great, heck it's essential, for kids under 5 but it's like offering to kick a soccer ball in a field with a 10 year old and call that a soccer game.  It's not. Kids at 8, 10, 12 need more than what is currently offered in "kid's races."
And when kids show up to race don't turn them away because they don't have the right bike. We were at a closed USA Cycling Jr. Crit race and I saw the officials turn away a 10 year old because he didn't have the right bike. There were only 3 other kids racing. This kid was not from a cycling family but he saw the race and wanted to try it out. Luckily, we were able to go down the road and the Dad was able to rent a road bike from a bike shop and get back to make the race. I know that ideally a mountain bike should not be on the course but that's where we are right now. Find a way to make it work without ever turning away a kid that shows interest in this sport. When there are 30 kids lining up, then you can enforce more rules.
Cycling Manufacturers – There are two kinds of bikes for kids after they leave the lightweight balance bike, very expensive bikes mostly from Europe and heavy bikes made by some of best brands in the US. And even those bikes are costly and hard to get for most kids.
But these heavy bikes are also better than nothing. How about taking a look at what Strider does. They don't just sell bikes. They are out there at events, they sponsor "races," they offer community events. They hand the cycling community thousands of 3-5 year olds ready for pedal bikes and what are we doing for these kids once they can pedal? Little. They get the same parking lot course as they did when they turned 18 months and now they have to handle a 20 pound bike.
How about the big names in cycling rethink pro deals and free bikes for 40 year old men that race around a closed office park while nobody watches and funnel just some of those dollars into getting more kids racing. I know in Europe kids are able to access bikes from Colanago and Pinarello on loan and trade it in for new ones as they grow. Give your sponsor money to promoters only if they offer junior races (or appropriate length rides) for all categories. When you go to places like OuterBike, bring your kid's line of bikes. Encourage families to all come and test all bikes.
Okay, off soapbox.
What are your thoughts? I'm sure there are examples of kid's events, races, and organizations out there doing great things. Here is Colorado BRAC is making great strides. Please add them to the comments so everyone can see what is possible!